Huawei has already shown that it knows how to build high-performance and well-built laptops, both in the mid-range and in the premium area. This model, MateBook D16 is one of the laptops that somehow stands on the border between previous MateBook D models and MateBook and MateBook Pro variants, being a well-configured model, not exactly cheap, but which could be the right computer for an important category. by users: those who have adopted the hybrid work style and need a large screen laptop, which they can carry, if needed, anywhere.
MateBook D16 does not have a very different design than other Huawei models
The latest Huawei laptops have a unified design, being made of aluminum on the outside, with thin-edged screens and a thin profile. Even though the MateBook D16 is a 16 "screen device, it doesn't feel like a" colossus "breaking your back when you put it in a backpack. It looks more like a big screen ultrabook, its body being similar to that of traditional 15 "diagonal models.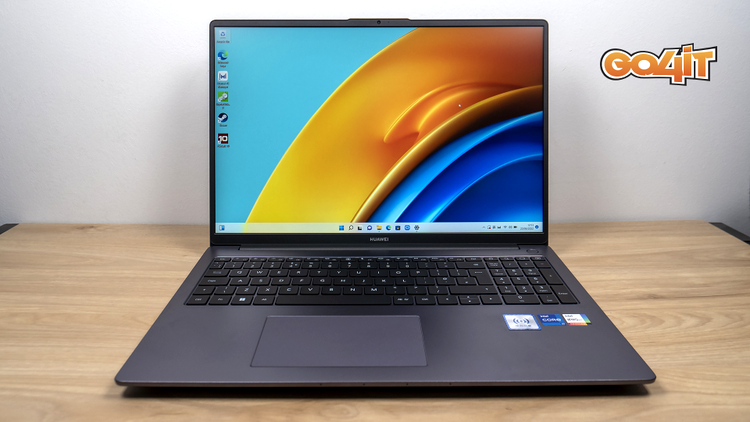 Huawei has managed to put a large display in such a small body by reducing the edges around the screen on all sides, leaving room for only one logo at the bottom. An extension at the top was also required to implement a webcam, this area being useful for raising the screen when the laptop is closed. I also appreciated the fact that Huawei gave up integrating the camera into the keyboard, that position being too low for comfortable video conferencing.
Even if it is a compact laptop, Huawei D16 still has room for a full keyboard, with Numpad on the right. I can't say that I'm a fan of the trackpad, which is not positioned centrally, but slightly to the left, and is a bit small, even compared to those on other more powerful Huawei models. The keyboard, on the other hand, is very good, with a satisfactory stroke and a numpad that will surely be appreciated by those who work daily with numbers.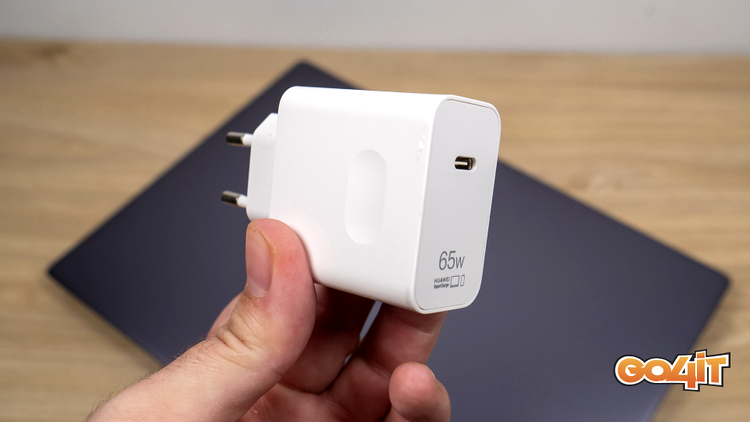 In terms of portability, the Huawei MateBook D16 does not disappoint. At only 1.7 kg, it is only slightly heavier than regular ultrabooks, and its loader is extremely small and light. Basically, Huawei took the 65W charger with SuperCharge from its phones and included it in the box of this laptop. It has a USB-C jack and really allows you to quickly charge both your laptop and a phone or tablet from Huawei (or other brands) with the same cable.
The screen is large, but not recommended for anything other than work
One reason the MateBook D16 is a more affordable model than the Pro is that a few small sacrifices have been made to achieve this price. For example, the screen is not very good compared to the more expensive variants. We are talking about a Full HD panel on 16:10 format, with a brightness of only 300 nits. It's great for office capabilities, but it's not for multimedia or gaming-oriented models. One advantage, however, is that it is matte, which ensures less unwanted reflections in use.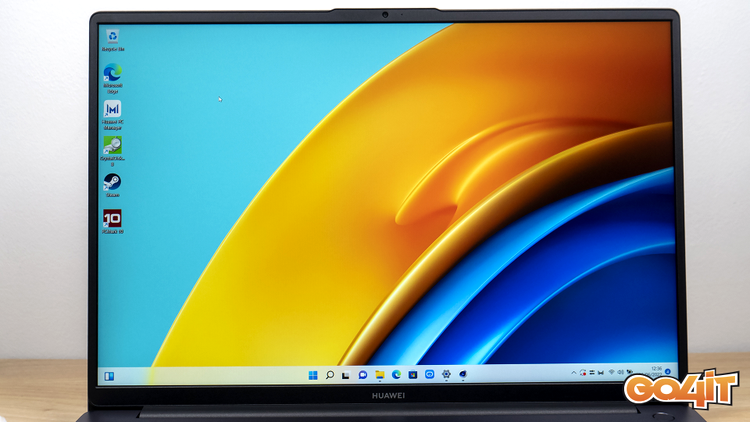 Unfortunately, the low brightness does not recommend it for outdoor use in strong sunlight. It could be good for basic creative activities, such as photo editing, being compatible with the 100% sRGB standard, but not for more complex things. Unfortunately, the laptop does not include an SD card slot, so creatives will need adapters to transfer their photos.
MateBook D16 also comes with many advantages on the hardware side
Much of the hardware "budget" of the MateBook D16 was apparently invested in 12th-generation Intel processors. The tested model benefits from an Intel Core i7-12700H processor, a high-end model that is also found in the latest gaming laptops. However, being a thin and light computer, with low power consumption, this processor is limited to a consumption of 40W in "performance" mode, enough for any type of office activity even advanced. There is also a cheaper version with i5-12450 processor.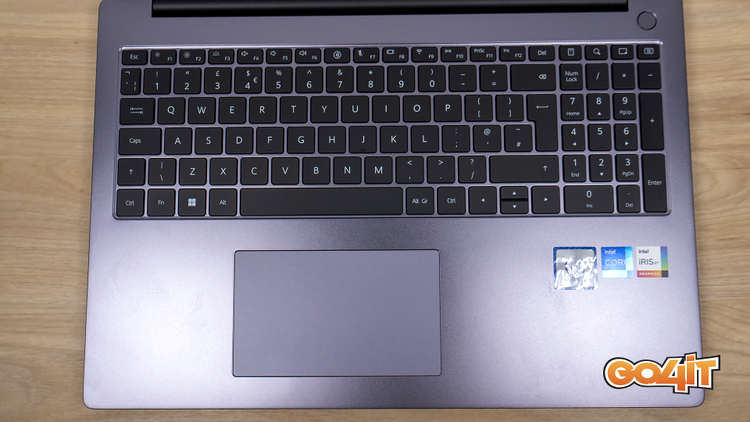 In terms of connectivity, we mentioned that there is no SD slot, something that may not be so important for many users. What is important, however, is that there are two USB-C ports on the left, two USB Type-A ports on the right, as well as an HDMI port and a headphone jack. In principle, they should be sufficient for most accessories on the market, playing on an external display and on headphones or wired speakers.
Of course, the laptop is also compatible with wireless technologies. Being a Huawei model, it can use all the collaboration functions such as Huawei Share for fast file transfer, or Cast + for wireless playback on a Huawei compatible display. I didn't have Huawei devices on hand to test these features, but I've tested them on older models in the past and they worked very well, so there's little chance that the new model will provide a weaker experience. However, most users may not benefit from these integrations, as Huawei phones and tablets appear to be increasingly rare in the market, according to global sales reports. The ability to use these features on other devices could be more beneficial to make Huawei laptops more attractive to users.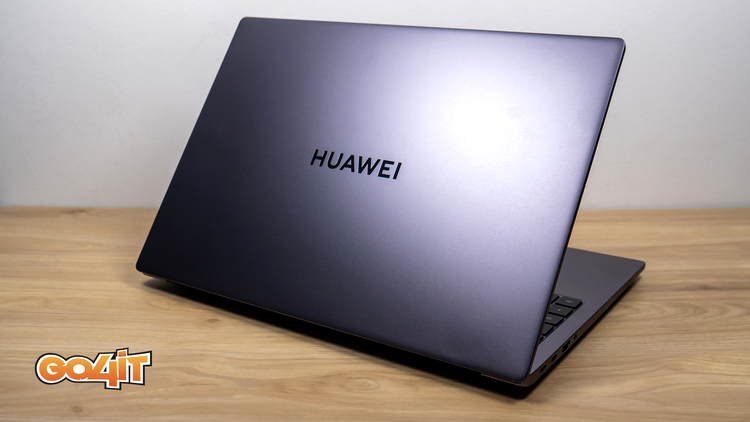 The webcam is only 2 megapixels and offers 1080p resolution for video conferencing. It's a good webcam, above the market average in terms of image quality, with AI functions for tracking the subject in the frame, a function similar to Apple's Center Stage, or eye correction to make it look like the person is looking at the camera, not the screen . Of course, there is also the ability to add blur or remove the background completely. And the four microphones used for conferences enjoy AI processing to reduce background noise.
Despite the fact that it has a powerful processor and does not have a very advanced cooling system, such as those on gaming laptops, I cannot say that the MateBook D16 is a noisy laptop, even in the most complex performance tests. Sure, the cooler can be heard in use, but at a fairly low volume, even at high speeds. The speakers should cover the noise of the cooler if they play music or anything else. And the speakers are decent, have high volume and good clarity, but the small size of the laptop attracts itself the lack of pronounced low frequencies.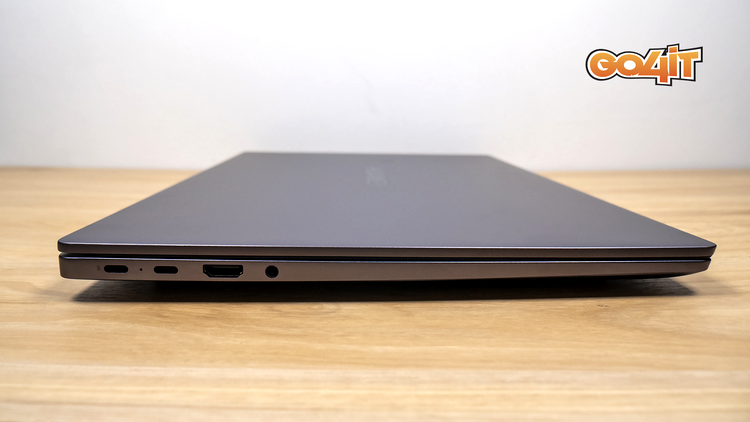 Autonomy differs depending on the type of use and the chosen performance profile. The "performance" mode can be activated only if the laptop is plugged in and has over 50% battery, but in economical modes you can work over 5-6 hours with full battery in office mode.
The performance of the i7 model is even above the needs of those who work in the office area
Being a fairly portable computer, the choice of an Intel Core i7 configuration seems unjustified. Sure, it is one of the best laptops of this size, but it is not clear what will be the use cases for such a laptop. And the use of a more powerful processor will automatically lead to low autonomy. Personally, I recommend the version with i5 processor, which also benefits from a significantly lower price on the shelf.
Huawei says that "lighter" games, such as League of Legends and DOTA 2, could run on the integrated Intel Xe chip in the processor, but I wouldn't recommend this laptop as a gaming one. With a 60 Hz screen and only iGPU, chances are you'll be really competitive in these games. There is also no Ethernet port required for online gaming, despite technological advances in wireless connectivity.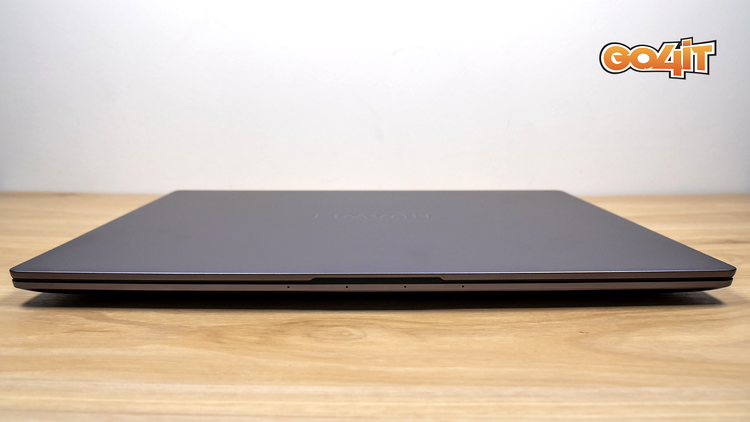 The good news is that you can even do video editing on this laptop, as long as you connect it to a more suitable monitor for this at an office and keep it plugged in permanently in high performance mode.
Benchmarks
PCMark 10
Essentials – 10.308
Productivity – 6.250
Digital Content Creation – 6.598
Total – 5.390
CrystalDiskMark
Seq1M Q8T1 – Read: 3.513 MB/s / Write: 2.292 MB/s
Seq1M Q1T1 – Read: 3.008 MB/s / Write: 2.311 MB/s
Cinebench R23
Single-Core – 1.714
Multi-Core – 9.298
conclusions
Huawei MateBook D16 is a laptop that is easy to recommend to those who really need it. It seems that the demand for large screen computers is growing, and this is one of the best performing models, which can be easily carried. The basic model of 4,299 lei comes with i5 processor, 8 GB RAM and 512 GB storage. However, I would avoid it, due to the insufficient amount of RAM in 2022. However, the average version with the same processor and 16 GB of RAM seems to be a better balanced configuration, at 4,699 lei. If you really need the i7 model, it will cost an extra 1,000 lei and also benefit from 16 GB of RAM and 512 GB of internal storage.
Huawei says that for the first orders, it will also offer a voucher of 500 lei for the MateBook D16, which could bring the price to a more reasonable level for all configurations.