Xiaomi is exciting investors, with its latest Q3-2022 earnings report confirming profits down 59% year-over-year. Even more interesting is that the steeply declining profit is reported on the back of a decline in revenue of only 10%.
Apparently, Xiaomi chose to bet on further benefits, resulting from keeping prices at the same competitive level that the Chinese manufacturer has accustomed us to in recent years. In other words, Xiaomi absorbed much of the cost increases resulting from inflation and the price of essential components, while reinvesting much of the profits made. Thus, the main culprit for the profit recorded at a level far below expectations would be the expansion of the company on the smart EV segment of electric cars and investments in other potential projects.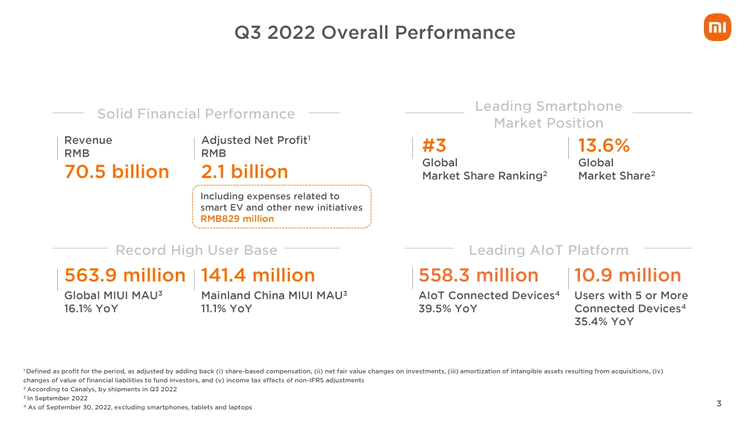 At the same time, from the bulletin addressed to investors it also emerges that Xiaomi increased its research expenditure by 25.7% compared to last year. Thus, in September 2022, approximately 48% of the company's staff were in one way or another involved in research activity.
According to the analysis company Canalys, Xiaomi ranks 3rd in the top smartphone shipments, with a market share of 13.6% globally. At the same time, the company ranks 3rd in the smartphone sales list in 52 countries and regions.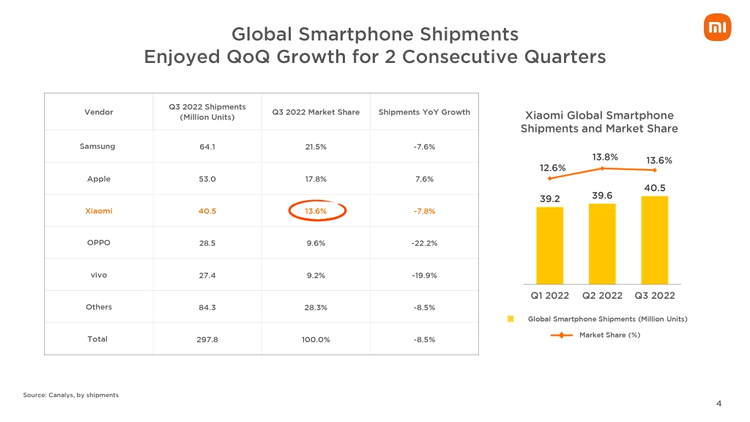 At least for the past year, the main regions where Xiaomi has reported sustained increases in market share are Europe, Latin America and the Middle East. For example, Xiaomi is 2nd in Europe with a 23.3% market share of the smartphone market, up 1.8% from last year.
Xiaomi also increased its market share in the premium phone segment, with the average selling price of smartphones increasing by 9% compared to last year, or 14% if we only refer to the mainland China region.