The Hisense 43A6BG LED smart TV, with a screen diagonal of 108 cm, is available in the offers of Dedeman and Altex online stores at a very good price.
The model costs almost 1,200 lei. Despite the affordable price, the TV offers a lot of interesting features. The display offers 4K resolution (3,840 x 2,160 pixels), 60 Hz refresh rate and 178-degree viewing angle.
Hisense 43A6BG includes two speakers with a total power of 14 W (2 x 7 W). The audio system supports DTS Virtual:X technology.
The TV has a quad-core processor and runs the VIDAA U5.0 operating system. The platform offers access to all major video and audio streaming applications, such as: Netflix, Prime Video, Disney+, YouTube or YouTube Music.
The TV remote control allows you to control it by voice commands.
For gamers, ALLM mode is available, which automatically reduces the input lag when a video game is started. The minimum response time offered is 16 ms.
In terms of connectivity, this model includes, among others, CI+ slot, three HDMI ports and two USB ports. Connecting to the Internet can be done wirelessly (in the 2.4 GHz band) or by cable.
You can see more details on the dedicated TV pages in the Dedeman and Altex online stores.
Hisense 43A6BG – full technical characteristics: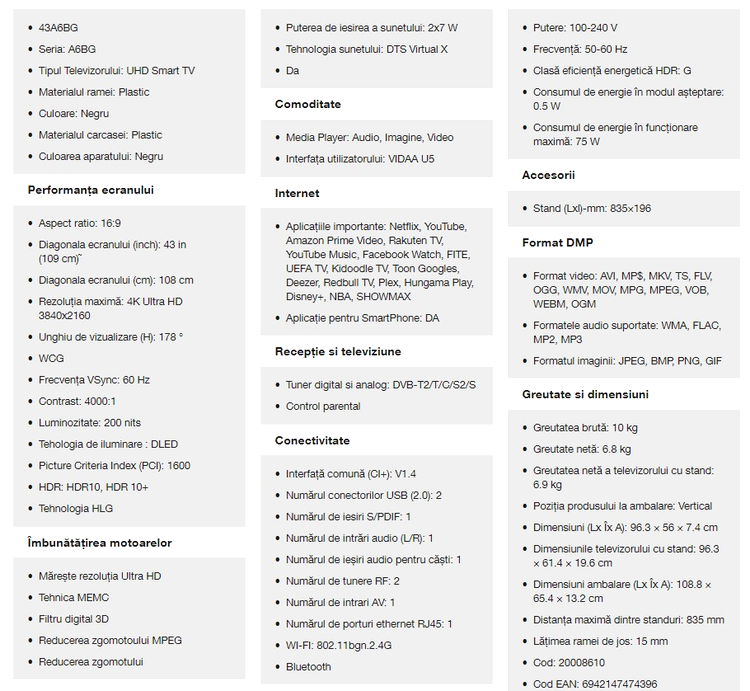 Photo: Hisense
READ ALSO:
Lidl: Three Parkside and Tronic tools useful in every home, available now
Telly, the free-to-air TV, officially unveiled. Includes a secondary screen for displaying advertisements