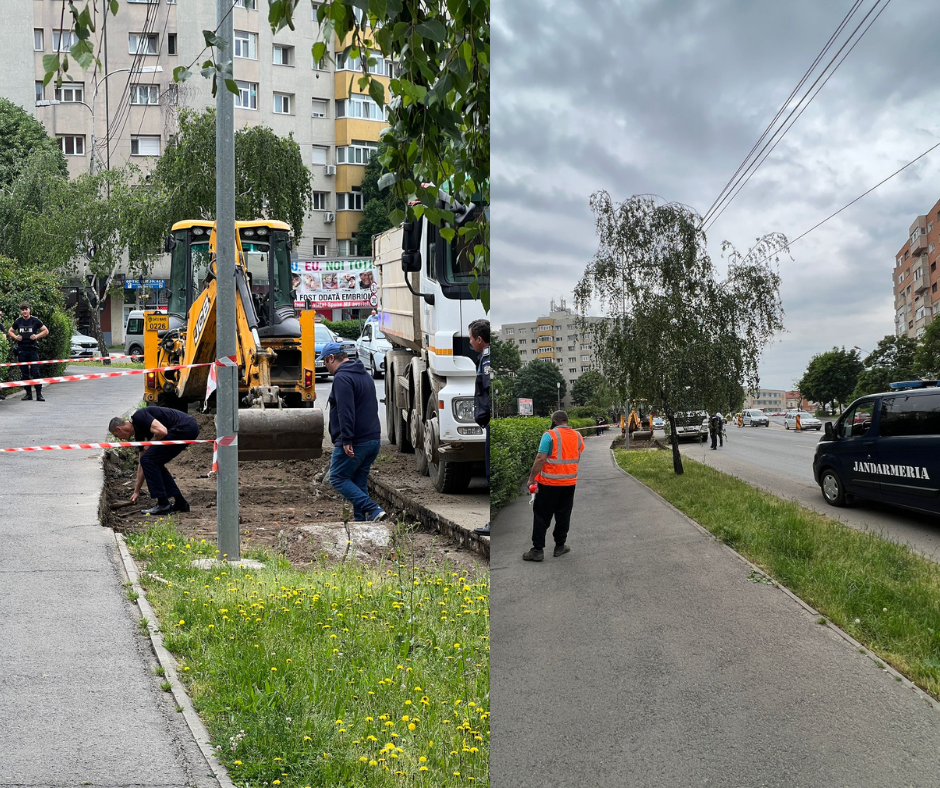 Alert, Wednesday morning, in Satu Mare. A worker working on the construction of a bus station called 112 after the bucket of his excavator hit a buried metal object. Fearing that it might be an unexploded grenade, the man alerted the authorities. Fortunately, the alert turned out to be false, and the so-called grenade was, in fact, just a piece of scrap metal, writes the local press.
The call to 112 was made around 11:20. A worker who was working at the intersection between Bulevard Lucian Blaga and Bulevard Independenții in Satu Mare, setting up a bus station, gave the alert, writes Presa SM. When the bucket of his excavator hit a metal object in the ground, the man got scared and thought it might be a shell or grenade from the Second World War.
In a short time, the police and the gendarmes arrived at the indicated place. Law enforcement officers immediately cordoned off the area and began checks. Fortunately, it was a false alarm. The suspicious object turned out to be scrap metal, which did not present any risk, writes Objective SM.
At the beginning of the month, two farmers from Botoșani county called 112, on the same day, to announce that they had found a grenade and a projectile while they were working in the field. In both cases, it was about unexploded ammunition, which "could explode with any mechanical action", the representatives of ISU Botoșani said at the time.
Those who find such metallic objects that appear to be projectiles, grenades, bombs or cartridges are advised not to touch them and call 112 immediately.
Editor: Izabela Zaharia