Game news PlayStation Showcase: Capcom finally unveils its next big game and it's not coming from just anyone!
It had already been announced through a simple logo, but here it is now much more concretely: Dragon's Dogma II turns out to be one of Capcom's next big projects. And for once, it is the director of Devil May Cry 5 who is in charge.
After the demons, the dragons
Dragon's Dogma is a long-time project at Capcom. Already in the early 2000sHideaki Itsuno's biggest video game dream was to make an action-RPG playable online, set in a medieval-fantasy context : Only then, the consoles and technical limitations of the time prevented him from fully granting his wish.
Regardless, the Japanese developer had time to get his hands dirty. Devil May Cry 3, 4 and 5 (as well as the 2, taken along the way as it could) are all from him and have considerably expanded his aura of good director. He was finally able to release Dragon's Dogma, his famous project, in 2012. And here is its sequel, Dragon's Dogma 2, all the more ambitious.
All hot all flame
We already knew that Dragon's Dogma 2 was in development, but it will have chosen the PlayStation Showcase this Wednesday evening to highlight itself concretely for the first time. So we were treated to an epic first trailer of just over a minute and thirty seconds.to discover in our player above.
Although its author is behind the excellent Devil May Cry 5, don't expect to find similar gameplay: Dragon's Dogma 2 will be an action-RPG, with a whole arsenal to obtain and a character to evolve over time, among several classes offered. Again, online cooperation will also be a major argument.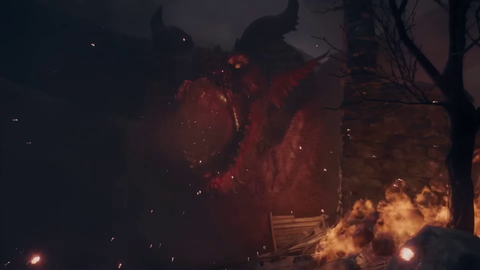 Capcom also promises us "state-of-the-art graphics, artificial intelligence and physics engine". It is in particular the RE Engine that is used here, the engine of all recent Resident Evil, Devil May Cry 5 or Street Fighter 6.
Although it is planned for PC, PlayStation 4 and PC via Steam, no release date has yet been given.
---