Game News PSVR 2: The first numbers have fallen, and it's not that alarming!
Released on February 23, 2023, PSVR 2 has just received its first official sales figures! So is this a disappointment for Sony? Does it do better than the first model? We take stock.
Since its release in February 2023, the PSVR 2 has gone through all the emotions! The press agrees on a super efficient object but sold at the gold price (€599.99); in January, Bloomberg ensures that Sony has revised its sales targets downwards, before the Japanese company denies; in March, the media returns to the charge by mentioning 270,000 units sold in 1 month. In short, it was time for PlayStation to disentangle the true from the false. This is what the brand did during its last financial report.
Better than the 1st PSVR
It's official, PSVR 2 sold 600,000 copies in its first 6 weeks, announces Sony. Over the same period, it is 8% more than the previous model released in 2016. In a paper published in 2022: Bloomberg claims that PlayStation planned to produce two million units for the launch of its next-gen headset. On his side, Insider Gaming recalls that Hiroki Totoki, Chief Financial Officer, is "confident" in the ability of PSVR 2 to cross 5 million in sales.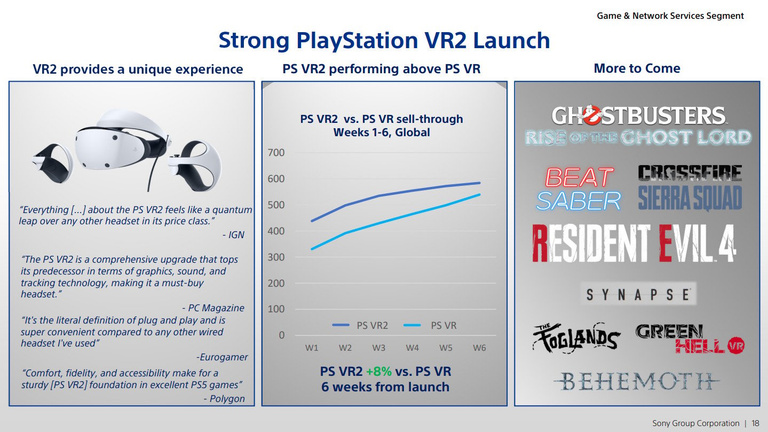 In a recent interview with FamitsuJim Ryan, CEO of PlayStation, notes that it is still a little early to judge the popularity of the headset. "PSVR 2 has just been released" he explains, "but we are pleased to see the many positive reactions from users and the media. We will continue to move forward so that those who buy PSVR 2 can enjoy it for as long as possible and so that we can also ensure our profits".
More big games to come
Speaking of the future, the same financial report cites the next games coming to PSVR 2, such as Ghostbusters Rise of the Ghost Lord, Beat Saber – and the virtual reality version of Resident Evil 4, which should be the subject of a presentation during the PlayStation Showcase on May 24, 2023. For this occasion, Sony should also show other titles… In several interviews, Hermen Hulst, head of the brand's studios, had mentioned his desire to see no more large "in-house" licenses in VR, like Horizon on Call of the Mountain. Why not imagine God of War, Uncharted?