The Sony ZV-1 started Sony's series of dedicated vlogger cameras, and the new ZV-1 II aims to address the minor issues that some users have reported in the few years since the original's debut. The ZV-1 II retains much of the already known advantages, such as the compact and lightweight body, and improves the less obvious hardware elements on the inside.
Sony's ZV-1 II appears to be more of a hardware overhaul than a completely new model
For example, the 20-megapixel 1" Exmor RS sensor remains in place. It does however get what appears to be an upgrade to the lens, which now has a wider aperture. From a full-frame equivalent 24-70mm lens, the ZV-1 II now has an 18mm aperture and 50mm zoom lens with variable aperture f/1.8-4. However, there is also a small "downgrade": the fact that this lens no longer has optical stabilization. But, fortunately, there is a better performing digital stabilization, which makes a crop on the sensor.
The ZV-1 II's microphone is just as powerful as the original model, but it gets features that allow you to capture from the front, back or the whole environment, and filming is now also available in "cinematic mode" that adds black bars top and bottom for an ultra-wide look. This feature recently debuted on the top-of-the-line camera, the ZV-E1, with a full-frame sensor.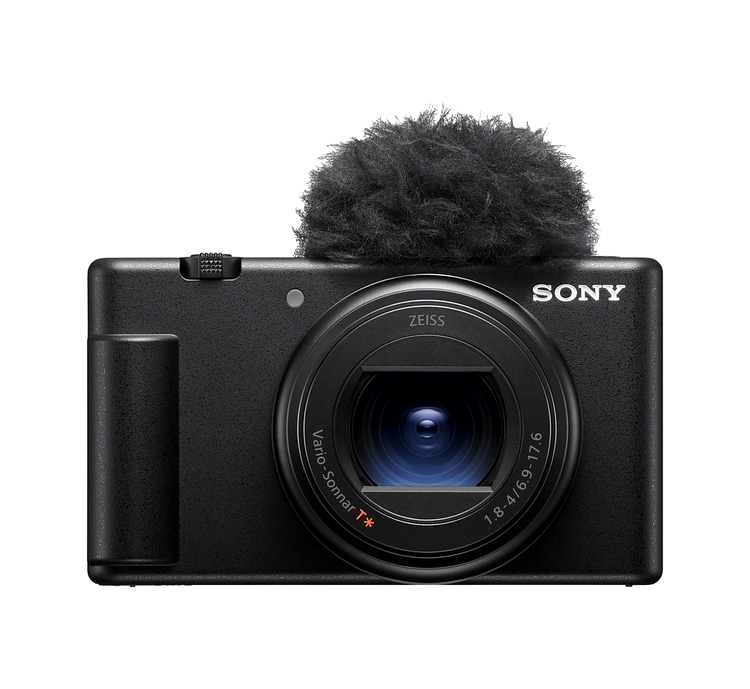 A very important upgrade is moving the tripod screw from the center to the edge, now being able to access the battery and card without having to remove the stand or the tripod it is mounted on. The move to USB-C is also appreciated.
Shooting capabilities are similar
In terms of performance though, the camera remains the same: 4K shooting at up to 30 frames per second, ISO between 125 and 12,800, built-in 3-stop ND filter, and includes fast functions for widening the aperture for pronounced bokeh and button for focus control with face or product priority.
Sony ZV-1 II is launched in June, at a price of 4,900 lei. It's priced slightly higher than the original ZV-1, and that looks set to remain on offer, alongside the lower-end ZV-1F and the ZV-E10 and ZV-E1 interchangeable-lens models.