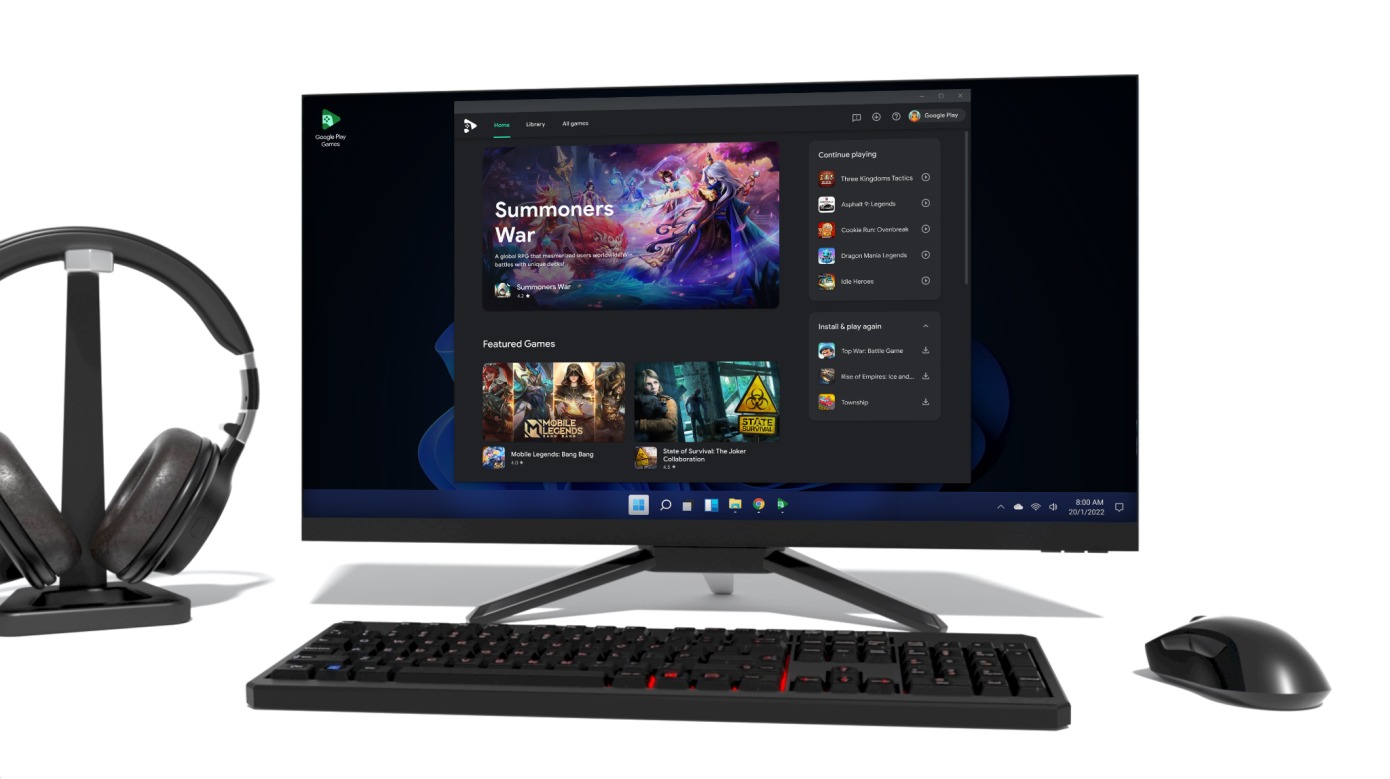 Google Play Games, the official Android game emulation platform from Google, directly from the Play Store, has finally arrived in Romania. It started last year in a few countries and is now expanding to most countries in the European Union and adjacent areas. It seems that Google considers this service to be still in Beta, so it will not integrate full functionality at this time. Considering that it is already available almost everywhere in the world, the "official" release could be very close.
Google Play Games was also launched in Romania in beta version
Play Games for PC can be downloaded from the official website and requires you to log in with a Google account, preferably the same one you use to play on an Android smartphone or tablet. Once you install the app, you have a wide range of Android games that you can install and play on your PC using a mouse and keyboard. Despite the fact that the selection is large, few games are really among the very big or very popular. There are many games that you keep seeing through the Play Store, but which you are rarely inclined to click on.
If you have played on Android in the past some of the games that are also available on PC, they will be listed in the sidebar, so you can quickly access them as soon as you enter the desktop application.
However, it is very important that the PC you are trying to run the Android games on passes the minimum required requirements. Even though PCs are generally better performing than smartphones, this software uses an Android virtual machine to emulate the games, while the original code is written for ARM processors, the "translation" to x86 instructions adding extra hurdles. Thus, a fairly powerful PC is required compared to a mobile to run these simple games.
The official recommended configuration on Google's website says that Windows 10 with 10GB of storage, a GPU better than Intel UHD Graphics 630 and a 4-core processor along with 8GB of RAM are required as a minimum. Some games only run on Intel, Google says. Windows should also have virtualization turned on, and if it doesn't, the Play Games app will automatically turn it on when you first install a game. However, this also requires a restart of the PC.
Google Play Games System Requirements
OS: Windows 10 (v2004)
storage: SSD cu10 GB free
GPU: IntelⓇ UHD Graphics 630 GPU or better
CPU: 4-core CPU (Intel required for some games)
RAM: 8 GB
Cont admin Windows
Hardware virtualization on
Google Play Games is now also available in these countries, which received access together with Romania:
Austria
Belgium
Bosnia and Herzegovina
Bulgaria
CYPRUS
Croatia
Czech Republic
Denmark
Estonia
Finland
France
Georgia
Germania
Greece
Hungary
Iceland
Ireland
Italia
Latvia
Liechtenstein
Lithuania
Luxemburg
Macedonia
Malta
Moldova
Monaco
Netherlands + Netherlands Antilles
Norway
Poland
Portugal
Romania
San Marino
Serbia
Slovakia
Slovenia
Spain
Sweden
Switzerland
Turkey
Ukraine
source: 9to5mac