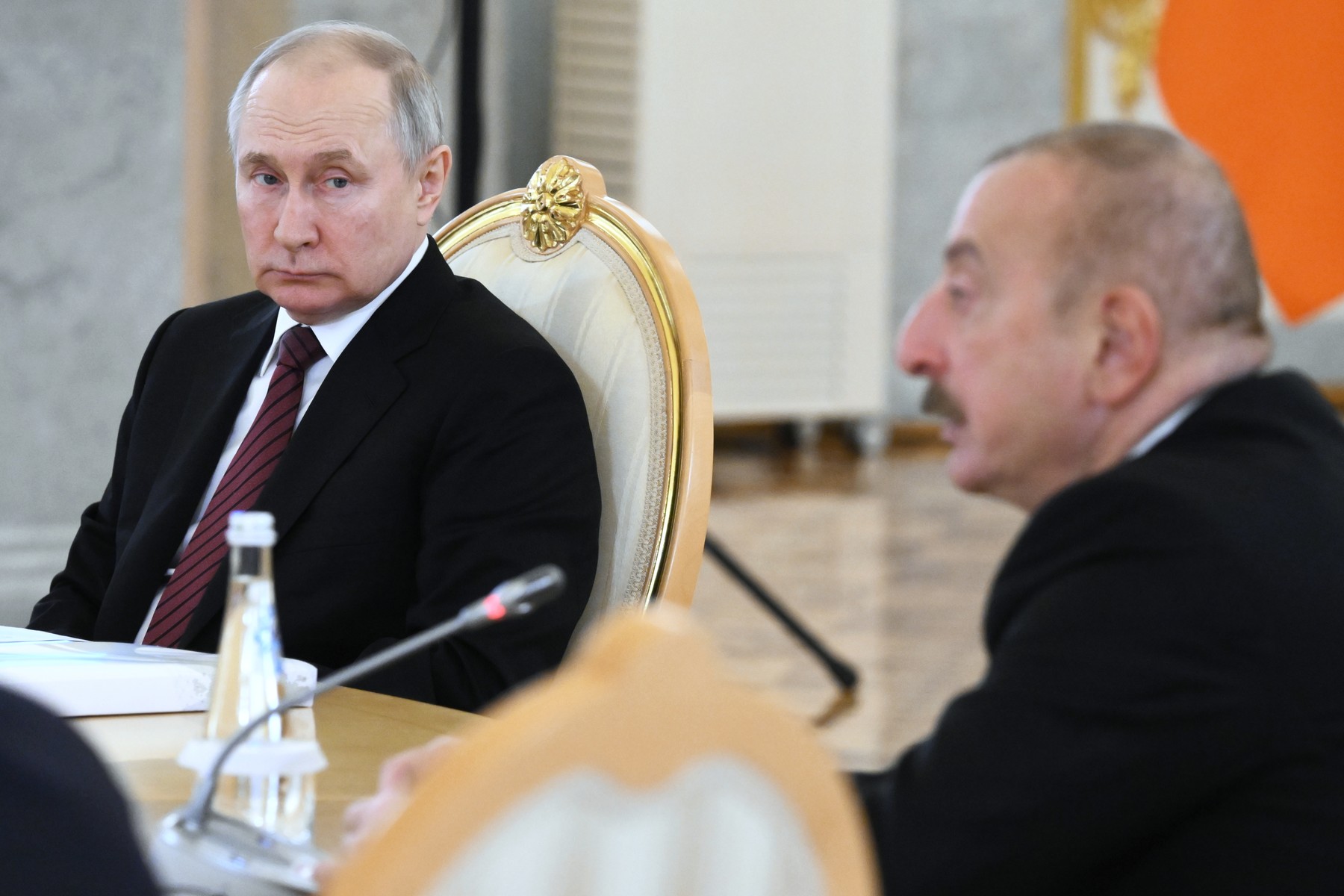 The leaders of Azerbaijan and Armenia sparred in front of Vladimir Putin on Thursday in exchanges that underscored the extent of their differences over the Nagorno-Karabakh territory, according to Reuters.
At a meeting in Moscow, Armenian Prime Minister Nikol Pashinian raised the issue of the Lachin Corridor, the road connecting Armenia to the Armenian-populated enclave of Nagorno-Karabakh inside Azerbaijan.
Azeri activists began in mid-December to block the road, which Pashinian said should be under the control of Russian peacekeepers, and Baku later erected a checkpoint along it.
"Azerbaijan, unfortunately, blocked this corridor," Pashinian said at the round table at the Eurasian Economic Council in Moscow.
Azerbaijan's president, Ilham Aliyev, responded: "Azerbaijan has not blocked any corridor…We must not use this platform for baseless accusations."
The two leaders continued to argue for several minutes before Putin shut down the talks, saying the topic was sensitive. He was to host tripartite talks with Aliyev and Pashinian.
"We will have the opportunity, as we agreed, to calmly talk about all this in a practical manner in a trilateral format, and I hope we will reach an agreement that will put not only the situation between Armenia and Azerbaijan, but also the situation in the region , on the path of constructive development", said Putin. "I can assure you that everybody here has an interest in this, absolutely everybody."
Armenia and Azerbaijan have been in conflict for three decades, fighting two wars over Nagorno-Karabakh. In recent months, both sides have expressed increasing willingness to sign a permanent peace deal, even as regular conflict has continued.
Minutes before tense exchanges with Pashinian, Aliyev said there was a "serious basis for the normalization of relations between Azerbaijan and Armenia based on mutual recognition of territorial integrity and sovereignty."
Editor : A.C.