Game news The video game that inspired Resident Evil will meet you very soon…
The remake of Alone In The Dark, the first of its name, is about to give its news, as part of a dedicated "Spotlight"… Want to know when it's happening? Well, you've come to the right place.
If you are told "which game served as the basis for the survival horror genre", what do you answer? Resident Evil, the famous Capcom title released in 1996? Wrong answer. Yes, four years before, a certain Alone in the Dark went there, on the PCs of the time! Almost everything is there: 3D graphics (achieved using polygons), a fixed camera that masters the art of offscreen, the super creepy atmosphere in a mansion, inspired by the work of George Romero – The Night of the undead – and of HP Lovecraft. Of course, the gameplay is still quite heavy, and that's probably why Resident Evil and Silent Hill will go down in history. Do you want to discover this classic despite everything? That's good, the remake of Alone in the Dark will soon reveal all new information.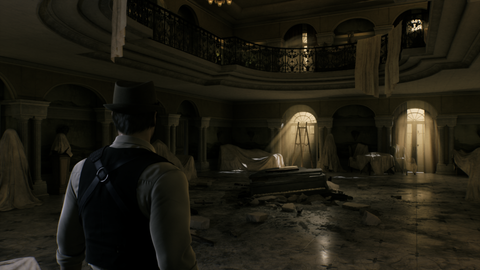 Light on Alone in the Dark
On the night of Thursday May 25 to Friday May 26, 2023 – at 2 a.m. (French time) – it will be time to watch the Alone in the Dark Spotlight, dedicated to the redesign of the cult game. An expected speech, since it will undoubtedly make it possible to learn the release date of the title… For now, publisher THQ Nordic | the Pieces Interactive studio (Magicka 2, Titan Quest DLC) only unveiled a first trailer, with a few snippets of gameplay! The opportunity to see that we will not embody 1, but 2 heroes, in the person of detective Edward Carnby and Emily Hartwood – whose uncle has disappeared. Our duo will have to reveal the secrets of "Derceto Manor", ​​a psychiatric hospital where "something is hiding".
Allow us to shed some light on some of the mysteries shrouding Alone in the Dark! Join us May 26 at 2am for our #AloneInTheDark Spotlight.
Even if Pieces Interactive is not used to survival horror, this remake seems to put the odds on its side… On its official website, we can read that it is a real "love letter" to the Alone in the Dark from 1992! On the script side, we can also mention the presence of Mikael Hedberg, horror writer of the very good Soma, Amnesia. Everything will be released on PC, PlayStation 5, Xbox Series.