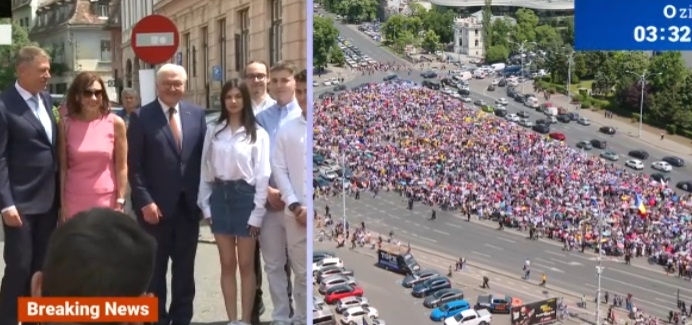 While thousands of teachers are protesting in Bucharest's Victoriei Square, the president's wife, Carmen Iohannis, brought a group of students to the Samuel von Brukenthal National College in Sibiu to welcome Klaus Iohannis and the German president, Frank Steinmeier. Carmen Iohannis was caught while taking pictures with the students, in the midst of the teachers' strike, a strike in which she announced that she would not participate.
"We didn't come here to discuss political events, we are here, together with the children, to meet the two presidents," said Carmen Iohannis, quoted by Turnul Sfatului.
Carmen Iohannis is among the teachers who decided not to join the general strike.
Carmen Iohannis told journalists that she came at the request of her students. "I was the one who wanted to take a picture with the two presidents."
Presidents Klaus Iohannis and Frank-Walter Steinmeier are on a visit to Sibiu on Thursday, during which they arrived at the Samuel von Brukenthal National College.
Meanwhile, at the protest in Piața Victoriei, thousands of people gathered, with flags, whistles and vuvuzelas. People support their claims and declare themselves dissatisfied with the Government's offer so far. Shortly before the representatives of the unionists announced the decision regarding the strike, the spokesperson of the Government, Dan Cărbunaru, stated that teachers' salaries will increase when the salary law is finalized and that until then, the Government will maintain its offer of premium cards.
Publisher : AP