Vladimir Putin made a failed attempt to prove that Ukraine did not exist before the Soviet Union emerged while inspecting a 17th-century map of Eastern Europe. The Russian leader overlooked a detail clearly written on that document.
What appears on the map analyzed by Vladimir Putin
The Kremlin has published video images in which Vladimir Putin receives the president of the Russian Constitutional Court, Valery Zorkin, in his office. He showed the Russian leader an old map of Eastern Europe, with which to support the thesis that the Ukrainian people never existed in history, so as to justify the invasion of Ukraine on February 24, 2022.
"The Soviet government created Soviet Ukraine. This is something well known to all. Until then, there has never been a Ukraine in the history of mankind," said Vladimir Putin in front of the map.
However, Vladimir Putin omitted the fact that on that map it says, next to today's Ukraine: "Vkraine ou Pays des Cosaques" ("Ukraine or the Land of the Cossacks"). In addition, the city of Kiev, spelled "Kiow", is marked. The document also says "Ukraine", north of the Sea of ​​Azov.
The map was drawn up by Alexis-Hubert Jaillot, one of the greatest cartographers of the 17th century. At the time, Russia was called the "Grand Duchy of Muscovy", and members of the Polish nobility ruled much of what is now Ukraine.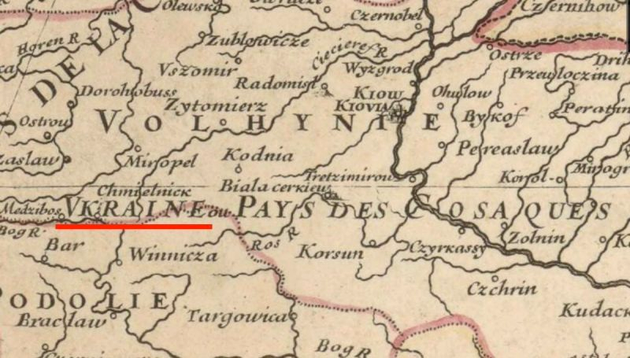 Putin, defeated in the war with history
Despite Vladimir Putin's claim, in the 17th century, when the map invoked by the Russian leader was made, Ukraine had a distinct culture and language from Russia, and the Cossack tribes asserted their independence from the Polish rulers and Moscow.
At the time, what would become Russia was known in some parts of Europe as the Grand Duchy of Moscow, while Polish nobles ruled large portions of what is now Ukraine.
As part of the Pontic steppes of Eastern Europe, Ukraine played an important role in the spread of bronze tools, the Indo-European migrations and the domestication of the horse.
Vladimir Putin and the Kremlin have sparked ironies with this attempt to deny Ukraine's history. "The pathetic war criminal is still trying – and failing – to justify his catastrophic blunder of a genocidal war", commented on Twitter the lawyer specialized in Russian propaganda Paula Shertok. "Absurdity of the day," said a CNN anchor.