News culture Cinema's hottest scene is leaving Amazon Prime Video soon: 30 years later, it's still a classic
The 90s brought a bunch of good cult movies, including many thrillers that we still remember vividly. In this list, we could cheerfully mention Basic Instinct: beware, the film is about to leave Prime Video.
Simple, Basic
It was in 1992 that the director Paul Verhoeven offered us Basinc Instinct, a thriller in good and due form and which has since become a great classic of cinema. The story is that of a police officer (played by Michael Douglas) investigating the murder of a famous rock star in the United States. He then finds himself confronted with an enigmatic character (Sharon Stone), who seems to be playing with him by charming and manipulating him.
A film that will have been widely talked about: first of all, because or thanks to its treatment of sexuality, charm, but also violence, giving rise squarely to the genre of the thriller-erotic within Hollywood (it must be said that with 352 million dollars at the box office, Basic Instinct was one of the most profitable films of the decade). He was, moreover, directly attacked by activists for the defense of LGBT rights for the way he speaks of homosexual relations, without forgetting the bisexuality of the character portrayed by Sharon Stone.
And even, it is far from being the only… "provocation" of the feature film.
A crossover story
Often, when we talk about Basic Instinct, we think of this cult scene where Sharon Stone uncrosses her legs in an interrogation room, facing Michael Douglas… without underwear. A shock moment which, however, was not really supposed to take place. In her autobiographical book, the actress says:
After shooting Basic Instinct, I was called to see him. Not alone with the director, as you might expect, but with a room full of agents and lawyers, most of whom had nothing to do with the project.
This is how I saw my vagina filmed for the first time, long after I was told: "we won't be able to see anything. I just need you to take off your panties, because the white reflects the light, so we know you're wearing panties."
Yes, there have been many views on this topic, but since I'm the one with the vagina in question, let me tell you, the other views are bullshit.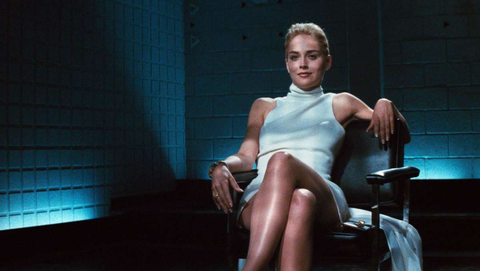 She had therefore not given her approval to appear in this way, which is enough to add oil to the fire and cause a buzz that still lasts today. Anyway, if you subscribe to Prime Video, know that Basic Instinct will leave the platform on May 31. So you have a few days left to enjoy this classic film.
---