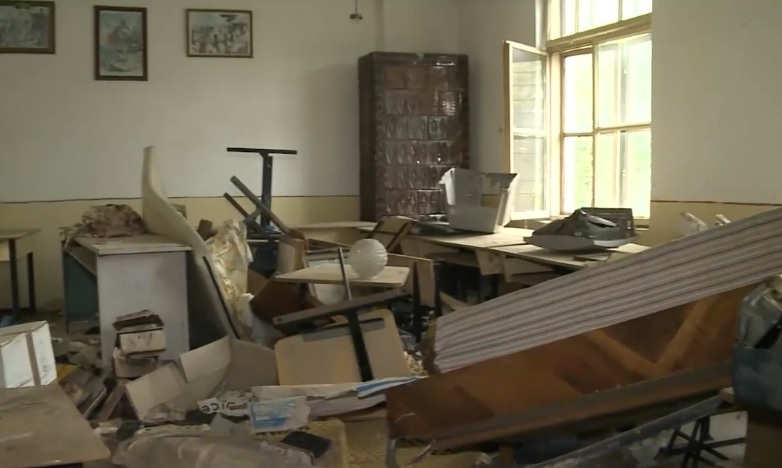 A school that trained dozens of generations in a town in Gorj has become a garbage dump. The school, closed due to the small number of students, is in disrepair. The heavy smell can be felt from a distance, but that did not prompt the local authorities to take action. Hundreds of books have been left raining on them, the walls are cracked, and the benches where students once sat are now broken.
The disaster is visible from the moment you enter the school: broken windows and a desolate landscape. The building looks like a huge garbage dump.
"Dozens of generations of children have learned in this classroom. But now, due to the lack of interest of the local public authorities, the landscape is like this. The benches are broken and crumbling, the walls are cracked. But no one came to take measures for this institution to look the way it should," reports the Digi24 reporter.
Local authorities shift the blame from one to the other. Neither the mayor, nor the deputy mayor, nor the councilors did anything to change the situation.
Virgil Popescu has been a local councilor for 13 years, he knows how things are, but he says he had nothing to do.
"Virgil Popescu, local councilor at Bumbești-Pițic City Hall: Maybe a matter of volunteering, you mean, if we could do it.
Reporter: Even so, it was volunteering for…
Virgil Popescu: Yes, but someone had to take the initiative.
Reporter: Couldn't local councilors do that?
Virgil Popescu: Local councilors could also do it, I admit.
Reporter: Yes, it was not done…
Virgil Popescu: It was not done.
Reporter: Will face?
Virgil Popescu: We hope. "
The mayor says that there was no money in the budget for such a thing, but he will find funds.
Irina Cojocaru, the mayor of Bumbești-Pițic: "I promise you, as well as the citizens, that it will be done in a month."
The people of the commune are disappointed that the school ended up looking like this. Many of them had their children study there.
"I saw it. It's deplorable. I don't know why the City Hall doesn't take a stand, I can't figure it out, but it's a shame, it's a shame about the school. There used to be a school there, because my daughter also studied there."
More than 150 children are currently studying at another school in the commune.
Editor : G.M.