More than two years after the rotting leg of a con artist who stole tens of millions of dollars from friends and several family members was discovered on an Australian beach, the official investigation into the case that captivated an entire country has reached at the end, but the mystery of Melissa Caddick's disappearance persists, reports CNN.
Melissa Caddick's story has inspired a hit podcast, a television series, and countless increasingly bizarre theories, including that she was swallowed by a shark or that she cut off her own leg to save herself. lead the police on the wrong track, writes the BBC.
The investigation was lengthy and included errors by the police, conflicting testimony and much speculation about the woman's fate.
"The conclusion we have reached is that Mellisa Caddick is dead. But … I do not find that the evidence supports how she died or when and where it happened," Deputy State Coroner Elizabeth Ryan wrote.
For most, Melissa Caddick's story began with the news that this apparently highly successful financial advisor had disappeared.
But her secrets began to emerge months before she disappeared, when Australia's financial regulator received information that Caddick had been using a friend's financial adviser's license, a document she had simply pasted her name on They.
The woman disappeared immediately after the police raid. He went for a run and never came back
Authorities believe the 49-year-old stole up to 30 million Australian dollars (over 19 million US dollars) from more than 60 clients, mostly family members and friends, money she used to make a living luxury: trips abroad, top cars, designer clothes, expensive jewelry.
The scammer's strategy wasn't even that complicated, according to the investigator. As new clients gave her money she should have invested, Caddick paid dividends to older clients and kept (and spent) the remaining money for herself.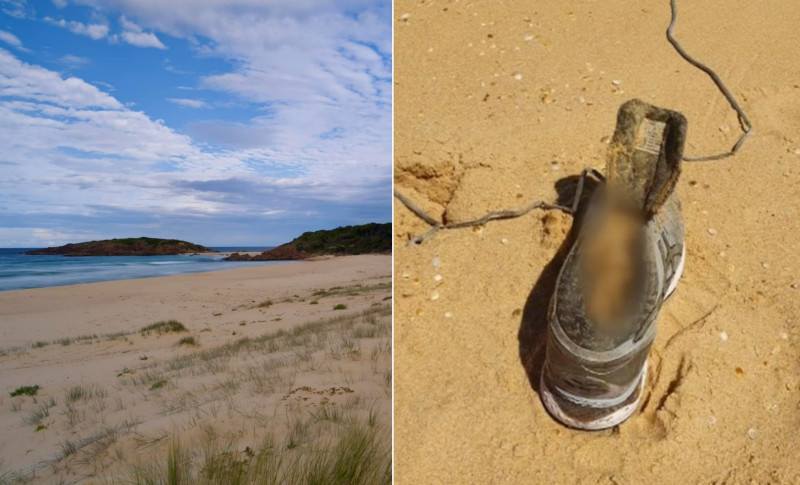 What surprised investigators is that almost all of Caddick's clients were family members or close friends. The whole scam came to light on November 11, 2020 when the police knocked on her door.
The last time the police saw Melissa Caddick was during the raid almost 3 years ago. Her husband, Anthony Koletti, told police he believed the woman went for a run the next morning, leaving the car and all her belongings behind.
Koletti did not report his wife missing until 30 hours later, after he learned from the court where she was supposed to appear that she had failed to appear.
The police had two theories, but the case got complicated with the discovery of the severed leg
Police initially had two theories: Either Caddick was alive and had fled so she could not be held accountable, or she had committed suicide.
Although police found no evidence that Koletti was involved in his wife's scam, they said the man "didn't appear to be too concerned" when his life partner went missing.
Moreover, Koletti behaved quite strangely after Caddick disappeared: he sent messages from his wife's phone in which he pretended to be her, he described to the police what clothes the woman was wearing on the morning of the disappearance, although he said that he did not saw her and recorded songs like "Melissa is Missing" and "Above the Law" in which he sings about his wife's disappearance case.
The case became even more complicated in February 2021, when a rotting foot wearing an Adidas was discovered on a remote beach 500 kilometers from Sydney.
Experts determined the leg belonged to Caddick through DNA testing, but the autopsy did not reveal whether the leg was severed from the rest of the body by force or by natural decomposition.
Did she get eaten by sharks, did she cut off her own leg, or did she kill herself?
To test the theory that the woman had been eaten by a shark, which then regurgitated parts of her body, the police planned to dump pig corpses with sneakers on their feet.
An orthopedic surgeon said it was unlikely that the woman would have been able to cut her own leg, as it would have required a lot of force to cut the bone, would have caused a lot of blood loss and would have required specialist medical care.
Scientists have come up with a simpler explanation, however. Sea currents could easily have carried the leg a long distance, and a pathologist described how people's legs can detach from the rest of the body as a result of the decomposition process.
Detective Ryan said the police discovery may have "caused her a catastrophic level of shame and despair" which may have led her to believe that the only way out of the situation she found herself in was to kill herself .
How Caddick died will likely remain a mystery, Ryan said. Equally unresolved are the losses sustained by her clients—huge sums of money gone forever with Caddick.
"I sold my business because I was living under the impression that the money was safe and I retired in 2017," said one of the victims. "To add insult to injury, she also stole the money of my mother, wife, mother-in-law, son, brother and sister… she destroyed the savings of three generations of my family."
Editor: Raul Nețoiu