Albert Watson is a well-known and appreciated fashion photographer, with more than 100 Vogue covers to his credit, but also the author of iconic images of celebrities from all over the world, working for more than five decades.
Among those photographed by Watson, over time, are stars and personalities such as Mick Jagger, Steve Jobs, Jack Nicholson, Kate Moss, Christy Turlington, David Bowie, Tupac Shakur or Andy Warhol, among many others, obviously.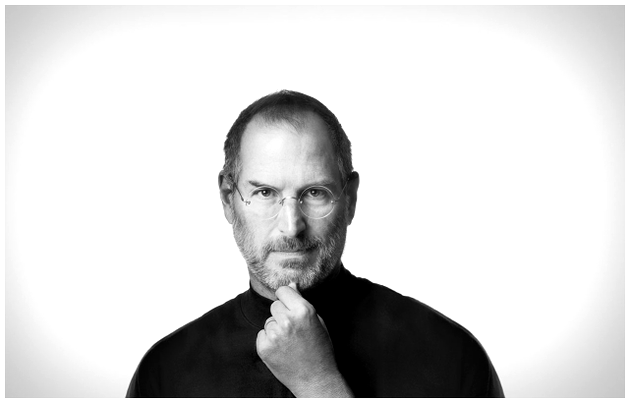 How he photographed Steve Jobs
"There are certain things you have to be pretty strong about, especially in terms of how you're going to take that photo," said Albert Watson in an interview with PetaPixel.
"One of the first things we found out was that he was going to arrive at nine o'clock, and the people in Cupertino, at Apple, where I took the picture, said, OK, we can give you the conference room at 8.30" .
"I said: If you give me 30 minutes in advance and that's it, I won't make it. I have to be there at 6.30 in the morning so I have time. This has nothing to do with me, this has to do with Steve Jobs. I want to be extremely efficient, organized and ready for him so that when he comes in, I'm 95-96-97% ready to shoot him and he's also immediately available to shoot. I want to have time to adjust the lights."
"I insisted on the time and got there at 6.30 in the morning. I went over absolutely everything because a lot of times you need to check things like the electrical to make sure everything is working properly. It happens that you connect two lights in one circuit and press the flash three times and the circuit explodes.'
"Preparing for such a shooting is not easy at all. The customer service guy said to me: Thanks for being here. Steve hates photographs, he hates having his picture taken, he really doesn't like the experience at all, and today, unfortunately, he's not in the best of moods."
"So I told the PR guy there's nothing I can do about it if Steve Jobs is like that. I'm here to photograph him. But in those five minutes we talked, I suddenly had an idea, and when Steve arrived, I said, I have good news for you. I only need you for 30 minutes, not an hour."
"He smiled and said: Fantastic, of course, but I'm so busy. But do you have enough time? I said, Yes, and he came on set and actually complimented my camera equipment.
"At one point he asked me if I was still shooting and I said, 'Yes, because I don't think digital is perfect yet,' and he pointed at me and said, 'I agree with you…but we will get there, you know, and soon digital will be better quality than film photography."
"I worked very quickly with Steve Jobs. I knew exactly what I was going to do, the lens change and so on, and the shoot went really well. He was, after all, in a good mood, and at 9.30, I took some close-up photos of him. The direction I gave him for the close-up was very simple, so everything went according to plan."
"I gave him the following instructions: Imagine you are face to face with a lot of people who disagree with you, but you know you are right. To which he said: Well, this is very easy for me because I do this every day. People always disagree with me. I can do this".
"He had a very strong and determined look on his face and because of the low time I think he was happy. We finished just after 9.30 and when he left he saw the Polaroid I had taken over the 4×5 camera and said: This is possibly the best picture of me ever".
"I thought it was just being nice and polite because we quickly finished the photo shoot. But a few years later, after he died, Apple asked for that picture of him and said that the Polaroid was always on his desk. They used it as a commemorative photo, which was later on the cover of the book."
The Polaroid that Steve Jobs saw didn't have the exact same expression captured on film, but it had "the same intensity."
Watson had two assistants, one responsible for changing photo lenses and one feeding him the film, while he operated the Horseman 4×5 with a reflex viewfinder. He also continually checks the sharpness of the Fujifilm Polaroids with a magnifying glass. Watson took 18-20 frames in half an hour, and one of them became the iconic image of Steve Jobs.
Mick Jagger posed with a leopard for Watson
"It was a real leopard," Watson said of the famous photo of the Rolling Stones frontman and founding member, who could be seen in a 1959 Chevy Corvette with a strikingly beautiful feline.
"If you're shooting wild cats, it's a lot easier to work with a cheetah than a leopard. A leopard is one step closer to a wild animal and is unpredictable."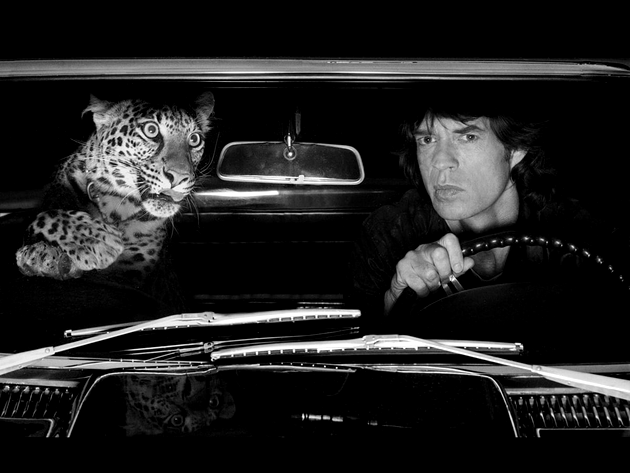 "Photography is from before the digital age. I could have taken that photo in five minutes with digital and photoshop. You put the leopard in the car and then you put Mick Jagger in the car and you just put them together in one shot, but back then of course I was shooting on film with a Hasselblad and it was hard for me to retouch ".
"The portrait of Mick Jagger with the leopard is actually a double exposure. While he was preparing for this photo (seen above), I took another photo: a picture of a leopard and a portrait of him that I put on top of each other to create a single photo." the photographer concluded for the aforementioned source.
In the following, we invite you to admire two more famous photos taken by Albert Watson, with 2PAC and Jack Nicholson.
In the last photo you can also see the famous photographer.
In the first photo: David Bowie (by Albert Watson).