News astuce Bigorron Zelda Tears of the Kingdom sword: how to defeat Stalhinox to get the Ocarina of Time sword?
You want to recover the Bigorron Sword from Ocarina of Time, but you can't overcome the Stalhinox guarding the chest of this precious weapon? In this Zelda: Tears of the Kingdom article, we explain how to overcome this creature.
Want to get your hands on the Bigorron Sword in The Legend of Zelda: Tears of the Kingdom, but don't know where to find it? In this article, we reveal her position, but also the method to use to defeat the elite enemy who protects her.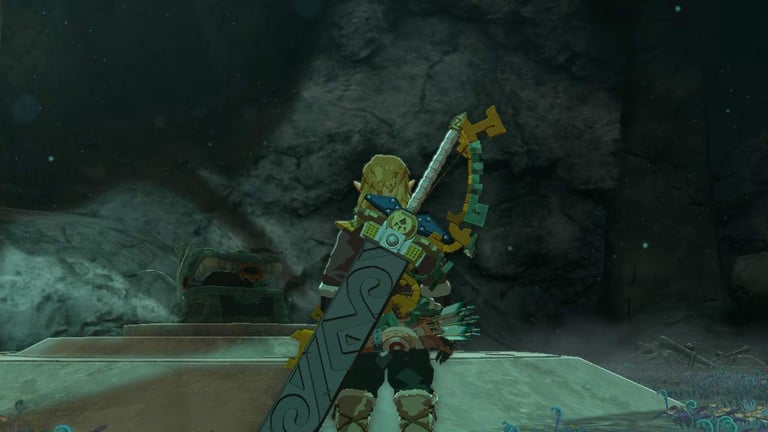 Where is Bigorron Sword in Zelda: Tears of the Kingdom?
The Bigorron Sword is found in the Depths. However, its location is relatively easy to find since it is just below theAbyss of Skull Pond. This access to the Depths is located north of the Depths of Akkala and the Tower of Mount Ramol.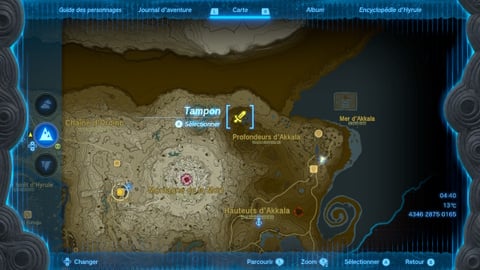 Going down into the Abyss, you will immediately come across a group of opponents. Fortunately, they are only Moblins. You can defeat them very quickly by destroying their skulls which detach from their heads.
Once this group is defeated, Stalhinox will wake up and there, it will be necessary to show strategy to defeat it. Without the defeat of this adversary, the Bigorron Sword cannot be yours.
As indicated by his name, Stalhinox is a variant of the Hinox that we know only too well. To weaken him in all serenity, all you have to do is shoot an arrow in his eye and then hit him in close combat. On the other hand, his life will stop decreasing when he is about to die. Indeed, the Stalhinox has a small particularity; since he is a skeleton, you must destroy the part that animates him, like the heads of the Moblin skeletons.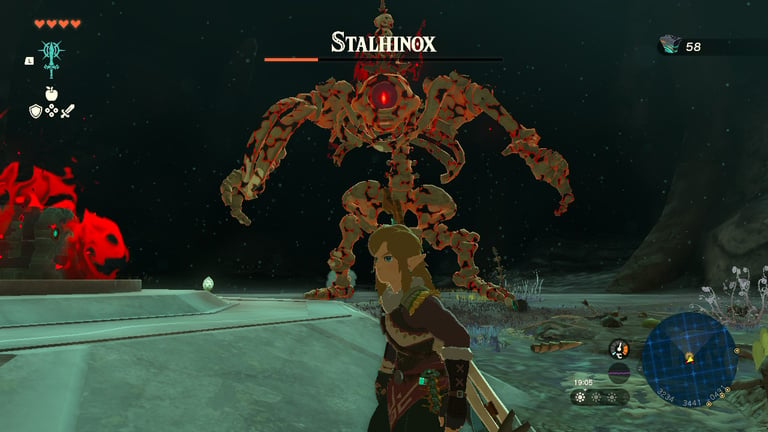 So, your mission will be to knock out his eye to destroy it. To inflict maximum damage to its eye, it will be necessary to hit it against the direction of the Stalhinox in order to move it away from its owner. Otherwise, he can recover it and thus continue his fight. We prefer to warn you, the eye bounces when you hit it, so you will have to prepare to run after it to deal maximum damage.
However, if you fail to knock out his eye, we advise you to shoot arrows associated with a flower bomb. If you're a sharp shooter, the eye will detach very easily on impact.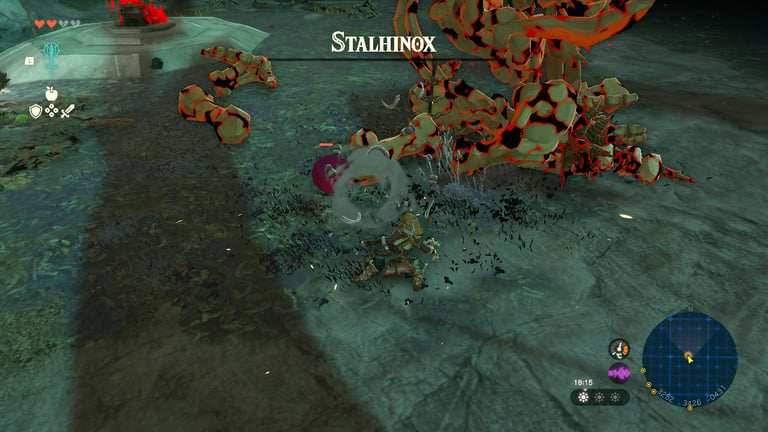 Once the fight is over, the chest will be unsealed and you will finally have access to the Bigorron Sword. This two-handed sword will give you 36 attack. However, be careful, because unlike the Sword of Legend, this one can break! So don't hesitate to visit Octostones in Eldin's Ravine to repair it when the game tells you that it's about to break.
Summary of all our guides and tips for Zelda Tears of the Kingdom