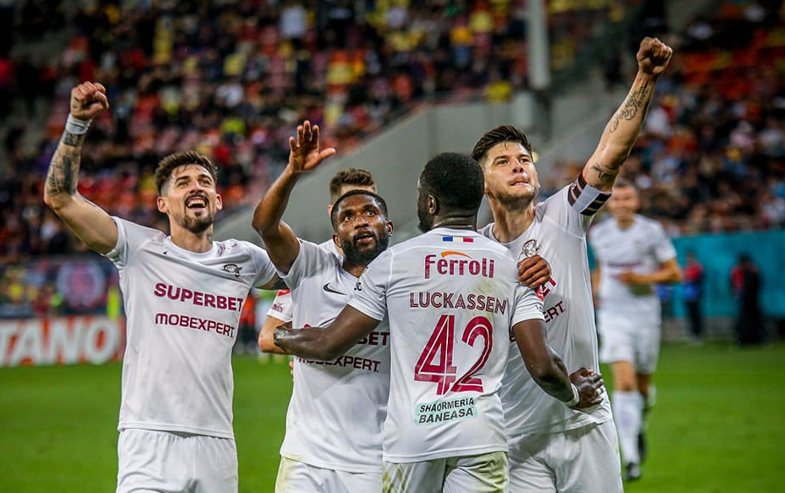 FCSB was outclassed by Rapid Bucharest with a score of 5-1 (3-0), on Saturday evening, at the National Arena in the capital, in a match considered away, in the 10th (last) stage of the play-off of the football Superleague.
Rapid equaled the most decisive victory obtained in direct matches with the red-blues, since 2010.
The team coached by Adrian Mutu opened the scoring quickly, through Dutchman Kevin Luckassen (7), from Jayson Papeau's pass. Ştefan Pănoiu (17) increased the difference with a deflected shot, following a corner. Paul Iacob (26) scored Rapid's third goal, also following a corner.
Octavian Popescu, entered at halftime, reduced the difference with a vault execution (58), but was eliminated in the min. 63, for kicking Funsho Bamgboye. The Nigerian scored the last two goals of the game (68, 79), from passes by Paul Iacob and Răzvan Onea, respectively.
In min. 34, the game was interrupted for 5-6 minutes due to the torches thrown by the supporters of the hosts, according to Agerpres.
19,247 spectators attended the match.
At Rapid he debuted in min. 86 the young goalkeeper Bogdan Ungureanu (16 years old).
FC FCSB – FC Rapid Bucharest 1-5 (0-3)
They scored: Octavian Popescu (58), respectively Kevin Luckassen (7), Ştefan Pănoiu (17), Paul Iacob (26), Funsho Bamgboye (68, 79).
Red card: Octavian Popescu (FCSB, 63).
Referee: Sebastian Coltescu (Bucharest); assistant referees: Daniel Mitruţi (Craiova), Bogdan Gheorghe (Bucharest); fourth official: Viorel Nicusor Flueran (Craiova)
Video Referee: Horia Gabriel Mladinovici (Bucharest); video assistant referee: Imre-Laszlo Bucsi (Saint George)
Observatory: Adrian Comănescu (Râmnicu Vâlcea) – CCA, Eduard Alexandru (Ploiesti) – LPF
Mutu: The three less points don't matter, it was a victory for pride
Adrian Mutu, the coach of the Rapid team, was satisfied with the performance of his players in the match won by a score against FCSB on Saturday evening. He will decide in the coming days which players will come and go from Rapid.
"The three less points matter, it was a victory of pride and the fact that we did it in a categorical manner is even better. I'm glad the team took this game seriously. I'm glad we won 5-1, we're going on vacation, a well-deserved vacation.
We will make a much more accurate evaluation these days and I will see what ideas I will take. Players will certainly leave, players will come. A win against FCSB, when you represent Rapid, sweetens everything!
I believed and I believe in this team, that it can evolve. We achieved our main objective, that of being in the play-offs. Next year we want to go one step further! All coaches are contested. The public is free to express themselves as they wish, I just want to assure them that I do my duty one hundred percent. I am a very serious man. I never lost my faith in the boys, but there are weaker moments in the life of a team", said Adrian Mutu, according to News.ro.
Editor: Liviu Cojan