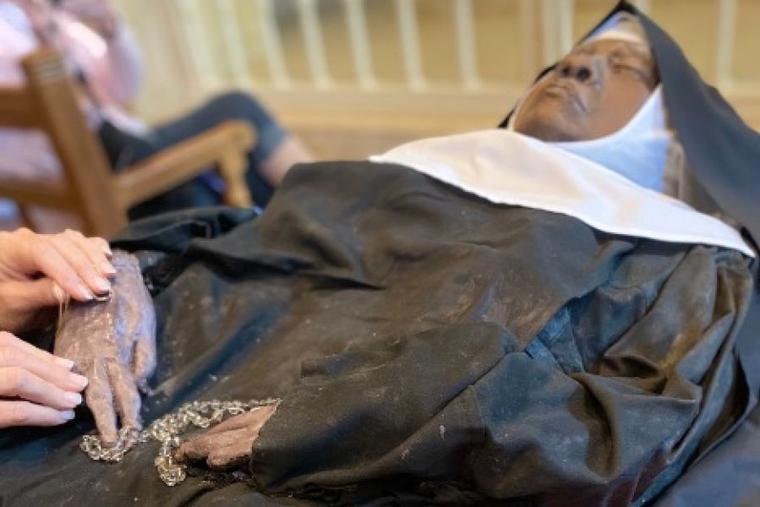 Hundreds of people across the US have traveled to a convent in a small Missouri town to view the body of a nun who appears to have no signs of decay four years after her death. Sister Wilhelmina Lancaster's body was exhumed and found to be "intact", a sign of her sainthood, according to The Guardian.
Sister Wilhelmina Lancaster was the founder of Queen of the Apostles Convent in Gower, Missouri.
Her body was exhumed on May 18 so that it could be moved to a convent chapel, four years after her death in 2019.
But when the casket was opened, Sister Lancaster's body was intact, with almost no signs of decay. The body had never been embalmed and was buried in a cracked wooden coffin that exposed his body to moisture and debris.
"We were told by the cemetery staff to expect only bones because Sister Wilhelmina was buried without embalming and in a simple wooden coffin," one of the convent's sisters told Newsweek.
Those who exhumed the body found a layer of mold on the nun's body, possibly due to condensation from the cracked coffin, the Catholic News Agency reported.
In Catholicism, bodies that defy the process of decay are known as "incorrupt", which is a sign of holiness and subsequent justification for sainthood. The process for sainthood has not begun for Lancaster, Bishop Johnston, of Kansas City-St Joseph, said in a statement.
More than 100 bodies were mutilated, the Catholic News Agency reported. But Lancaster is probably the first black person in the US to be found intact.
"We believe she is the first African-American woman," Mother Cecilia, the convent's abbess, told the Catholic News Agency. Cecilia was the first person to examine the coffin, as head of the monastery.
Some experts said it is not unusual for bodies to remain well preserved for the first few years after death, even if they are not exhumed.
"Generally, when we bury a body, we expect it to take about five years for it to become skeletonized," Nicholas Passalacqua told Newsweek. Passalacqua is Associate Professor and Director of Forensic Anthropology at Western Carolina University.
"This without a casket or any other container or packaging surrounding the remains. So for this body, which was buried in a coffin, I personally don't find it too surprising that the remains are well preserved after only four years."
However, word of the exhumation spread via social media, with hundreds of people traveling to Missouri to view Lancaster's body.
Lori Rosebrough, a resident of Overland Park, Kansas, told USA Today that it was an "incredibly rare opportunity" to see "God's hand at work."
"Not many people can say they have touched and prayed over the body of a saint," Rosebrough wrote. "I think the thousands of us who made the trip to Gower, Mo., this week can now say we did."
Royce Hood, who hosts a Catholic radio show, traveled with his wife, Elise, and their six children to view Lancaster's body. The drive from the house in Peoria, Illinois took over five hours.
"I feel like people are saying, 'Wow, we need this right now,'" Hood told the Catholic News Agency.
"There is so much chaos and darkness in the world. I think God gives us little graces to remind us of what's ahead and what awaits us."
Nun Lancaster's body will be moved on May 29 and encased in glass in the chapel, where visitors can still see it, according to the convent's website.
Editor : R.K.