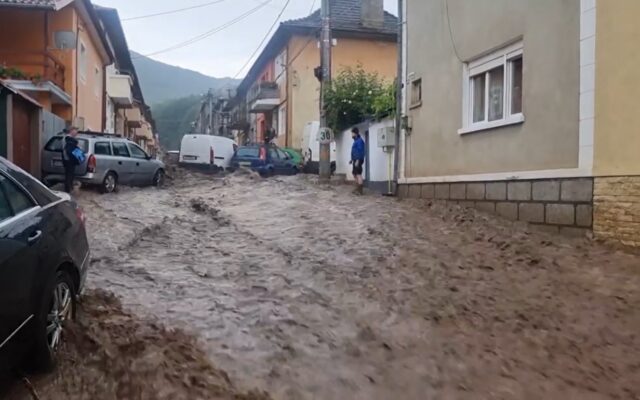 Several streets were flooded, Monday afternoon, in the city of Reșita, after a cloudburst. According to the ISU Caraș-Severin, fire crews from the Reșita Fire Department operate in several locations in the municipality and the related neighborhoods to evacuate water from several households.
Currently, 4 motor pumps are used in the following locations:
4 streets from Reșita municipality
3 streets from the Țerova neighborhood
the Doman neighborhood
Secu district
There are no people in danger.
The National Institute of Hydrology and Water Management warns that there is a danger of flooding on several rivers in Timiș and Caraș-Severin counties. Specialists have issued an orange code. The warning is valid until 22:00 on Monday.
"As a result of the rainfall recorded in the last hours, the forecast and the propagation, there may be significant runoff on slopes, torrents, streams, rapid floods on small rivers with possible severe effects of local flooding and significant increases in flows and levels with possible overflows of flood levels"the institute's message states.
The rivers from the "Bârzava hydrographic basins – upstream basin SH Moniom and the tributaries related to the downstream sector SH Moniom – upstream SH Gătaia, Timiș and Caraș – Severin counties" are targeted, the specialists explained. Dangerous hydrological phenomena can occur with greater probability and intensity on some small rivers in the hydrographic basins: Bârzava – the tributaries related to the downstream SH Secu sector – upstream SH Moniom, stated the representatives of the National Institute of Hydrology and Water Management.
Editor : M.D.B.