Game News This is the heist of the century for GTA 5!
It's no secret: the Grand Theft Auto franchise is often all-powerful in video games and the reign of the GTA V juggernaut is indisputable, he who is still present after ten years of existence. Recent figures from its publisher thus reveal the revenues generated by the franchise and there is enough to fall backwards.
The force of the war
Rockstar owner Take-Two is a giant in the entertainment industry and it's safe to say that Grand Theft Auto has been instrumental in helping it achieve that status. The firm has just unveiled its financial results for the 2023 financial year (which therefore began on April 1, 2022 and ended on March 31): 14.6% of total net income comes to us… from the GTA franchise.
More concretely, this then corresponds to 781 million dollars and this is obviously huge, when you know that that figure is split between Grand Theft Auto V and Grand Theft Auto: The Trilogy – The Definitive Edition, which is just two games. We can also estimate quite easily that it was this first title that generated the most money, in particular thanks to in-game purchases.
A word on this subject: as underlined Tweaktown, the net income mentioned here also includes what is called deferred income. To do it simply, money generated from DLCs may sometimes be recognized by Take-Two later in another fiscal year or quarter. In other words, it is difficult to know how much in-game purchases have brought in over a specific period: it is thus possible that the figures of GTA are even larger than displayed.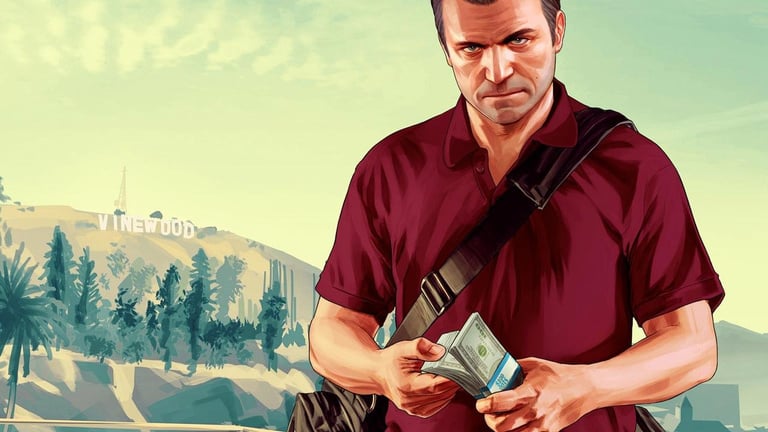 The license that was worth billions
With the data transmitted by Take-Two, the Tweaktown site has thus updated and compiled the data recorded around GTA. So, since the launch of Grand Theft Auto V in 2013, the franchise has generated the sum of 8.33 billion dollars, or 7.77 billion euros.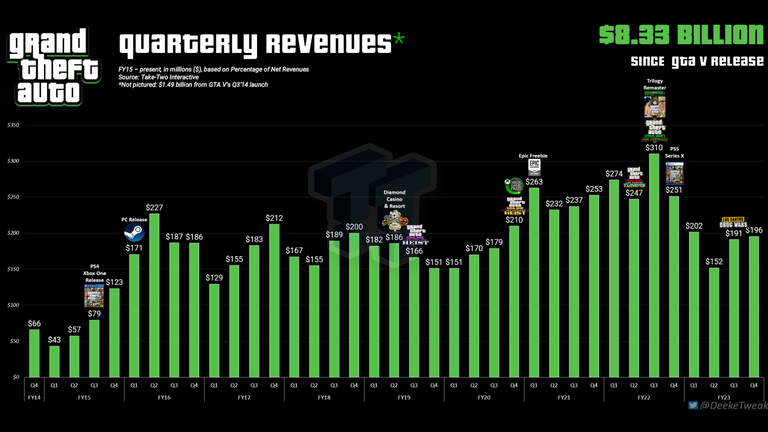 This gargantuan sum therefore comes from sales of GTA V and the Trilogy Definitive Edition (launched in 2021) on a whole bunch of platforms: PS4, PS5, PS5, Xbox 360, Xbox One, Xbox Series, Nintendo Switch and of course PC.
With so much moneywe can perhaps better understand how Rockstar could have injected one or two billion dollars into the budget of GTA 6, as the latest rumors indicate (to be taken with a grain of salt, always). Dizzying numbers!
---