NVIDIA and AMD recently released "recommended" graphics cards for gaming in Full HD, and many laughed when they heard about this resolution in 2023. The truth is that those who take gaming seriously and would spend more than 1,500 lei just on a video card, they expect resolutions from QHD up. However, Full HD is still a popular resolution and will remain so for many gamers. The ViewSonic XG2431 monitor is a Full HD one, which is equipped with many "gaming" capabilities, especially for those who appreciate the shortest possible response time, natural colors and a very high refresh rate.
ViewSonic's XG2431 is a mid-range monitor, but it also packs premium capabilities
As the name suggests, the ViewSonic XG2431 is a monitor with a diagonal of 24″, a resolution popular especially among eSports shooter enthusiasts. That's because these screens are neither too big nor too small, they generally come with Full HD resolution, which ensures that they will be able to run games at their native resolution even on not very powerful PCs, and can do so at framerates very big. Coincidence makes this model even one at 240 Hz. Considering that most gaming monitors sold in the market are at 144 or 165 Hz, the XG2431 has an important advantage that translates into lower response time and smoother gameplay.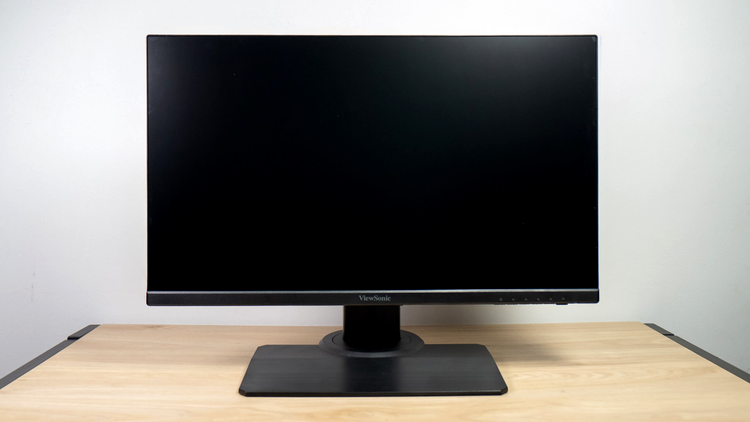 But that's not all, the IPS panel is capable of displaying 10-bit colors, it's Vesa HDR400 certified, so it also allows the playback of this kind of content, and it integrates two very important functions for gamers who play competitive titles. One would be the integration of FreeSync Premium technology, which allows variable refresh rate on AMD graphics cards, but also ensures compatibility with NVIDIA's G-Sync. The second is the possibility to use the monitor with backlight strobing. The PureXP function, which controls the strobing of the backlight can be set to several steps, which ensures an increasingly clear moving image, with the mention that the brightness also decreases.
And speaking of brightness, the ViewSonic XG2431 is able to maintain a maximum brightness of 350 nits in SDR, which is pretty standard for a mid-range gaming monitor, but reaches up to 500 nits full-screen in HDR. Unfortunately, the lack of local lighting means you'll see everything very bright when playing in HDR, including dark areas. As long as you're playing more "bright" titles and not ones that take place predominantly at night, you should be fine. However, HDR on monitors certified to the Vesa HDR400 standard is not quite the "real" HDR experience. Being more of a monitor aimed at eSports fans, the HDR features probably won't be enabled by very many gamers anyway.
ViewSonic offers pretty much all the accessories you need, and even a few extras
In the package, the ViewSonic XG2431 includes just about everything you need for a quality gaming experience. Since the power supply is built into the monitor, it only includes a power cord to connect to the outlet, without a large adapter to "hang" around. A DisplayPort cable is also included in the package, for connecting to a PC. Also, a USB-B 3.0 cable allows connection to the PC to extend the port to the monitor.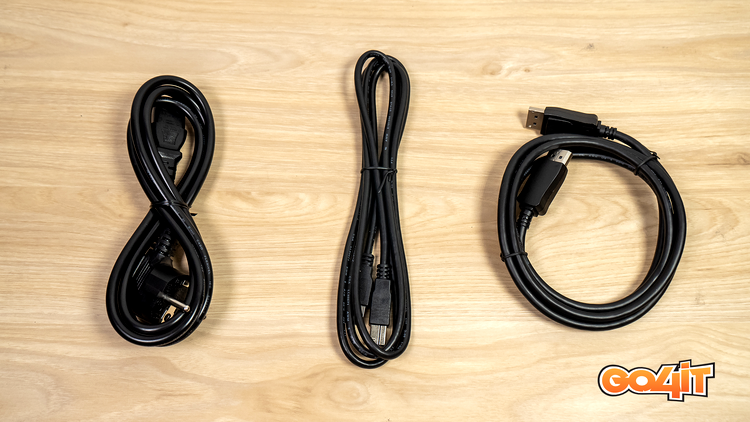 The monitor has a fairly simple design, but it is made of quality matte plastic. The monitor stand comes assembled from the factory, but it can be removed by unscrewing it to mount the monitor on a VESA 100 x 100 stand. The stand at the bottom is made of very heavy metal, which provides good stability, but is covered with a plastic similar to that of the case. The leg allows for horizontal rotation, height adjustment and tilt assist, but more up than down. Incidentally, the monitor can be oriented in portrait mode, but probably not many people would do that with a 240 Hz screen.
The connectivity ports are more than I would have expected on an average monitor: two HDMI ports, a DisplayPort, a headphone jack for audio passthrough, and two USB 3.0 ports. These ports seem to be made for connecting the mouse and keyboard, as the monitor has two "bungees" on either side for routing peripheral cables. These can be useful both for wired peripherals and for attaching charging cables for wireless ones. It's a detail we rarely see on gaming monitors.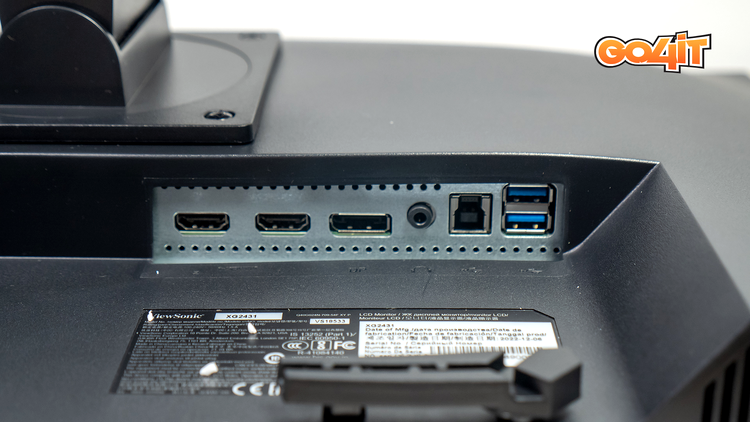 And while we're still on the topic of good curiosities, there's a retractable stand on the top of the leg to store the headphones when not in use, and a ring can be mounted on the back of the leg to organize USB, power and video.
To control the monitor, ViewSonic has attached multiple buttons on the bottom right and a Power button that has no other function.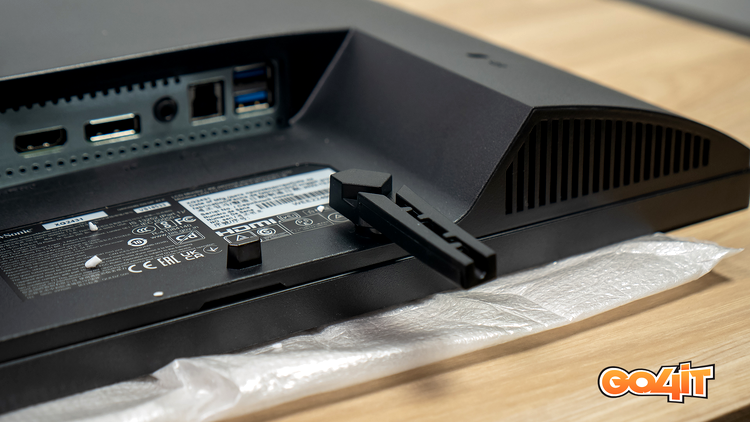 The menus are simple and provide control over all advanced functions
I would have preferred the individual buttons to be consolidated into a multi-directional joystick, as many gaming monitors on the market have. The functions of the buttons are, from left to right: left and right directions, ok button, back button and power button. They always have the caption displayed when you're walking through the menus, but even so, sometimes in a hurry, you can still click past. And joining back and Power can cause the monitor to turn off by mistake.
The menus are thankfully pretty straightforward and don't require much setup. They are very well organized by category, and the first three are extremely simple and easy to understand such as input, for selecting the playback source, audio, which controls the volume of the audio jack, view mode, which lists the predefined display profiles.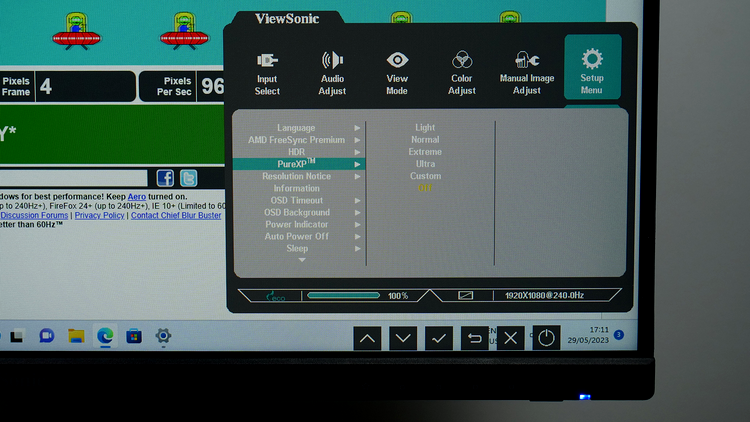 However, the following menus are somewhat more complex. Color Adjust is the menu from which you control everything related to advanced color profiles, such as brightness, contrast, color temperature or color space. I recommend using the standard profile, as it is quite well calibrated from the factory, with the brightness according to your preferences. The contrast should stay somewhere around 70. Since it's an IPS panel, you don't really have much room for calibration in this regard.
Manual Image Adjust is the next menu that allows the configuration of more advanced aspects such as the response time (ie the overdrive function), the blue light filter, or the stabilization of dark areas. From here I recommend using Response Time on the Advanced function, as it clearly reduces input lag but does not create as many artifacts around elements as the highest setting.
Finally, the setup menu includes the rest of the functions, such as activating FreeSync Premium, which should be permanently active to avoid screen tearing during gameplay, activating or deactivating HDR, or activating PureXP, i.e. backlight strobing.
This latter feature was made in partnership with Blur Busters, the makers of the famous UFO monitor tests. I would recommend using the Light or Normal setting here, for very good blur reduction while maintaining a fairly good level of brightness. Higher settings are more effective but reduce the screen brightness so much that I can only recommend using it at night with the lights off.
ViewSonic XG2431 is equipped with an excellent panel for gaming in 1080p
I was pleasantly surprised by how effective the anti-reflection treatment on this monitor is. We are dealing with a matte monitor that does not reflect light at all. Being used to glossy screens recently, I immediately noticed the difference. However, I believe that matte screens also have disadvantages. The contrast is greatly reduced when a light hits the screen directly, and the brightness decreases compared to a glossy one. If you plan to use the ViewSonic XG2431 in a room with lots of light, however, you'll appreciate its matte screen.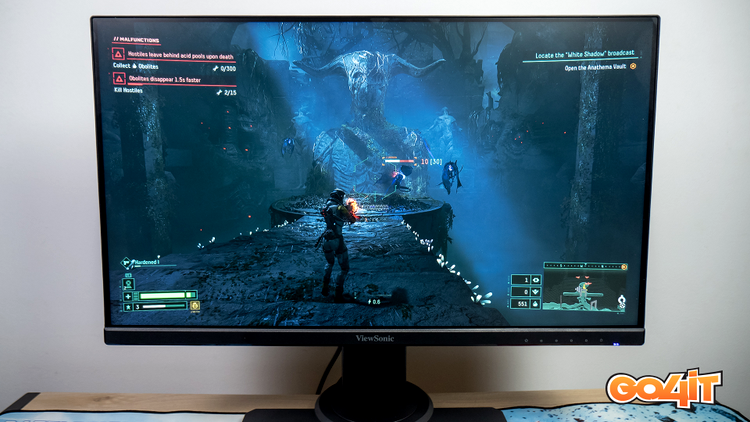 The colors that the screen displays from the factory are very pleasant. Even though I don't have a colorimeter to test and calibrate the panel, it looks very good, on par with some top gaming laptops in this regard. Moreover, this is a 10-bit color screen, which ensures that more intermediate color shades are displayed, so in 10-bit content, you will not see unsightly color gradients in images.
It is important to note that on DisplayPort you can get the full experience of using this monitor. If you connect the monitor to a PC via HDMI and set it to 240 Hz, the colors will automatically be set to 8-bit. You can use the screen at 120Hz with 10-bit over HDMI, which can be a valid use case for a PlayStation 5, for example. With just a DisplayPort cable you can achieve 240 Hz at 10 bits in Full HD resolution on the ViewSonic XG2431.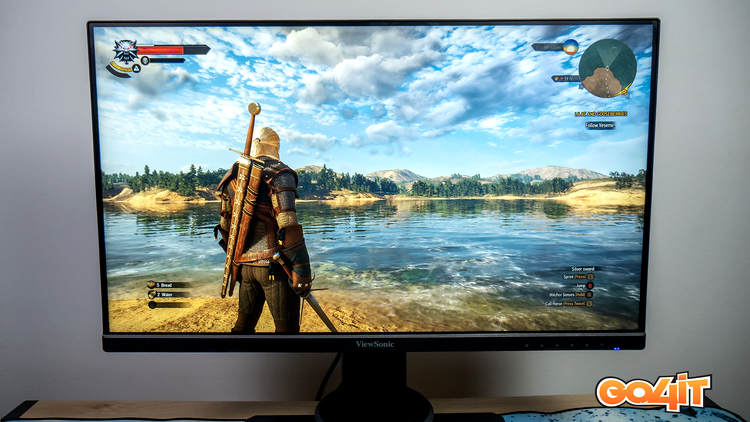 Still in possession of Lenovo's Legion 7 Pro laptop, the best performing gaming laptop we've tested so far, we were able to test a few games at maximum settings in 1080p with ray tracing and all other options enabled, including HDR. It's impressive how much you can currently get from a mid-range monitor that costs around 1,500 lei. Just a few years ago, monitors under 2,000 lei were often equipped with TN panels, very fast but not "beautiful", and HDR compatibility was not even an issue.
I experimented a bit and came to the conclusion that you don't need PureXP for "single player" games, even if there are some where response time is very important, like Returnal for example. That feature should only be used in competitive games where every frame counts and sharpness can really help you spot an enemy faster.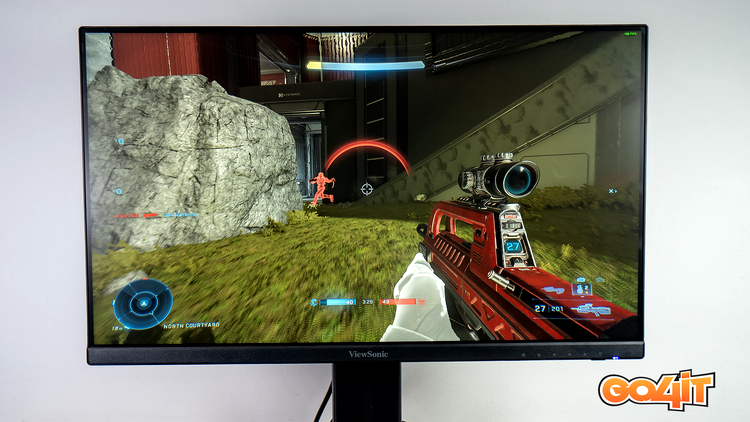 Because I'm not a Counter-Strike, LoL or Valorant player, I tested the monitor in a shooter that I still play from time to time, also competitive, but not so popular among gamers: Halo Infinite. Even if it's a console shooter at the base, on PC, the competitive level is quite high, especially in ranked mode. I hadn't played Halo in a good few months and barely remembered the control scheme, the first few rounds I was just sitting and moving the mouse left and right, amazed at how fluid the visuals were in a game like this. The upgrade to 240Hz from 120, 144 or 165Hz is real and feels immediate.
ConCluSIonS
I have to admit I was impressed, firstly because it's the first time I've had the hardware to experience Halo Infinite at 240 frames per second, for a level of fluidity that's hard to put into words. Then using PureXP, after disabling the in-game motion blur effects, is the icing on the cake, as you no longer "lose" resolution when moving the mouse in-game. Everything stays in focus and sharp, and movements are absolutely instant. As long as you have a set of quality peripherals alongside the ViewSonic XG2431 that also ensure low response times, there really are no more hardware-related excuses for failures in online matches.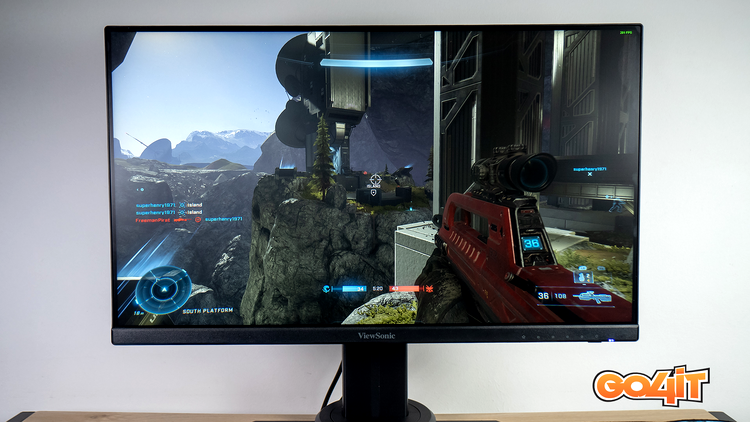 For a monitor at an average price, I think the XG2431 comes with a lot of advantages, which will be appreciated by those who want a monitor for shooters, but also want to play a single player from time to time. A 24″ screen is a bit small for me, and so is Full HD, but it's pretty clear that I'm not in the target audience for this product. If you play CS or Valorant and want a really good monitor that won't "break" the budget, I can recommend this model without hesitation.