Game News PS5's most impressive exclusive is finally coming to PC!
If there is one game that everyone envies on the PlayStation 5, it's Ratchet & Clank: Rift Apart… Good news: the impressive production of Insomniac Games (Marvel's Spider-Man 2) will soon land on PC !
Ratchet & Clank: Rift Apart on PC: soon a reality!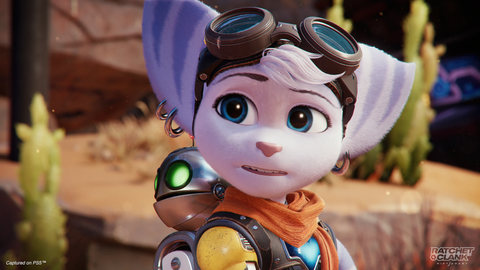 PC players were waiting for it and not just a little! It must be said that Ratchet & Clank: Rift Apart is one of the few PlayStation 5 titles to take full advantage of the power of the machine. Presented as a Pixar video game, the creation of Insomniac Games, in addition to being magnificent from every point of view, in fact perfectly exploits all the features of the console, starting with its magic SSD which allows Ratchet or Rivet, a brand new character, to move from one world to another in a snap.
Today, the hit from Sony's latest machine is finally about to land on other media… You got it, The game is finally coming to PC!
Ratchet and Clank, the intergalactic adventurers, will make their first steps on PC this summer! On behalf of the entire Nixxes Software team, we are very happy to announce our new project in collaboration with Insomniac Games.
The Ratchet & Clank franchise just celebrated its 20th anniversary. We are excited and honored to be able to bring this iconic series to a wider audience. If you've never played an installment in the series, Ratchet & Clank: Rift Apart is a great entry point. This game, of a unique visual splendour, is perfectly adapted to neophytes of the series thanks to its independent story and its two new characters: Rivet and Kit.
For the occasion, this PC version will offer new features to make the experience even more unforgettableas well as compatibility with 21:9, 32:9 and up to 48:9 resolutions for three-screen setups.
The PC version of Ratchet & Clank: Rift Apart features ray-traced shadows and highlights with a wide variety of resolutions available. This technology helps create more natural light in outdoor areas. Ray-tracing renders shadows very realistically, with natural attenuation* gradations.

---
Already a release date
The good news is that you won't have to wait very long to get your hands on the PC version of Ratchet & Clank: Rift Apart, since the game will land in just a few weeks. In effect, it is from next July 26 that the hit will be available on Steam and the Epic Games Store.
We can't wait for you to meet these intergalactic heroes and embark on an adventure across dimensions when the game releases on July 26th.
Finally, note that players who pre-order the game before its release will be entitled to early access to two costumes and a weapon: the Pixelizer which, as its name suggests, pixelates its opponents.
---