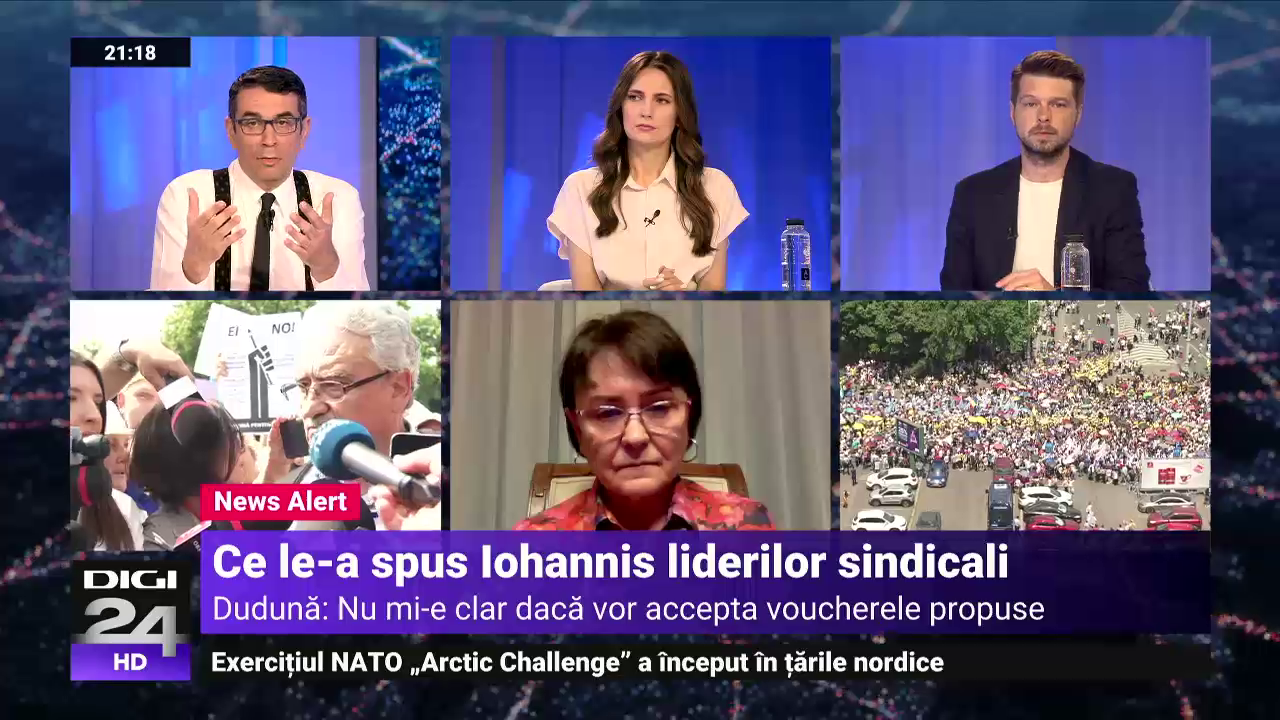 The director of the IL Caragiale College, Andreia Bodea, said to Digi24 that "she is starting to have some reservations regarding the continuation of the teachers' strike", adding that "it seems that some people know some things that they don't know". She also explained that "there are some nuances" that she notices in the speech of Marius Nistor, the leader of the Federation of Trade Unions in Education, who said on Tuesday that President Klaus Iohannis sympathized with the teachers.
"I don't really like what I understood, I don't know if I understood correctly, I have the feeling that it's something I'm missing. There are some nuances that I notice in Mr. Nistor's speech, which did not exist the other day, but maybe I'm wrong. If before I heard these things I was wondering if I was worried about how long the teachers, especially those who are alone and do not give meditations, will be able to last, now I am beginning to wonder if the crack will not somehow come from the very place we did not expect, namely from union leaders. I don't think it was a step forward. Of course, I also welcome the willingness of the president to talk to union leaders and students. It's just more words. Mr. President, I am convinced that he was aware of everything that was happening in education for several days. I would have expected a more concrete perspective to be presented to the union leaders. An agreement, we don't know what that agreement contains, we continue a strike based on what? In the end, what I say tonight to the parents and students, because they are not coming to school tomorrow, because we are in exactly the same situation, but I am starting to have some reservations regarding the continuation of this strike. It seems some people know some things we don't. It seems that everyone is expecting an imminent end to the strike on the 8th of June, given that on the 9th of June we will be at school to finish classes. It's something that escapes me and I certainly don't like it," said the director.
Andreia Bodea also explained that when the union leaders left the discussion with Klaus Iohannis, they should wait for some statements, which were delayed.
"The world has become a bit worried and agitated. I would like to know what we are waiting for, that we keep meeting, talking, discussing, postponing, making some scenarios. My skepticism I see deepening about the prospect, but I fully agree with what has been said in recent days, that if this massive exodus of teachers, who I see has enjoyed the sympathy of some parents and students and some personalities, fails miserably for one reason or another, the medium-term chance for education to recover collapses for good. These thousands of people imagine returning from the pulpit with their heads bowed, without getting any more of what they demanded for their dignity, and begin to teach. You have this image of this mass of people going back to the chair humiliated, disappointed. I don't think they will ever go out on the streets again," she added.
Asked what the teachers' wishes were, she said they needed "a reason, after 30 years, to make the governors think they're finally paying attention" and to get a decent pay rise.
"Teachers, all over the world, have never been paid very well and yet they have done their jobs for decades. Teachers are not greedy and they are not rich people. They don't need much and they never needed it, because they loved this job and that's what this situation was based on that led to us being treated with complete indifference, but I think something that doesn't show a crumb and be offered as reparation, it's not about a large sum, it's about a reparation, an intention, an entire government, stopping for an hour, half a day on very important matters, I don't dispute that , and give us this half day as a gift in which to really think about giving something, not throwing something away", concluded the director.
Editor: Bianca Chirilă