News astuce Domi Zuïno Shrine Zelda Tears of the Kingdom: how to solve his riddle?
During your adventure on Tears of the Kingdom, you will come across many small dungeons called Sanctuaries. In this article, we will focus more particularly on the one called Domi Zuïno by guiding you step by step to overcome it!
Where to find the Domi Zuïno Sanctuary?
As we have just told you, the discovery of the different sanctuaries will punctuate your game of Tears of the Kingdom as they are present on the map. Besides, we clearly advise you to do them, as soon as you come across one.
Not only will it only take you a few minutes, but on top of that, you will find chests and rewards! Except it's entirely possible that you get stuck on one of the puzzles offered in these famous sanctuaries.
Luckily, if so, we've prepared a complete guide to all the shrines available in Tears of the Kingdom! You will easily find all the locations of these, as well as the solution to the puzzles proposed.
But here, the one that will interest us is the Domi Zuïno sanctuary! To find it, you will have to go to the Akkal Fortress, which is itself south of the Mont Ramol tower. To help you, the exact location has been shown on the map below.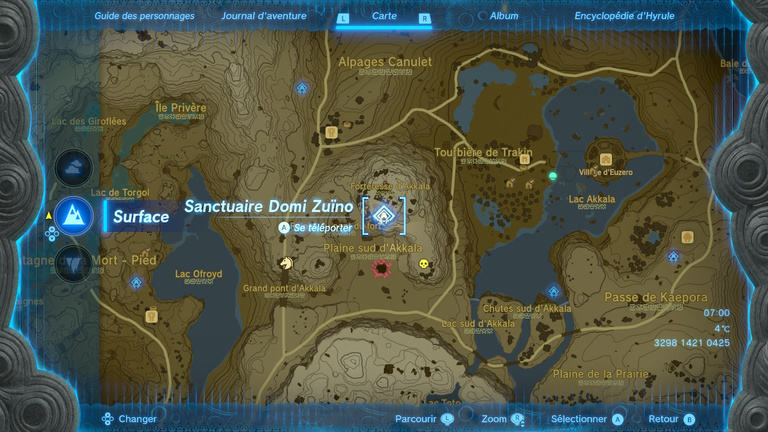 Once you have found the Domi Zuïno shrine, go inside and use Infiltration in front of you. Then hit the lamp, which will rotate the structure and reveal an entrance. Go through it and use Infiltration on the right for a chest.
Climb onto the central platform and hit the lamp again, which frees up a passage to the left. You can access a new chest through this one. Then shoot the arc at the lamp to go up inside the structure. Get back on the platform in the center and hit the lamp.
Run to the chest so that it returns to a horizontal position and you can open it. Then strike the lamps to position the longest column vertically, while leaving a hollow between the ground and it. Once it's done, go to it.
You will then no longer have than using Infiltration to climb above the structure and reach the end of this Domi Zuïno sanctuary. You can then get your hands on a Beneficent Glimmer and you are officially done with this shrine!
Summary of all our guides and tips for Zelda Tears of the Kingdom