Huawei's AppGallery, the world's third largest app store, continues to grow. New apps are added to the store's offering every day, and recently, new Google apps have been introduced. It's about two of the most requested applications by users for productivity: Gmail, Google's email client, and Google Meet, the video conferencing platform that offers an alternative to Zoom or Teams from Microsoft.
How to install Gmail and Google Meet from AppGallery
To run Google applications, you download them from the AppGallery, and with the first application of this type downloaded, Gbox will also be installed, a software platform that ensures compatibility with GMS (Google Mobile Services). Fortunately, you don't have to do anything extra to install Gbox, because when you choose a Google app from the AppGallery, you get a notification that Gbox will also be installed. Accept this step and both apps are installed automatically. By the way, you don't need to interact with Gbox in any way after installation.
Gmail and Google Meet are both listed in the AppGallery and can be found via the search box. If you install one of the apps, you don't need to install Gbox again for the second one. Once installed, Gbox stays in your phone and allows you to run all Google apps without limitations. By the way, it is very important NOT to uninstall Gbox if you see it in your phone menu. Uninstalling it will lead to incompatibility with Google services and will cause problems in running already installed applications.
It is important to note that Gbox is a third-party app, developed by the Singapore company Gbox Lab and not by Huawei. You can find more information about it on the official website (https://www.gboxlab.com/).
Gmail and Google Meet are especially useful in the professional environment
Gmail is the most popular email service in the world among Internet users, and also a popular service for those working in large companies. Google offers Workspace services for a fee to large companies to integrate its services into their workflow. Thus, many users' work email may be on Gmail, even if it is registered to a different domain. With Gbox, you can access your Gmail email on your Huawei phone effortlessly.
One thing I noticed when first setting it up is that you have to manually start syncing messages with the app. There's even a shortcut at the top of the screen that takes you to the necessary menu. From here you then have access to all the features of Gmail, all the custom folders and the other advantages of Google email.
Like Gmail, Google Meet already worked on Huawei phones by accessing it inside a browser, however, using an app is always simpler and offers access to more advanced features. Google Meet in the AppGallery offers an intuitive interface that allows you to start a video conference on the spot, or access an already started video conference. Of course, you can schedule a new conference directly in Google Calendar.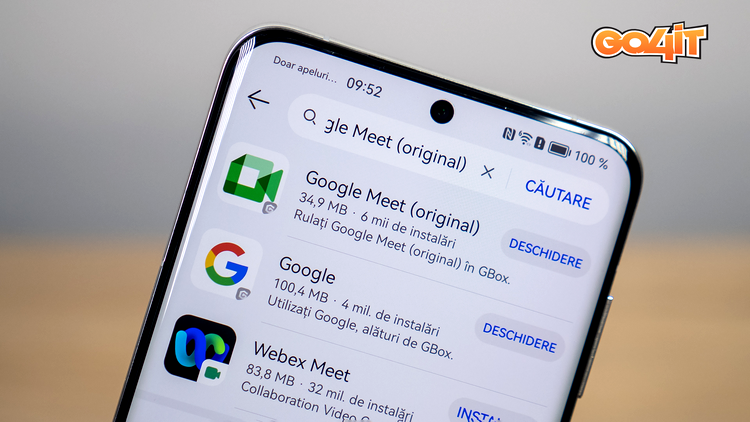 All the necessary functions are available and you can generate access codes to invite other people to that conference. As with Gmail, many companies use Google Meet for internal meetings, and the availability of the app on your Huawei phone means you don't have to go into the browser to participate in them, with the app available.
Of course, all other apps from Google are available in the AppGallery. As we mentioned in the previous article, the suite of Google Docs applications, which allows the editing of text files, tables in Excel format or presentations, is also available, along with Maps, Photos, YouTube and the rest of the applications useful in everyday life.
Moreover, entertainment applications such as HBO Max, Disney+ or Amazon Prime Video are also available through AppGallery.
P60 Pro, Huawei's best phone for productivity and photography
We tested all these applications on the P60 Pro, Huawei's newest flagship, a high-performance phone, extremely well built and equipped with one of the best camera systems. In fact, DxOMark puts it first in its ranking, for the excellent quality of the captured frames.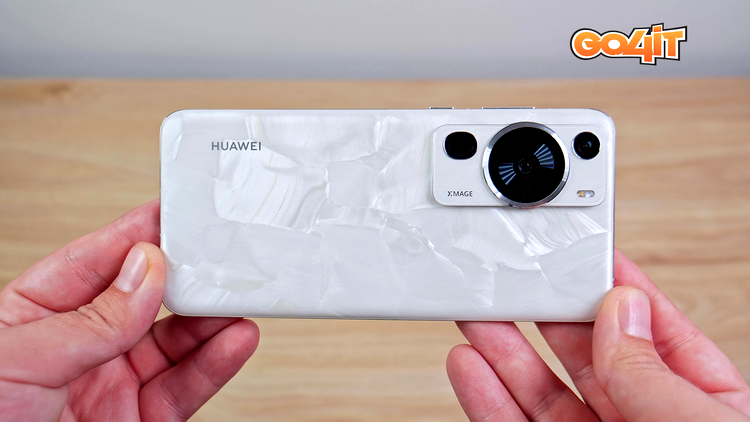 You can read more about the Huawei P60 Pro in the review I published during the launch of the phone. It is certain that it will satisfy even the most demanding users who want the best photo performance, the best design and a top performance level.
Being a Huawei phone, the P60 Pro comes out of the box with EMUI 13.1, the company's Android-based operating system, which integrates the AppGallery app store. The latter serves over 580 million monthly users in 170 countries. Every app listed in AppGallery is rigorously checked to ensure a high level of user data security. Including Gbox and the rest of the more than 223,000 listed apps must pass all tests before being published on the platform.