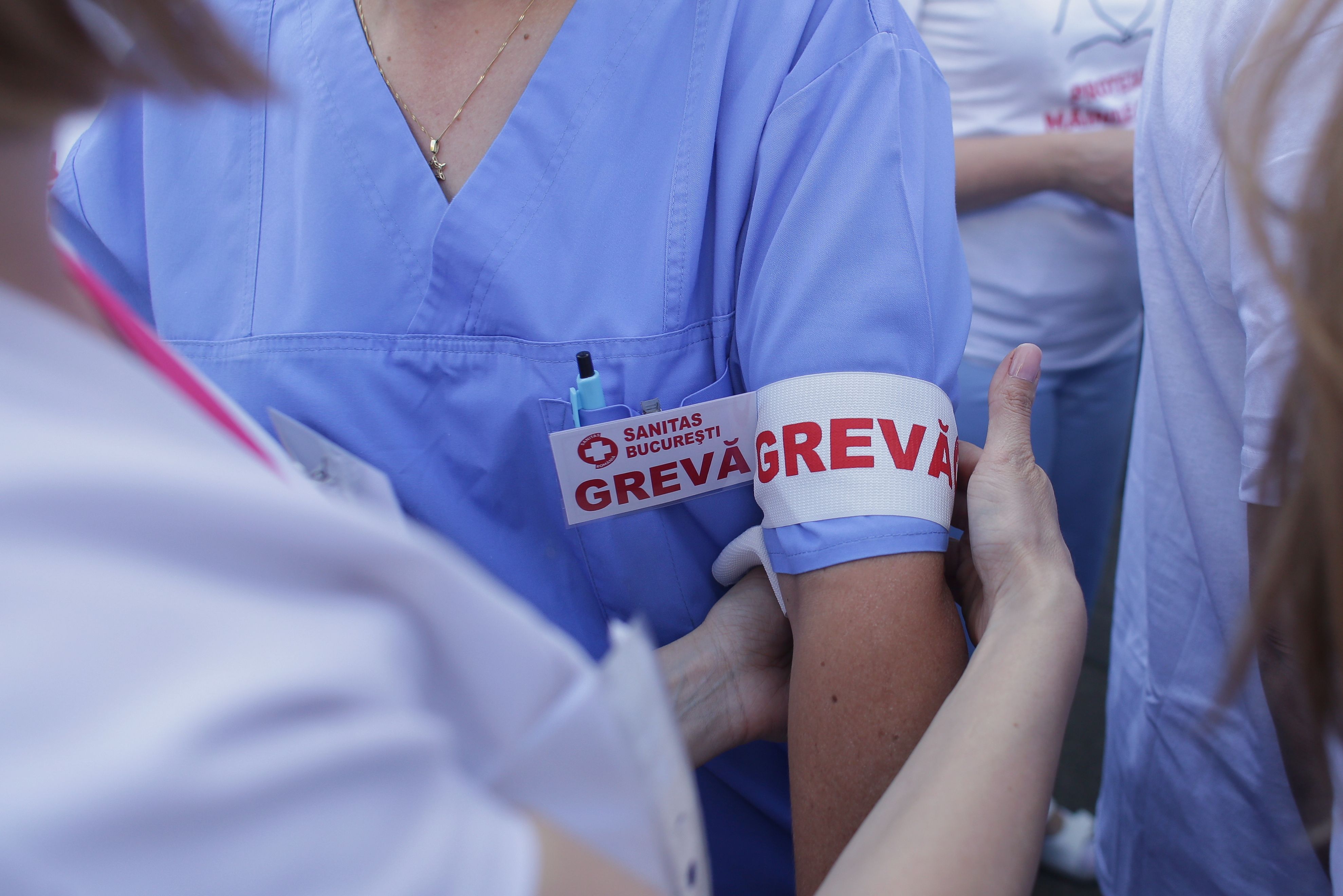 Health trade unionists will launch a Japanese strike in public health and social assistance institutions from June 7, without interrupting work, until the demands are resolved, the Sanitas Federation announced on Wednesday.
"The National Council decided that Sanitas will maintain continuous pressure on the decision-making authorities, as a warning that our members no longer accept postponements or partial solutions to the demands of the health and social assistance systems, as follows: the continuation of the referendum among our union members regarding the carrying out of protest actions; June 7 – the initiation of the Japanese strike in public health and social assistance institutions, a strike without interruption of activity until the Sanitas claims are resolved; the continuation of negotiations with the decision-makers", Sanitas representatives wrote on Facebook.
Also, the trade unionists will constantly analyze the state of implementation of the solutions assumed by the government side and establish the type and calendar of actions required in relation to the results obtained.
According to the cited source, the county Sanitas leaders present at the National Council meeting on May 31, representing the over 100,000 health and social assistance union members, analyzed the results of the negotiations of the last days carried out by the health federation team with Prime Minister Nicolae Ciucă , the president of the Chamber of Deputies, Marcel Ciolacu, and the Minister of Health, Alexandru Rafila.
Thus, the National Council took note of the fact that the authorities, under the pressure of Sanitas and through direct negotiation with the representatives of the federation, have identified functional solutions that can lead to the resolution, in the immediate period, of the trade unionists' demands. They aim at: unlocking employment in the two systems; allocating the necessary sums to ensure the payment of vacation vouchers for all employees; the adoption in the immediately following period of a normative act to ensure the achievement of the maximum basic salary provided for in Annex II to Law 153/2017 for all categories of employees in Health and Social Assistance.
The trade unionists also request the revision of the hierarchy for all health functions, implicitly the resettlement of the medical assistant in the salary scale contained in the new Law on budgetary salaries; the recognition of the role of medical assistants in the functioning of the public health system will be found in the future government program; finalizing the negotiations and signing the CCM at the level of the collective bargaining sector Health; guaranteeing the maintenance of jobs for the staff employed in the medical units in the CFR network even after they are transferred to other authorities.
The Minister of Health, Alexandru Rafila, stated on Wednesday that he does not think that there will be a strike in Health as it happens in the Education system and assured that the salary discrepancies between the staff categories will be resolved, "but not all now".
Editor : I.C