6,000 prison employees refuse to work overtime today. And during the program, they will strictly follow all the procedures and rules, which will lead to the blocking of the activity. The schedule of visits, the schedule of walks, going out to work points and the presentation of detainees to courts are affected. The trade unionists in the penitentiaries are dissatisfied with the salaries, but also with the intention of the governing coalition to change the law on special pensions. In their case, the retirement age would increase to 65.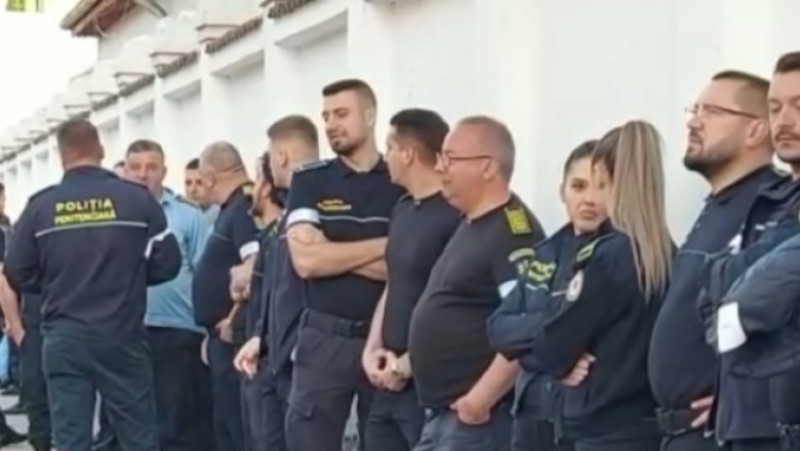 The protest started at the Rahova Penitentiary and about 100 employees refuse to go to work. "Without these 100 people to enter the unit, the Rahova Penitentiary is stuck. If we don't give the green light, no more activities can be done. An institution that manages to keep itself alive, we keep it apart, only through an excess of additional work. (…) We demonstrate that an institution that declares itself safe is actually easy to make non-functional with a simple gesture, that is, we use the possibility to refuse additional work", says Ștefan Toroc, the National President of the Penitentiary Police.
"Today is the first warning, next month we may block the activity for a week. I work 24 extra hours a month," says the union leader from Poarta Albă Penitentiary, in Constanța.
At Craiova maximum security penitentiary, 100 employees will not go to work. They will stay in front of the penitentiary for 3-4 hours. They want to change the wage law and the retirement age and no more unpaid overtime.
Claims of prison employees
Prison workers announced the strike after learning of government plans to raise the retirement age to 65 by 2035 and reform special pensions. Unionists say military pensions cannot be considered special pensions and also complain about low wages and understaffing. Thus, in order to give up the protests, they request:
Granting the salaries provided for in the Framework Law no. 153/2017;
Application of the law on military pensions without changes;
Updating and indexing military pensions;
Payment of the food norm at the updated value, without ceilings;
Payment of the equipment standard at the updated value, without ceilings;
Payment of the grade salary at the updated value, without ceilings;
Unlocking vacancies.
"The minimum number of positions required in the Penitentiary Police is 20,000 according to the approved standards. Currently, 12,500 positions are occupied (decrease) out of 16,050 foreseen. However, the Government blocks the contests while modifying the military pensions, which will generate an exodus from the entire national defense structure", the trade unionists said, according to News.ro.
"The trade union organizations that participate in the protest action on Wednesday, May 31, 2023 total over 8,000 union members out of 12,500 employees and cover all units of the Penitentiary Police", according to a statement from the National Union of Penitentiary Workers (SNPP) .
Editor : C.L.B.