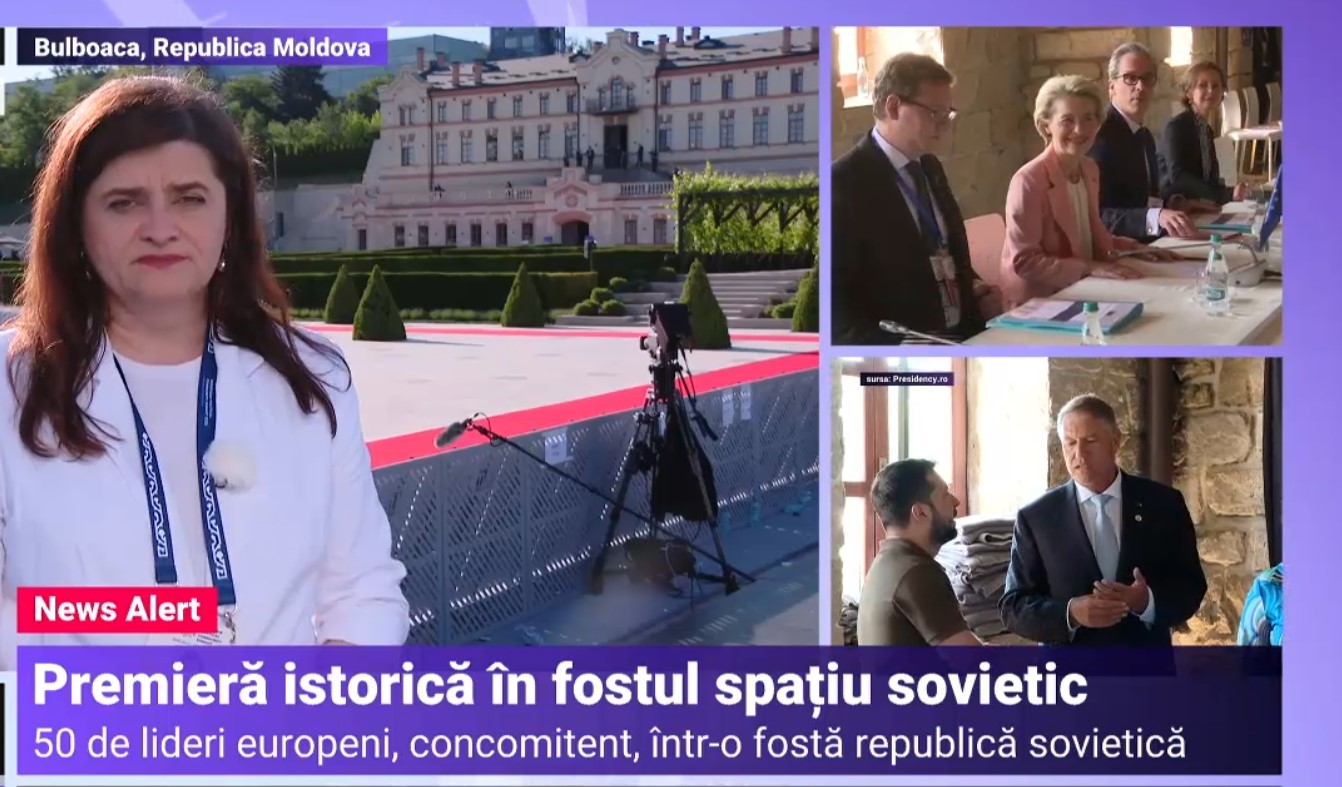 The Republic of Moldova hosted the second EPC summit on Thursday, where almost 50 European leaders met and debated topics related to security, energy and connectivity. The first meeting of the Community was organized last fall in the Czech Republic, and the next one will take place in Spain. Follow a correspondence from the Republic of Moldova from Cristina Cileacu, specially sent by Digi24.
Cristina Cileacu, Digi24 journalist: It is a busy day because, in addition to the meetings the leaders had together, there were also many bilateral meetings. The leaders tried to solve as many problems as possible and a first conclusion of this summit that Maia Sandu herself drew is that Moldova is not alone, Moldova is part of Europe and Europe is, in fact, more than geography, it means common values ​​and unity, because that is what was talked about today and that is the symbolism of this summit. The leaders gathered here to show Russia that the civilized, free world stands by both Ukraine and the Republic of Moldova. The two presidents, of Ukraine and the Republic of Moldova, were in the center of attention, and Maia Sandu especially thanked the leaders from Romania because, she said, Romania had a special role in promoting the Republic of Moldova and the fact that this summit takes place in the Republic of Moldova and is also owed to Romania.
President Macron, who is the moral author of this European political community, has not yet had his press conference. Next is the conference of Zelenski who was extremely active at this summit, he met with almost all the leaders, and he is going to talk about what he achieved at this summit. It was also a handover conference because the European political community is to meet twice a year and the next summit will be in Granada, Spain, in the autumn. Prime Minister Pedro Sanchez was here, took over the baton and gave assurances that he will continue these talks. I remind you, the main discussions today were about energy, connectivity and security in particular. The leaders have drawn conclusions, they know the problems they are exposed to and the conclusion of the day is that the problems are to be solved because everyone stands with everyone and unity will be very difficult to destroy.