In the eyes of Star Wars fans, Disney's takeover of the license in 2012 is either a blessing or a curse. I have to say that the new trilogy developed by Mickey's firm has created a real division within the community, between those who like it and those who hate it. Despite everything, there seems to be a certain consensus around the universe created from The Mandalorian series which takes place between episode VI and VII. For many fans, this is the work that best respects the world imagined by George Lucas in 1977. However, it is this same series that has just broken a rule imposed by its creator… probably without knowing.
Subscribe to Disney+
A rule to say the least… surprising
At the beginning, George Lucas imposed a number of rules on Star Wars, surely so that the universe is exotic and that the spectator can immerse himself in the films of the saga. Thus, we imagine that with this in mind, the goal is to remove as many everyday objects as possible that could have broken this immersion. Just for milk, for example, the latter is blue throughout the first Star Wars. In this direction, the director had then decided that there would be no glasses in Star Wars, its inhabitants being able to find other solutions to overcome sight problems. Unfortunately, The Mandalorian broke that rule, as the Star Wars Facts fan account proves.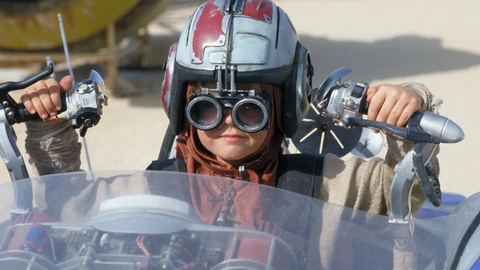 In reality, this is the first time in live-action that the rule has been broken because in animation, we remember that it was already the case in Star Wars Rebels. And then, just in the movies, Anakin Skywalker in Star Wars Episode 1: The Phantom Menace and Maz Kanata in Episode VII: The Force Awakens have some kind of glasses that they can use as glasses at times. In any case, with The Mandalorian, this rule has indeed been broken.