A supermarket in Piatra Neamț was fined 15,000 lei, after a customer notified, in the public space, that he had discovered a "mold crusted" sandwich on the shelf. Following the control, writes Știri-Neamț.ro, the public health inspectors found that the temperature in the refrigerated showcase where the sandwiches were displayed for sale was close to 20 degrees Celsius, instead of at most 4-7 degrees Celsius, as it is recommended.
The man discovered the "mold crusted" sandwich on the shelf on May 25. The product was in a refrigerated display case, and mold stains could be seen through the transparent packaging. According to the journalists from Mesajul.ro, the customer also went to hand it over to the cashier. At the same time, he asked him to check the products on the shelf on the grounds that they could end up being bought by children, who do not pay extra attention in such cases.
Public health inspectors also found out about the moldy sandwich, who went to check the supermarket the next day.
"On 26.05.2023, the commissioners from the CJPC Neamț proceeded to the immediate verification of the products on sale on the date of the control and, in the presence of the representative of the economic operator, found that the products were displayed in the presentation windows without respecting the storage temperature of the products recommended by the manufacturer (the recorded temperature was 19.5 gr C / the recommended temperature was 0-4 gr C / 0-7 gr C). The team of commissioners extended the control and found that for the products displayed in the window of hot food, the storage temperature provided for by the legislation is not respected (the recorded temperature was 51-55 gr C/ the intended temperature is 60 gr C). Also, the hot food showcase had deposits generated by improper sanitation", he transmitted , for Știri-Neamț.ro, deputy chief commissioner Vlad Ciurea from CJPC Neamț.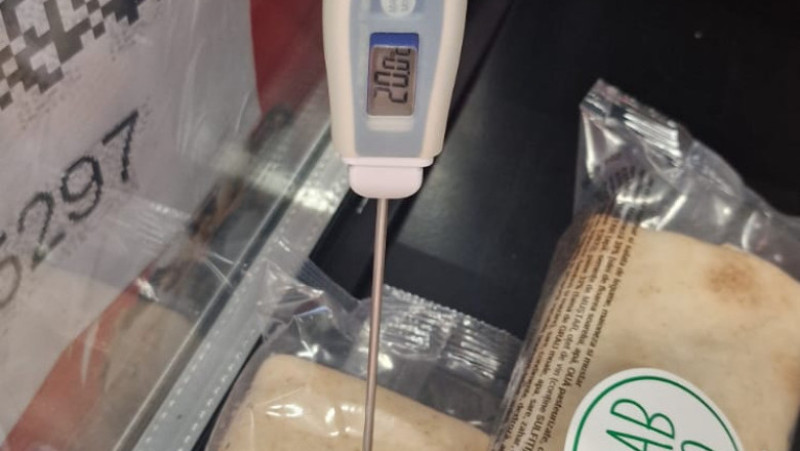 For the discovered irregularities, the supermarket received 3 fines, totaling 15,000 lei. In addition, the commissioners from Consumer Protection requested that all the food in the display cases, worth 1,109 lei, be withdrawn from sale.
Editor: Izabela Zaharia