Diablo IV is finally here! While some had difficulty logging into the game, a majority of others were able to begin their journey in Sanctuary after several years of waiting. A gargantuan content opens up to them and it is better to leave guided than not accompanied.
A gigantic world that includes its share of attractions. Between a gameplay rich in customization, a dense campaign and numerous activities, one can quickly be dizzy in the quantity of things to do. Do not panic, since this article is here to help you. Here are seven tips to consider before your trip to Sanctuary begins.
Take the time to explore
There is no point in running, you have to start on time. It's a bit of the motto that lingered in my head during the Diablo 4 test session. Taking your time is a golden rule for several reasons. First of all, it is by going there in a relaxed way that we will appreciate the ride, even if certain creatures will come to play spoilsports.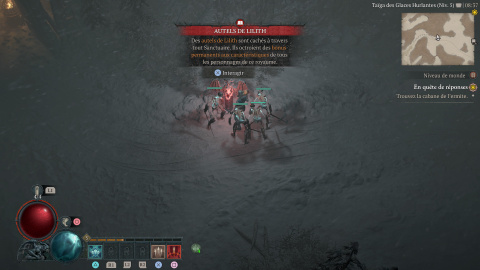 Taking your time also allows you to discover several points of interest. The first are essential to any traveler: teleportation points. There is one in every village. They drastically shorten travel times, especially when you're wandering around the map. The second, very well concealed, are the altars of Lilith: activating them allows you to improve all the characters on your account thanks to small bonuses. Sometimes there are even Bastions, forts conquered by demons. Cleansing them of the demonic spawn allows villagers to return to settle there. You can then unlock additional teleportation points or even secondary quests.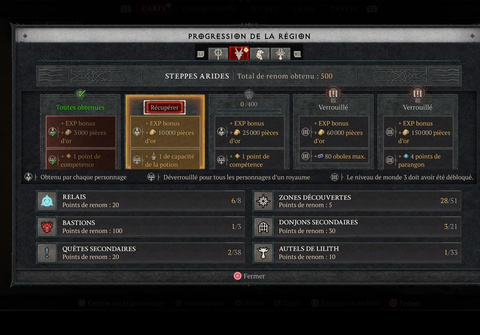 All these additional activities allow you to gain renown. A kind of player popularity bar separated by region. There are five levels of Renown, each of which offers account-related rewards: additional potion usage, additional skill points, and an increased maximum number of obols. Something super interesting for anyone who wants to mount one or more secondary characters. Of course, beyond that, exploration is all the more opportunity to recover even more powerful equipment.
Don't get car sickness
If the exploration is well done, the player should have at his disposal many cities to teleport to. In addition, Diablo 4 allows anyone, anywhere to travel to their region's capital with just one touch (bottom directional pad on PlayStation 5). You have to abuse it!
In town, many things are possible to do. You can empty your inventory there in several ways. Either by selling your weapons if you are short of gold coins, or by recycling them to recover raw materials. It should be recognized that having to go back and forth breaks the pace a bit, that we do not want to empty our bag for weapons that do not interest us. But it's also an opportunity to replenish your potions where you can spend your donations.
Spend without (too much) counting
Behavior to adopt according to your level: you must not be afraid to spend lavishly, at least at first. Up to level 50 (and probably beyond), you are rarely short of resources. We always manage to spend our gold coins to reset our talents or improve our weapons. Ditto for the plants used in the concoction of elixirs at the alchemist. The raw materials of weapons are used to improve them at the blacksmith but also at the occultist: it is he who takes care of your legendary powers.
Be careful though: a piece of advice to follow in the first levels on the legendary objects that you recover. Also avoid raising your equipment to the maximum level: it costs legendary materials, very useful when leveling up will be more difficult. Especially starting at world level III.
Have fun above all
With its first episode released in the second half of the 90s, the Diablo license has established itself as a cult license for action games and role-playing games. With the rise of the internet, it has become easier to find what works. A considerable time saver for a majority of players. A satisfaction of image that we send back which takes precedence over personal satisfaction. It is super important not to force yourself to play like this or like that, otherwise you will quickly become disgusted with the game.
This goes for several aspects of the title. Obviously, play a class you want to play. The grass is sometimes greener elsewhere but it is often a figment of the mind: have fun! A behavior to adopt also for the build played. As discussed below, it is by focusing on what you have to play, what you like, that you are going to be the most successful. You don't need to look at the websites right out of the gate for the best gear and the best spells.
By figuring out what you want to do yourself, you'll play more efficiently than if you're copying someone else. What to be able to approach the game in a higher difficulty, if you wish. There, it's the same: Diablo IV manages to offer several difficulties, for the uninitiated or the veterans. Do as you feel, no one will blame you!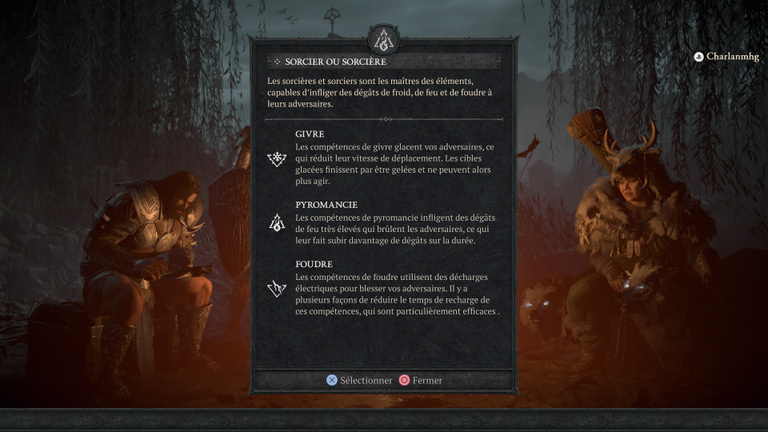 Not having the Devil in your body
As suggested through these lines, the soul of Diablo is to confront ever more powerful enemies. It is then necessary to redouble malice and strategy to personalize his hero in his image while equipping him with effective capacities against the creatures he encounters. In Diablo 4, customization goes through two major aspects: the talent tree (then declined in paragon) and equipment.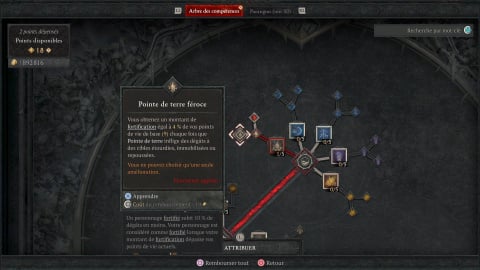 First introduced in Diablo II, the skill tree has become almost a constant in all modern games and, sometimes, even in your titles that are not role-playing games. It consists of putting skill points, acquired through experience gained by defeating monsters and completing quests, to obtain or improve powers. That of Diablo 4 is made up of 7 points, the lowest being the strongest, each divided into several branches. These branches will often represent a specialization of the class being played. Take the mage for example. He excels in fire, frost and lightning magic. Each of the branches of his talent tree represents, roughly speaking, one of these schools of magic.
Once this is understood, the choice of possibilities can be scary. Especially at the start. We wonder which branch to invest first while being afraid of not choosing the most effective. Do not panic ! The most effective will be the one you want to play for one and only reason: you will spend time on it, understand the different cogs and (many) associated keywords while having fun. And if none catches your eye, just dive into the deep end. Diablo IV does not impose strict restrictions (compared to Diablo II for example) when it comes to resetting talents.
We therefore urge you to take the time to test this is how you will get the most effective recipe, while acquiring a global understanding of the game. More in any case than if you are copying someone on the Internet.
Be patient with evil
As you will have understood, patience is one of the attitudes recommended through this mini-guide for beginners. We saw it for the customization of its character and for the exploration. And paradoxically, we recommend that you also approach a certain serenity for the fights. If most will be swept away with a reverse of the min, certain bosses and monsters will make you live Hell. So much the better since that's what Diablo 4 is all about: getting to defeat ever tougher demons. In Diablo 4, it's probably world bosses as well as Nightmare Dungeons that will send to the graveyard more than once.
Dying is not serious: it happens to everyone. But only fools expect a different result when they do the same thing. It is important to look at how the bosses attack or their additional passives. Generally speaking, their attack cycle doesn't require Einstein's genius to see through. It's just a matter of taking the time, preparing your build according to the enemy and paying attention to gestures and ground areas.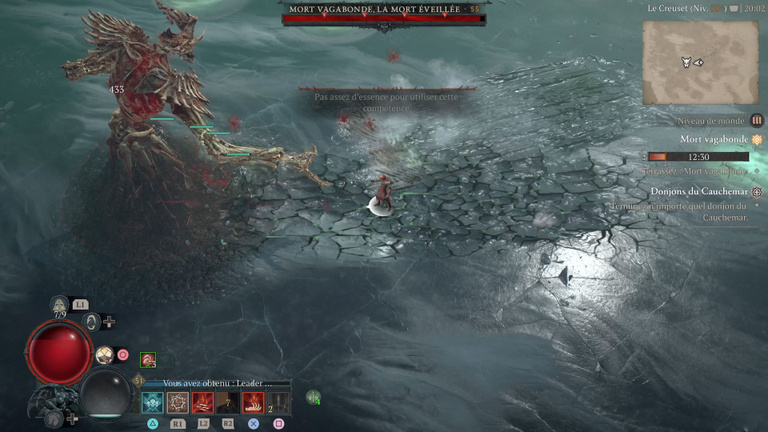 More the merrier, the merrier
Obviously, we will advise you to play in a group as much as possible. If the game is enjoyed solo (and this is one of its strengths), being in groups is far from being a disadvantage. There is even a certain benefit of being accompanied on your adventure in Sanctuary: gaining experience. If you complete tasks and dungeons in a group, you will receive bonus experience points. In the same way, the occasional cooperation with strangers brings its boost to the level. Help each other.
Of course, such behavior should also increase the pleasure of playing tenfold: we always have more fun when we share an activity. This is also one of the main interests of video games: entertainment.