News culture Netflix pretends to be Quentin Tarantino with this original film and it's a hit
It is undoubtedly the event film of spring 2023 on Netflix. The platform's latest original production from Germany has been a hit since its release at the end of May. Strongly inspired by the work of director Quentin Tarantino, the feature film has won the hearts of moviegoers.
Netflix does Tarantino
Netflix has accustomed us to an ever-richer catalog of series, films and other anime from all over the world. Every month, there are dozens of new features that swell the ranks of the SVOD service to the 230 million subscribers in order (among other things) to compensate for the many departures. Netflix original productions have over time established themselves among subscribers who scan the horizon in search of new film nuggets with varied origins. At the end of April, France was honored thanks to an action film directed by Morgan S. Dalibert starring Alban Lenoir (Hero Corp, Balle Perdue). A month later, it's Germany's turn to take the spotlight.
Blood & Gold is a German war film directed and scripted by Peter Thorwarth (screenwriter on The Wave and Blood Red Sky) with Robert Maaser (Mission Impossible Rogue Nation), Marie Hacke (Outlander) and Alexander Scheer (Blood Red Sky) to portray the lead roles. The film, strongly inspired by the 7th Art of Quentin Tarantino and especially bis genre cinema, sets its action in 1945 in a remote village of Nazi Germany closer than ever to defeat against the Allied forces. It is in this context that a deserter and a civilian find themselves involved despite themselves in the quest for gold by a contingent of German soldiers led by the implacable SS officer von Starnfeld.
Since its release at the end of May 2023, Blood & Gold has occupied the TOP 1 position in France on Netflix, and this audience success goes hand in hand with the critical success met by the film. In effect, the latter has a "press" score of 80% on RottenTomatoes (70% for els users). On Letterboxd, a social network for film buffs, Peter Thorwarth's creation garners a promising 3.1/5 (62%). There is no doubt that the filmmaker will be talked about again in the coming years, whether on Netflix or in theaters.
At the very end of World War II, a German deserter and a young woman are drawn into a bloody struggle against a group of Nazis in search of hidden gold. -Netflix France
Blood & Gold is available on Netflix since May 26, 2023.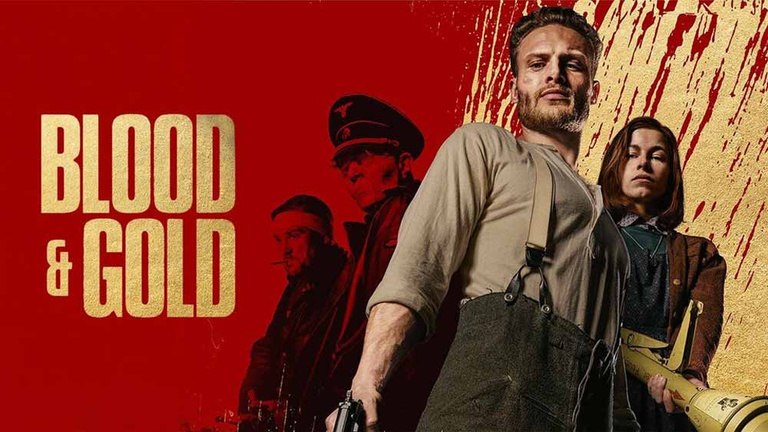 ---
June 2023 releases on Netflix
Each month Netflix separates several films and series highly appreciated by subscribers, but compensates for these "losses" with a plethora of new releases – original creations, but not only – which mix many genres. In June 2023, the SVOD service can boast of hosting season 3 of the series The Witcherseason 4 of the series Titans (DC), the continuation of the cinematic adventures of Tyler Rake in Tyler Rake 2 with Chris Hemsworth (Thor in the Marvel Cinematic Universe), but also seasons 6 of Black Mirror et Rick et Morty which should delight science fiction enthusiasts. Finally, Japanese anime fans are not left out with the broadcast of the last episodes of season 2 of Vinland Saga as well as the release of the feature film Black Clover: Sword of the Mage-Emperor.
The Days – 1er juin
New Amsterdam season 3 – June 1
Valeria Season 3 – June 2
Manifest final part – June 2
Vortex – 2 juin
Belfast – June 2
Birds of Prey and the Fantabulous Emancipation of Harley Quinn – June 6
My first times season 4 – June 8
Human Resources season 2 – June 9
This World Won't Get Me – June 9
The Hunt in the Blood – June 9
Rick and Morty season 6 – June 10
Rock'n Roll – 15 juin
Forest Rebels June 3 – June 15
Forest Rebels June 4 – June 15
Black Mirror season 6 – June 16
Tyler Rake 2 – 16 juin
Black Clover: Sword of the Mage-Emperor – June 16
Outlander season 7 part 1 – June 17
Weeds – June 21
Titans season 4 – June 25
Run Rabbit Run – 28 juin
The Witcher season 3 volume 1 – June 29
The Men's Pavilion – June 29
Nimona – June 30
Vinland Saga season 2 (ongoing)
---