Game News Nintendo announces new Joy-Con for the Nintendo Switch, and they are too crazy!
The Nintendo Switch is slowly but surely coming to the end of its career, and it becomes difficult to see where we are going after the release of Zelda: Tears of the Kingdom, Everybody 1-2-Switch! and Pikmin 4. But the Kyoto firm still intends to sell you some accessories!
The Nintendo Switch: from collectors to peripherals, there is plenty to do!
The Nintendo Switch was available in three models, all with special editions. We remember the Switch Animal Crossing: New Horizons, the Pokémon Sword / Shield Lite, and the OLED models dedicated to Splatoon 3, Pokémon Scarlet / Purple and, more recently, Tears of the Kingdom. It is not known if Pikmin 4 will be the occasion to give birth to a limited edition console or if other still undated games will be revealed, but one thing is for sure, Nintendo still has things to sell.
We saw that Zelda had been the occasion to go out a new official cover as well as a Pro controller, and there are countless licensed productsespecially on the brand side That. In short, there is something for almost all tastes and all budgets, but we must not forget the different colors that are already available for the Joy-Con. There are fluos, blues, oranges, pinks or even greens and yellows. If they are relatively expensive, they allow the console to be personalized alongside third-party Joy-Cons.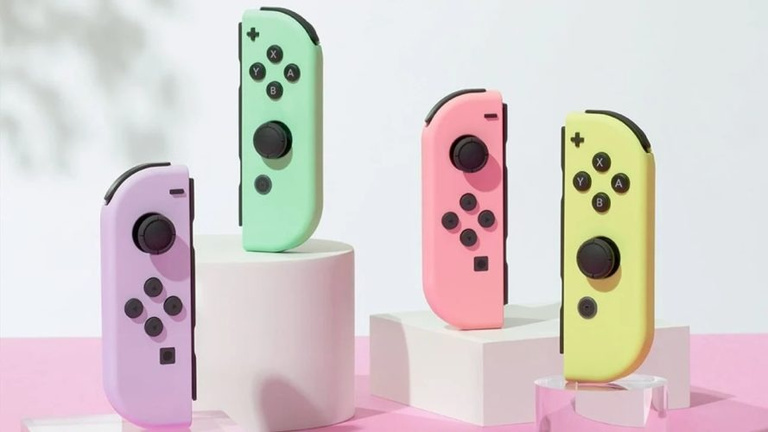 New Joy-Con to get ready for summer!
Et if you liked pastel colors of the Nintendo Switch Animal Crossing, you will be won over! Nintendo has just revealed two new pairs of Joy-Con, available in four pastel colorswhich are already available in preorder. We find mauve, mint green, pink and yellow, enough to dress your consoles in the colors of summer, which is only a few weeks away from us at the time of writing these lines. Ipurple is sold with green, while pink is sold with yellow.
As always, these Joy-Con are not cheap and it costs 79.99€ from most retailers. Nothing seems to indicate that the Joy-Con Drift problem is corrected on these models, but just in case, keep in mind that the manufacturer now has the obligation to ensure the repair or replacement of Joy-Con, even out of warranty. If you want to get them, know that the wait will not be too long, since they will be available from next June 30.
---