News astuce Qalaha Tagi Shrine Zelda Tears of the Kingdom: how to solve its riddle?
Want to solve the Qalaha Tagi shrine riddle in Zelda: Tears of the Kingdom, but don't know how? In this article, we explain all the steps to follow to obtain the beneficial glow of this Gerudo Desert shrine.
Still looking for hearts and stamina to overcome The Legend of Zelda: Tears of the Kingdom? You are quite right ! But for Link to regain his former strength, you will have to visit the 152 shrines scattered all over Hyrule. Among them, some can lead to confusion, in particular the Qalaha Tagi shrine located in the Gerudo Desert. In order to help you complete the list of shrines, we have put together this article for you, which will allow you to better understand the plot around this instance.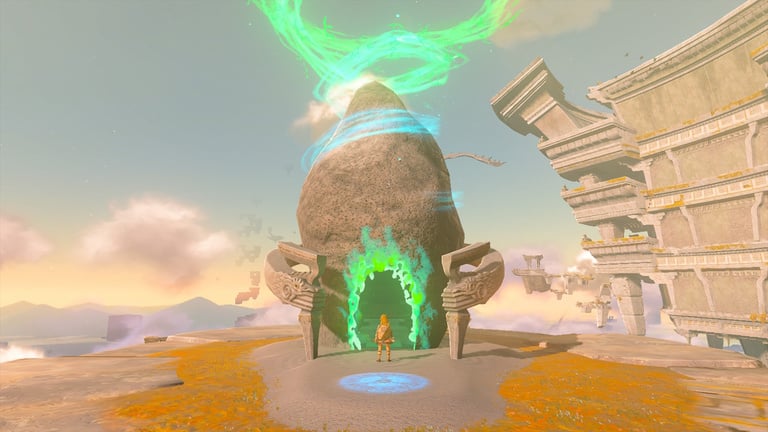 As we told you just before, the Qalaha Tagi sanctuary is located in the Gerudo Desert. However, the sandstorm turns out to be relatively annoying to navigate correctly in this one. Thus, we advise you to follow the series of quests of Riju, of the Gerudo city then to complete the Temple of Lightning to put an end to the storm which prevents the gerudos from living normally.
Otherwise, you can find this shrine south of Gerudo City and east of Temple of Lightning.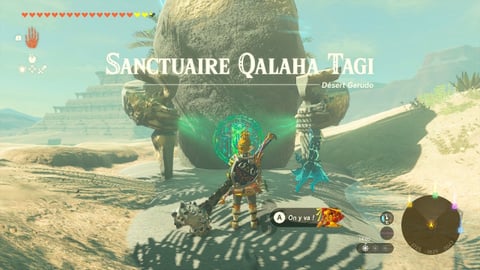 The solution for the Qalaha Tagi sanctuary
When you are in the first room, take the torch from the floor then light it with the flame that is right in front of the sealed door. With the help of your Grasp power, grab the burning torch to light the candle in the top left of the door. This way, you can open the door that will take you to the second room.
In the second room, head towards the candle and use your paraglider to reach the recess under the platform with the button to discover a chest containing a Empowered Golem Bow.
Rise to the surface using Infiltrate, then grab the candle located at the bottom right with your Grasp power. Place it in the center of the white square on the right, then levitate it until it lodges in the column above.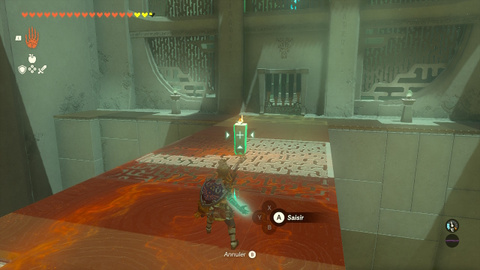 Turn the heels to reach the button, use your Retrospective power on the candle and press the switch. The candle will light up and set the candle on the column ablaze. To overcome the sanctuary, you will have to repeat this action with the other two candles.
If other shrines were to cause you concern, do not hesitate to consult our article which includes all the shrines of Zelda: Tears of the Kingdom. You will be able to know their positions, but especially their solutions.
Summary of all our guides and tips for Zelda Tears of the Kingdom