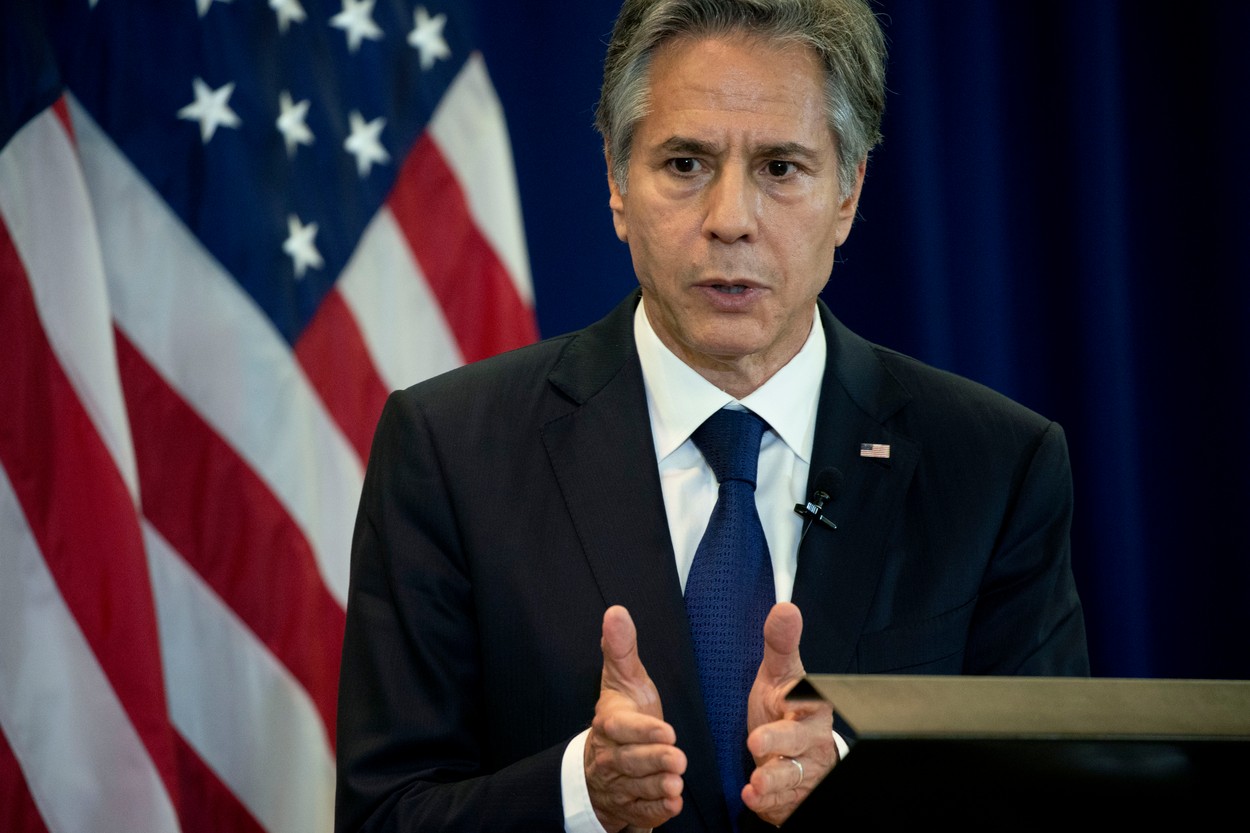 US Secretary of State Antony Blinken said on Friday that a ceasefire or territorial concessions to stop the war in Ukraine would only amount to a "Potemkin peace" that would legitimize aggression President Vladimir Putin and would encourage future attacks. "It would reward the aggressor and punish the victim," Blinken explained appropriately The Washington Post, citat de News.ro.
In a speech seen by analysts as a "signal" from the US in the Finnish capital, Antony Blinken spoke of Putin's "strategic failure" in Ukraine, one that he said had isolated Moscow, weakened its economy and exposed the vulnerabilities of the Russian military, once a formidable force.
The speech of the head of American diplomacy takes place in the context in which Kiev is trying to recapture its territory controlled by Russia through a new counteroffensive, and President Joe Biden is trying to prevent the erosion of strong Western support for Ukraine's existential struggle.
Putin's February 2022 invasion overturned decades of stability in Europe and caused enormous civilian and military casualties on both sides. It also sent shockwaves around the world, exacerbating food insecurity and intensifying a dangerous confrontation between the great powers.
As calls grow for a peace brokered by nations such as China or Brazil, Blinken laid out principles for what he called "a just and lasting peace" that would include territorial reunification of Ukraine, Russian reparations and accountability for crimes against humanity. war. In this context, Blinken rejected calls for a ceasefire or territorial concessions to be made by the Ukrainians in a "territories for peace" formula, which he said would represent only a "Potemkin peace".
"A cease-fire that would simply freeze the current front lines – and allow Putin to consolidate his control over conquered territory and have a respite to rearm and then strike again – is not a just peace and sustainable", Blinken pointed out. "It would legitimize land grabbing by Russia. It would reward the aggressor and punish the victim," explained the US Secretary of State.
Antony Blinken stated that the United States will support the negotiations "if and when Russia is ready to work for real peace". "Together with Ukraine and with allies and partners, we would be ready to have a broader discussion about European security that would promote stability and transparency and reduce the likelihood of future conflict," he said.
Speaking in Finland, NATO's newest member, Blinken said the United States would help build a "Ukrainian army of the future." This meant "a modern air force, integrated air and missile defense, advanced tanks and armored vehicles, national ammunition production capacity, and training and support to keep forces and equipment combat-ready," Reuters reports.
This week, the head of American diplomacy visited Finland, Norway and Sweden. The Nordic region became increasingly important from a strategic point of view, with Finland, previously non-aligned, joining the Western military alliance, and Sweden trying to join as soon as possible.
According to The Washington Post, the Biden administration and its NATO allies are drawing up plans to ensure continued military support for Ukraine beyond the country's current offensive, hoping that long-term security pacts will be a powerful deterrent to future Russian aggression. and they will be able to change the calculations that Vladimir Putin made on the battlefield. The proposals being drafted are an alternative to Ukraine's swift admission to NATO, a prospect that divides member states between those who support Kiev's demand for immediate entry into the Western military alliance and those who fear it could throw the Western military bloc into question. -a direct conflict with Russia.
Editor : C.L.B.