Coming as an extension of ULMB technology announced in 2015, Nvidia ULMB 2 substantially improves image brightness, leveraging new generations of high refresh rate LCD screens.
In short, Nvidia ULMB is an intentional technology for LCD-based monitors that synchronizes the LED light source behind the screen with the refresh rate of the image on the screen. Ideally, the LED lighting is turned off while the LCD panel is transitioning from one image to another, hiding any inconsistencies that might affect image clarity. Implemented correctly, the technology delivers picture-perfect clarity while compensating for a natural limitation of the human eye, which cannot follow moving images all that well, no matter how sharp they may be.
Nvidia ULMB 2 comes to reduce the time the LED lighting is turned off for hiding the blur effect from 75% of the time to less than 50%, almost doubling the brightness of the image.

Admittedly, Nvidia says nothing about the other limitations of ULMB technology, such as the incompatibility of G SYNK and AMD FreeSynk. Practically, in order to fully enjoy the advantages of this technology, you need a PC capable of keeping the maximum refresh rate supported by the monitor (eg 144 HZ, 240Hz, or even 360Hz), in order to prevent the appearance of the image jerky effect.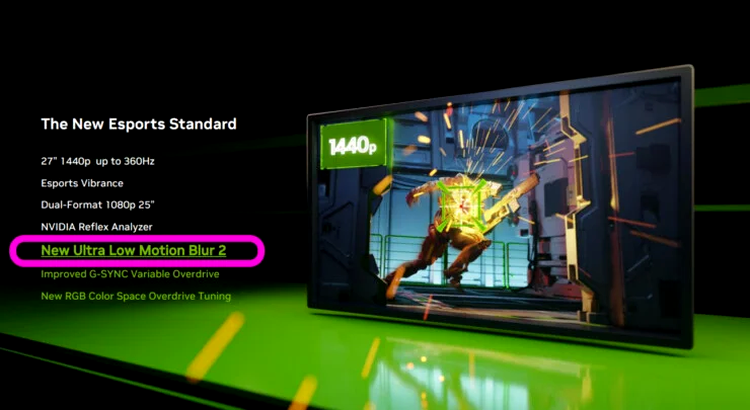 According to Nvidia, ULMB 2 improves image clarity up to approximately 3x the native refresh rate. Thus, a ULMB 2 monitor with a native refresh rate of 120Hz could deliver sharper images than a conventional 480Hz monitor.
As for the new generation monitors based on OLED technology, the innovation called ULMB 2 is irrelevant to them, OLED technology already offers a clearly superior response time to even the most advanced LCD screens, without the complication of a separate light source. Instead, we have other disadvantages such as the possibility of the burn-in effect and the much higher purchase price.
Currently, the only ULMB 2 compatible monitor models are the Acer Predator XB273U F and the Asus ROG Swift PG27AQN, with two more models to be announced in the near future.