The death toll in India is rising after several trains collided on Friday night. 288 people died and 900 were injured in the accident classified as the disaster of the century in India. Saturday was declared a day of mourning.
The violent impact occurred around 7:00 pm local time when the Howrah Superfast Express, which was running from Bangalore to Howrah, derailed and was hit by the Coromandel Express, which was running from Kolkata to Chennai, railway officials said. It appears that one of the trains derailed after impact with a freight train and ended up on the opposite line, where it was hit head-on by the other passenger train.
More than 200 ambulances were sent to the scene. More than 100 doctors were mobilized. The death toll is expected to rise.
Hundreds of people gathered in front of hospitals to donate blood. Footage from the scene showed rescuers climbing into the wrecked carriage of one of the trains to find survivors. Videos shared on social media showed several ambulances arriving and people being pulled from overturned train cars.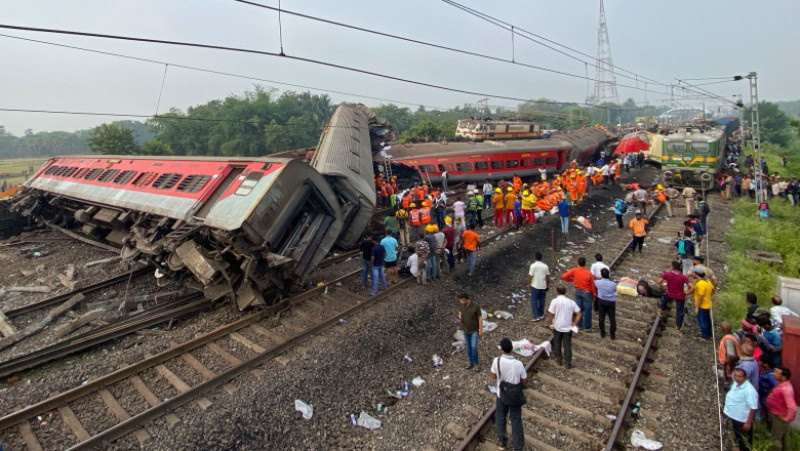 The rescuers are working non-stop to remove survivors from the pile of animals, and numerous corpses covered with white shrouds lying by the tracks at the scene of the tragedy.
Indian Prime Minister Narendra Modi said he was troubled by the incident and his thoughts were with the bereaved families.
"Rescue operations are underway at the scene of the accident and all possible assistance is being provided to those affected," he wrote on Twitter.
A man who survived the tragedy said: "10 to 15 people fell on top of me when the accident happened and everything fell over. I was under all this pile. I hurt my hand and the back of my head. When I got off the train, I saw that someone lost their hand, someone lost their leg, while someone's face was mutilated".
India has one of the largest train networks in the world, and accidents are common, despite successive governments investing hundreds of millions of dollars to improve the infrastructure.
Another major train disaster in India occurred in 1981, when an overcrowded passenger train was thrown from the tracks into a river during a cyclone in the state of Bihar, killing at least 800 people.
Editor : G.M.