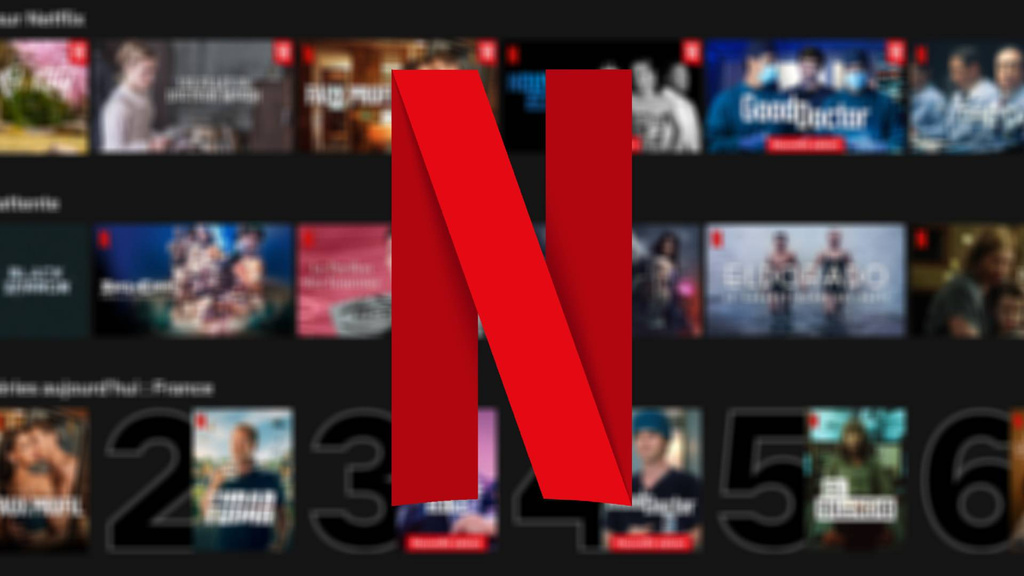 Having a group account on Netflix is ​​now ancient history. The American giant recently went on the offensive to "fight" against users who had the annoying habit of sharing their passwords. For the past few days, if you want to make your benefits available to a third party who does not live under the same roof as you, whether it is one of your relatives or one of your friends, will have to pay €5.99 in addition to the price of the subscription. On the Internet and social networks, we are rather upset with this decision and if you want to make Netflix pay for it, here are eight alternatives that make free and legal rhyme!
N.B. The lists of VOD services as well as the programs available on said services (anime, films and series) are not exhaustive.
---
6Play
With the portal of the M6 ​​television channel, you are spoiled for choice since 6Play allows you to access the entire catalog of the group's channels. We can cite pell-mell: M6, W9, Gulli, Paris Premiere, Téva, Telenovelas, Konbini 24/24, Téléfilms 24/24… Beyond allowing us to follow the many contemporary programs that are all the ragethere is also feature films and series that will bring back great memories to some viewers. Enough to treat yourself to a beautiful Madeleine de Proust effect while being comfortably seated on your sofa! And then, if it's more social magazines or documentaries that interest you, 6Play also offers a wide range of programs who will teach you a lot of things.
List of available programs:
Animation : Taffy, Pokemon, Sonic Boom, Beyblade Burst Surge, Spongebob, …
Films : Bad Teacher, Hancock, Hellboy, 7 years in Tibet, Extraction, …
Series : Bones, 9-1-1, One two Three (new generation), NCIS, NCIS: Hawaii, Roadkill, …
Find the entire 6Play catalog
---
Arte.TV
Flagship of cultural programsthe free catalog of the Franco-German channel Arte has solid arguments for those who are passionate about a bunch of domains. There is retransmission of concerts (via the ARTE Concert portal), from movie theater and seriesof the programmes d'information and of Company as well as historical documentaries or oriented around the culture / pop culture and even, sometimes, around video games. At the moment, you can also discover the documentary Game of Minds, which focuses on e-sports champions. In short, in terms of cultural discoveries, the ARTE platform and its many portals are a mine of knowledge which you can access without paying a single penny.
List of available programs:
Films : night doctor, Chocolat, Michelangelo, Sunshine, Head against the walls, Mona Lisa, The 2 Alfreds
Series : Acquitted, Countrymen, State of the Union, Utopia, The pack, Brigade Mobile, Mystery Road…
Documentaries : Keanu Reeves, messie doll ; Indiana Jones – In Search of the Lost Golden Age ; Rock Legends ; Game of Minds ; K-Pop Generation ; Penelope Cruz, reflections of passion ; Hans Zimmer – the Hollywood composer ; Tina Turner, the rage to live
Find the entire Arte catalog
---
France TV
Certainly, at the moment, France TV lives to the rhythm of tennis balls with the retransmission of Roland Garros, the famous Grand Slam tennis tournament, but we also find, on its online portal, a wide choice of programs. As with its predecessors, there is something for everyone : shows, documentaries, reports, films, series, fictions… Notably because the France.TV platform brings together all public service channels (France 2, France 3, France 4, France 5, France 1, France Info). Note that the France.TV portal sometimes multiplies cultural initiatives by developing thematic collections, as was the case with the one devoted to Japanimation. In addition to putting sport in the spotlight at the moment, the platform has swapped shorts for a prestigious outfit by also providing a whole gallery of programs related to the Cannes festival. If we sum up: collections, series and fiction, documentaries, cinema and more: public service delights us!
List of available programs:
Films : Drunk ; 4 months, 3 weeks, 2 days ; Paranoid Park ; Nobody Knows, Umbrellas of Cherbourg, The speech, …
Series : Bardot, Obsession, Accused, Investigations in Morecambe, Thrillers, The tribulations of Georges and Fernand, SHAME France, Stalk, Last Man Heroes (animation), Avatar the Last Airbender (animation), Tom Sawyer (animation)
Documentaries : On the front, Thomas Pesquet: Objective France, JUMP!, Pedro Almodóvar, the insolent man of La Mancha, Belmondo the incorrigible, …
Find the entire France.TV catalog
---
Molotov.TV
With the proliferation of different replay services, we sometimes do not know where to turn. To overcome all this confusion, the Molotov.TV platform, founded in 2016, was set up by a few top names in the French audiovisual landscape (the famous PAF). Doing the math, Molotov.TV brings together the content available for replay from no less than forty channels, which is already very substantial. And if you want more, you can opt for the Extra or Extended supplement which only costs a pittance. However, this is not the purpose of this article which aims, above all, to promote you content to watch for free. In this case, on Molotov.TV, thanks to the Mango catalog (live programs, Cinema, Series, Docs, Kids, Novelas), you are entitled to a free selection of films and series, while having all the replay channels at your fingertips.
List of available programs:
Films : Robin Hood, the rebellion, A sick plan, A brilliant idea, …
Series : A boy a girl, Starsky & Hutch, Code 37, Nøx, Police District, …
Find the entire Molotov.TV catalog
---
MyTF1
Like the French broadcaster M6, Europe's leading private channel also has its own platform to offer its loyal viewers access to its flagship programs in one and the same place. Using MyTF1, you can catch up on what you didn't get to see live (TF1, TMC, TFX, TF1 Séries Films) and access a wide choice of entertainment. Of course, you can find recent programswhether fiction or original TF1 series (HPI, tomorrow belongs to us, RIS, Red Wristbands), Thus only a small handful of series from the United States whose popularity is second to none. For those who are more into "cinema" or "documentary", there is a small list of available feature films and shows that might meet your expectations.
List of available programs:
Films : Fast & Furious 5, Limitless, American Pie, Truth or Dare, Siberia, Gorillas, Michael Vaillant, Ong-bak 3, Eva, …
Series : The Mentalist, Grey's Anatomy, The Tudors, Snatch, The Shield, Taken, Chefs, Damages, Under the Dome, …
Animation : Naruto Shippuden, Inazuma Eleven, Naruto, Hunter x Hunter, Boruto, Detective Conan, Nicky Larson, Cat's Eyes, Saint Seiya : The Lost Canvas, Psycho-Pass, …
Find the entire MyTF1 catalog
---
Plex
Another free offer that you can find on the Internet, and even in the form of an application for a whole host of media (iOS, Android, PlayStation, Xbox, Chromecast, etc.): Plex. Certainly, its catalog is not full of films known to the general public, but it does not offer less a wide selection of free programs and distinct genres. Also, the streaming service also has a double hat where it offers its users a software solution to organize a whole bunch of things (videos, sounds, photos). Now it's up to you to choose whether you plan to launch a series or a feature film! Besides, if you like slightly "low budget" versions of certain Disney classicsyou will clearly be in heaven, in the company of those who do not shun their pleasure, at the opposite extreme, to view quasi-nanardesque horror films.
List of available programs:
Films : Bad land, The Recall, Adrift, Man Down, Bereavement, The Surface, …
Series : Farscape, Robocop, The Hunger, …
Animation : Dante's Inferno, The Smurfs, Superman, Flash Gordon, A. D. Police, …
Find the entire Plex catalog
---
Pluto TV
With one letter, the Pluto.TV platform could have had the same name as the tiny planet that left our solar system classification a few years ago. Nevertheless, the small player in streaming and SVOD is not to be underestimated since it nevertheless offers a fairly rich catalog of content ! Indeed, when we walk there, the categories are not lacking and adapt to our desires : international and French series, South Korean dramas (K-dramas), feature films and even Japanese animation with one of the most popular works by manga fans, namely Naruto Shippuden. And then, if you like irreverence, you will be delighted to be able to follow twenty-three seasons of South Park ! Created almost ten years ago, Pluto.TV is increasingly positioning itself as a friendly alternative to paid SVOD services.
List of available programs:
Films : 1984, Swiss Army Man, Siberia, The Last Day, Blind Date, The Watcher, Night and the City, Hail Caesar, Escape Room, …
Series : Doctor Who, Missing, Baywatch, Chefs, Torchwood, …
Animation : Detective Conan, Naruto Shippuden, South Park, Fairy Tail, Megalo Box, …
Find the entire Pluto.TV catalog
---
Rakuten TV
We tend to forget it, but one of the big names and pioneers in e-commerce, namely Rakuten, has its own SVOD platform, logically named Rakuten.TV. Admittedly, there is a lot of content to buy or rent. but, if you look closely, you can discover a "free" section which allows you to enjoy a few feature films or series without putting your hand in your wallet. Availability, like many platforms, varies from month to month which encourages you to come and take a look at it regularly. At the moment, there is enough to spend a few good evenings or to keep busy on the weekend since it is easy to count several hundred programs to watch for free !
List of available programs:
Films : The myth, Empire State, Vikingdom, Stuart Little, Underworld : Blood Wars, Dahmer, SuperGrave, Hyper Tension 2, …
Series : Pride and Prejudice, The Musketeers, …
Find the entire Rakuten.TV catalog
---