King Charles left the worries and concerns of the monarch for a few days and relaxed with the locals and tourists who came to see him at the royal picnic specially prepared by his team.
The tables were full of chosen dishes, and the jars of sausage and pickles took pride of place. There were cheese, tomatoes, onions and homemade bread on the tables. There was also church wine, a liquor that even King Charles would have requested.
Ferencz Boldijar, parish priest in Valea Zălanului: "They asked if I had church wine and I said I did, I also brought some sweets to make us feel good."
The king walked for several minutes among the tables, shook hands and spoke with all those invited to the feast. The guests did not come empty-handed either, they brought her majesty bouquets of flowers and bee honey, to sweeten her stay at Valea Zălanului.
– The original honey, it's very good, you have to taste it. Welcome!
– King Charles also tasted this honey.
– Yes, sure.
– His favorite, natural honey. It `s very good!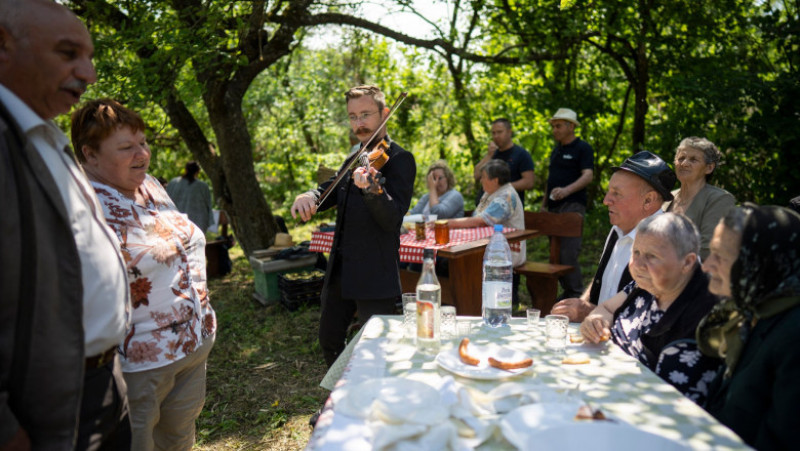 After the meal, the king went hiking in the hills around the village. Tired, he drove back a few hours later. He greeted the locals and tourists again and then retired.
"Where he sleeps, I also slept when I was a child"
Man: This house was my grandparents'.
Reporter: Where exactly is the king now?
Reporter: Yes, where he sleeps, I also slept when I was a child and older, 19-20 years old. And I'm excited that he sleeps in the room where I slept as a child.
……………….
Woman: I have not only seen him, which many on this earth desire. Moreover, I shook hands with him and he asked me two questions. And I don't expect it in any case, although he is also a man after all, but the status, position and everything he owns is much higher.
Reporter: And what did he ask you?
Woman: He asked me where I'm from and what I do. I lived to see that too. And I said I'm not leaving here until I can see him.
Reporter: And where did you come from?
Woman: From Timisoara.
Reporter: Especially to see the king?
Woman: Yes, we came together at 2 o'clock and said that we will not leave today, who knows what will happen, it is not known if it will ever happen again in life.
……………..
Man: Special for your majesty, let's see him.
Reporter: What time did you get up in the morning to come?
Man: I came last night.
Reporter: Did you stay nearby?
Man: Yes, at the entrance to the village, and I was here from one o'clock in the morning. I don't think we'll have another opportunity because we're from Piatra Neamț, it's a bit out of hand.
……………….
Woman: We want to see a real man at least once in our life.
Reporter: Are you excited?
Woman: Yes
Reporter: And you came all the way from Piatra Neamț specifically for this?
Woman: Yes.
Editor : G.M.