News astuce Build Diablo 4 Chain Lightning Sorcerer to start well and quickly pass level 50
Choosing the right class and archetype is extremely important in Diablo IV. Between the skill tree, the passives and the identity, here is our complete Lightning and Electricity oriented build for the Chain Lightning Sorcerer in order to pex up to level 50 quickly!
Gameplay
As you take your first steps into Sanctuary, you might be wondering what the best Diablo IV build is. Whether you like to fight melee, destroy your opponents from a distance or take cover behind an army of summons, a multitude of builds are available and this is what the Chain Lightning Witch does best. Attacking your enemies while hitting the most distant targets and relying on your very high damage to achieve victory is what this leveling build offers you! Based on chain reactions, the generation and use of your mana as well as a large melee damage bonus, this build has everything to take you to level 50 quickly.
Active skills to use
Electric whisk
chain lightning
Teleportation
ice armor
Frost Nova
Current unstable
Gameplay du build Chaine d'Eclairs
The Chain of Lightning build is a permanent firework, between the damage that you will inflict on enemies and the ricochets of Chain of Lightning that will hit your Sorcerer. To overcome this problem, you obviously have many defensive talents such as Ice Armor or Frost Nova. (and the Teleportation which will really allow you to flee far away). If you want to play it really safe, then the Fireball (and its Enchantment) will be a perfect alternative especially for single target. Chain Lightning and Electric Whip are of course much more suitable for multi-targeting.
Unlocking Mastery of Vyr will allow you to take much less melee damage, but also to inflict more. Associated with your defensive skills and your firepower, you will then become a real weapon of mass destruction.
Skill tree – Talent points to put (up to level 50)
Electric Whip (5 points) → Reinforced Electric Whip → Dazzling Electric Whip
Chain Lightning (5 counts) → Reinforced Chain Lightning → Superior Chain Lightning
Teleport (1 point) → Enhanced Teleport → Blazing Teleport
Ice Armor (1 point) → Reinforced Ice Armor
Frost Nova (1 point) → Empowered Frost Nova → Mystical Frost Nova
Unstable Current → Primal Unstable Current → Supreme Unstable Current
Mastery of Vyr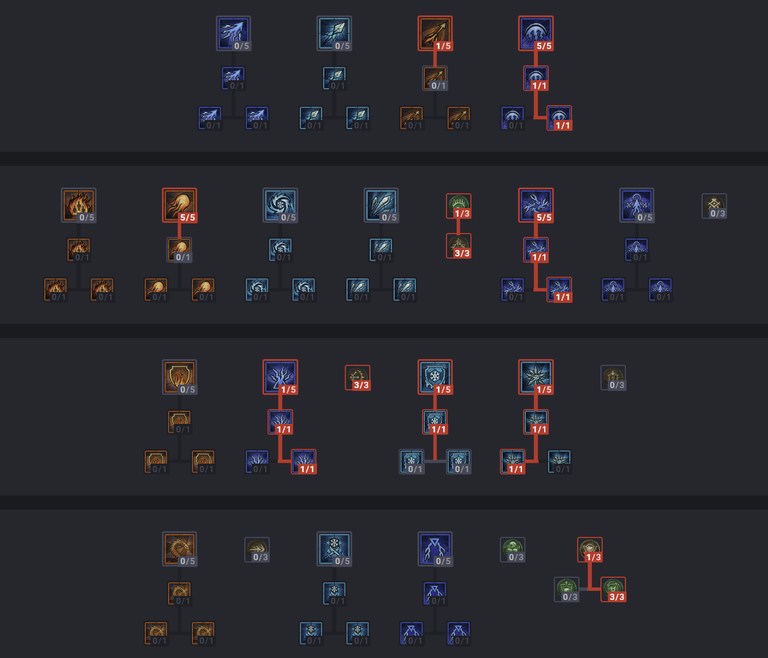 Witch's Power Codex
Reload aspect : Zenith – Broken Peaks
aspect of expectation : Deep Roots – Scosglen
tightrope walker appearance : Peyrevieille – Scosglen
Leaping Conduction Aspect : Temple of Komdor – Arid Steppes
Aspect of prodigy : Bewitched Waters – Hawezar
aspect of disobedience : Kehjistan Campaign – Halls of the Damned
Sorcerer Identity: Enchantments
For groups of monsters and once level 16 choose Fireball in Enchantment slot 1 (and after putting 1 point in Fireball to activate this Enchantment). You can then pass Fireball level 5 after your leveling, but also change the Enchantment for Chain Lightning during the various boss fights.
It is Firebolt that you will use from level 30 on your second Enchantment slot during boss fights. For groups of enemies, choose Chain Lightning.
Final optimization details of this build
As usual, let's finish by focusing on the most interesting effects to recover via your stuff parts. What we advise you is to take damage to nearby enemies once you have unlocked mastery of Vyr, damage from critical hits or even Intelligence.
As with any Sorcerer build, be careful to also take equipment that will give you enough armor. Indeed, if you underestimate this point, you risk finding yourself in a delicate situation, struggling to survive during certain fights. Finally, when it comes to which gems you should equip, here are our tips:
Weapons: Sapphires for damage to stunned enemies (Topazes are also possible)
Armor: Rubies for hit points
Jewelry: Skull for armor
Summary of all our guides and tips for Diablo 4