Game news It was the design of a newcomer to Riot Games, but it became an icon that changed League of Legends forever.
Two newcomers to Riot Games have created one of League of Legends' most iconic champions.
It arrived almost ten years ago on League of Legends, and she has become one of the most appreciated characters by the community: it's obviously Jinx. She was the first character to have her own music video, directed by Fortiche Production, the same studio that will produce the Arcane series in 2021, which will include Powder, aka Jinx, among its main characters. The character will have changed the history of the MOBA by becoming one of the main images of the brand, and all this thanks to a drawing that obsessed one of the developers when he had just joined the company.
Within the premises of Riot, there was a bulletin board allowing anyone to share their creations. It could include sketches for future champions, skin concepts or skill kits. The board was a source of inspiration for champion designers, and it was on this wall that there was a sketch named "Psycho Arsenal". A drawing by Katie De Sousa, an employee who had just joined the company.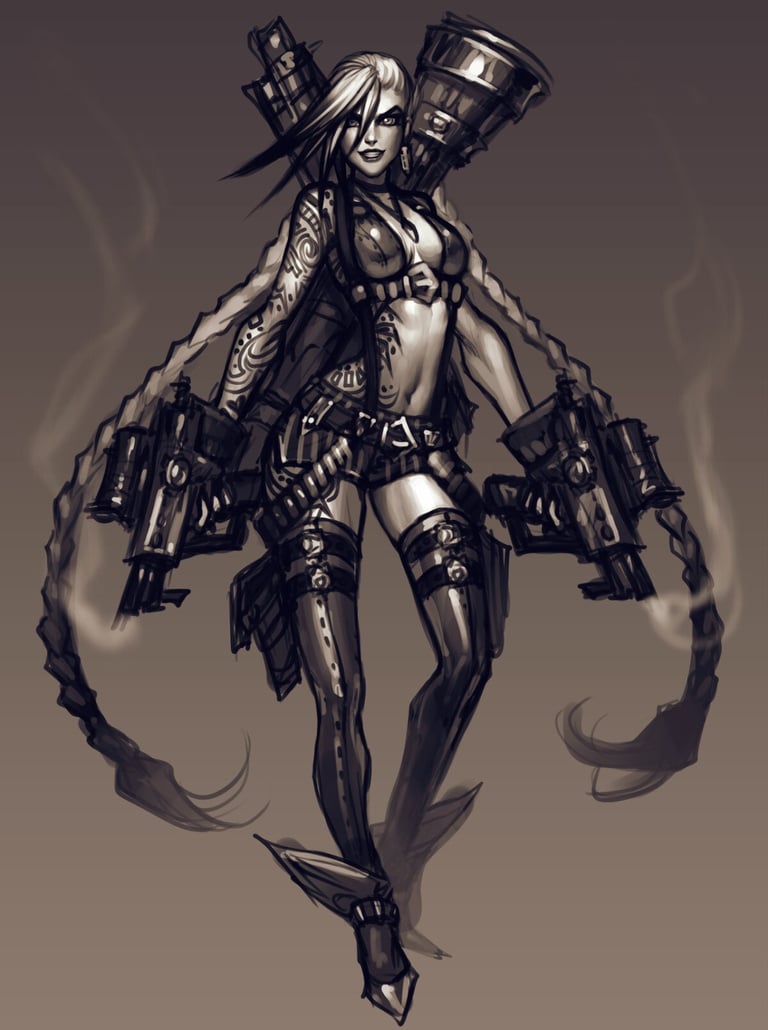 Genesis of a sororicidal struggle
A drawing that immediately captivated a small group of workers, whose main manager was August Browning, who had also just joined Riot Games. During his workdays at Riot, he was working on creating Vi, and when he got home, he was helping to create Jinx with Katie and others.. In the space of a year at Riot Games, and his first year of work moreover, he created the famous sorority composed of Violet and Powder which, later, will give life to the hit series Arcane.
Even though a lot of the chara-design work was done with the sketch, it still needed to reinforce its identity. Starting with its colors, between pink and cyan in pastel tones. His tattoos in the shape of Japanese stylized clouds covered in bullets. The creation of his famous Poiscaille rocket launcher and many other small details. It was also necessary to create a unique skills kit for him and in line with the character. Originally, Jinx should have looked like an Udyr, that is, with a weapon associated with each skill.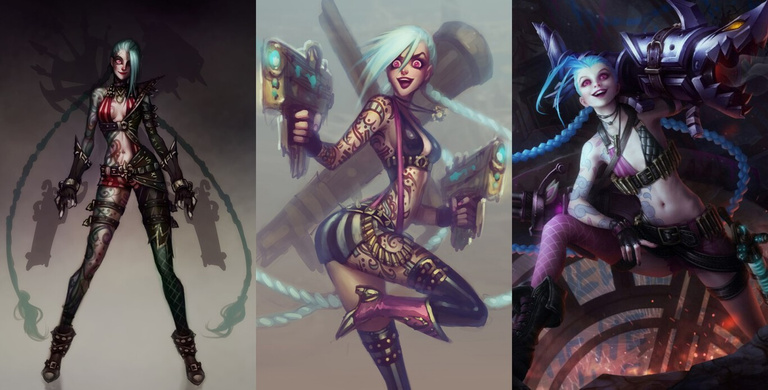 Creating an icon
The idea was partially kept since Jinx alternates between Poiscaille her rocket launcher and Bang-Bang her minigun. In addition to having a handgun with its "Zap!" skill. The idea of ​​many weapons to alternate on a champion was likely recycled with the creation of the Aphelios champion in 2019. The character benefits from 5 different weapons knowing that he can have two at the same time, offering a possibility of ten different weapon combinations, making him one of the most complex characters in the game.
August Browning is still working on League of Legends and he is now the head of the champion creation team. Katie De Sousa left the company and took part in the development of Dauntless. Currently, she is the creative director of a farming management video game called Fae Farm which will be released later this year on Nintendo Switch.