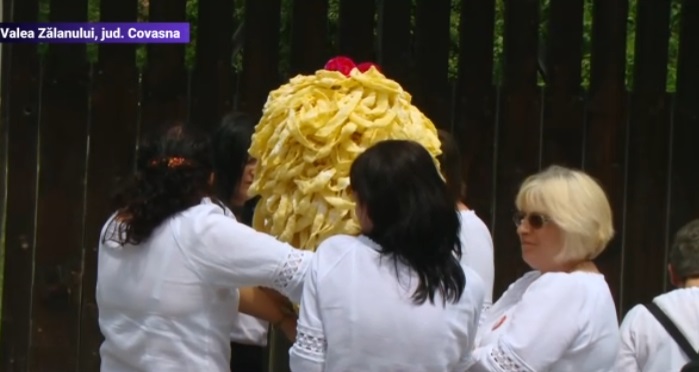 King Charles continues his vacation in Valea Zălanului, in the hamlet of Covasna where he goes out every day for a walk in nature. The locals sent him a huge pie as a gift.
A huge pie, which is offered in the villages of Covasna only at important events such as weddings and christenings, was brought as a gift to King Charles. Several women from a neighboring town worked for hours on her.
Woman: "It's a cake. Let him come here again, because this area is very beautiful."
Dozens of tourists appeared again at the king's gate. Everyone hopes to at least exchange a greeting with the British sovereign.
Man: "He's a king, after all, and once in a lifetime you happen to see him and I'd be happy to shake his hand, to say: "Welcome to Romania!"
Girl: "I come from Constanța and I waited a long time to get here. I'm a big fan of his. "
For the locals of Valea Zălanului, any visit by King Charles automatically means intensive promotion of the area.
Woman: "Until now, the world didn't really know about Valea Zălanului. Now I think it should also be on the map."
King Charles: Romania is always wonderful.
Tourist: What is your favorite plant in Romania?
King Charles: Turmeric. I love coming to Romania, everything is here!
Read also: VIDEO and PHOTO Sausage, pickles, cheese and tomatoes. Images from the royal picnic in Valea Zălanului, King Charles had a special request
Editor : G.M.