Game news "Give him his statue of Lilith!" : A Diablo 4 player has already accomplished the feat everyone dreams of
A streamer has just achieved a small exploit on Diablo IV.
Diablo IV officially releases today, but thanks to early access, some have already made good progress in Blizzard's game…
Already the first to beat Ashava solo…
On May 26, Blizzard issued a challenge to his community.
Think you can cheat death?

Reach level 100 in hardcore mode and tweet #Diablo4Hardcore with proof to have your username immortalized on a statue of Lilith.

Offer limited to the first 1000, restrictions apply: https://blizz.ly/4294DLg

Start June 1.
If yesterday, we were able to discover the first player to reach level 100 in the person of Rob2628, a German streamer, this one didn't do it hardcore. So the race was still on, but one name in particular was close to the feat: Wudijo. A few weeks ago he was already applauded for beating Ashava solo, in less than fifteen minuteson Server Slam during the beta.
…now the first to reach level 100 in hardcore and solo!
Except that Wudijo has been exceeded a few hours! Indeed, it is the streamer cArn_ – former pro player on Starcraft II – who managed to reach level 100 in hardcore, the first. He was live, during a stream launched on June 4 at 9:26 p.m., and reached level 100 after 18 hours of live, which is around 2:30 p.m. yesterday. At this time, it reaches approximately 20 000 viewers simultaneously on his stream, who came to cheer on the pioneer.
Wudijo launched his live at 10:35 a.m. yesterday, and reached the level 100 after 14 hours of livei.e. around 12:40 a.m. last night, in front of about 50,000 spectators. He is "only" second in the race, but he will also be entitled, just like cArn_, to his name on the statue of Lilith. But don't worry, Wudijo still got his "World first" too… Wudijo may not be the first to reach level 100 in hardcore mode, only, cArn_ managed to reach this level in a group ! Wudijo is therefore well and truly the very first to achieve this feat by climbing all the levels in solo. This puts his feat potentially even above, for some observers anyway.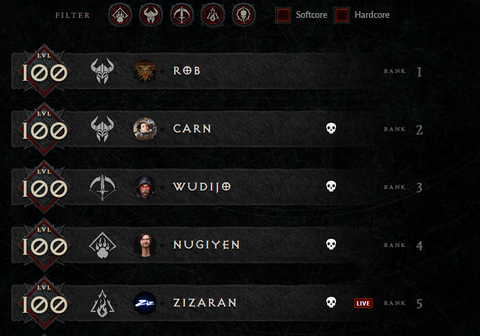 And surely the first to beat the Echo of Lilith in hardcore!
More Wudijo did not cut his stream after this exploit however, and immediately launched another challenge. Indeed, he was the first to attempt to defeat the hardest boss in the game, the Echo of Lilith, on this already very high difficulty. Remember that if the hardcore mode is feared, it's also because your character disappears permanently in case of death.
The fight against the Echo of Lilith is extremely difficult… Even with a character at max level, even with the exceptional skills of a player like Wudijo, the boss is very punishing, and even more in hardcore. Wudijo showed up in front of the boss with a Trompe-la-mort elixir (it allows, for thirty minutes after drinking it, to escape death once and become invulnerable for two seconds after that. You cannot use any more effects of this type for five minutes after that). Thanks to his talent, he managed to beat phase 1 boss in over forty minutesas it reached more than 70 000 viewersbut the effect of the Elixir was beginning to wear off start of phase 2. After so much time of extreme concentration, he has preferred to teleport out of combat, in order to preserve his character level 100. Because remember, the slightest death meant losing this character. However, he is quite confident for the future: he is sure you're close enough to master the fightand it will attempt to beat the Echo of Lilith again after a good night's sleep… and with two Elixirs this time !
Diablo IV is available now on PC, PS5, PS4, Xbox Series, and Xbox One.