When it comes to the giants who make the law in the field of mobile phones, no battle has been fiercer than that between Apple and Samsung, the iPhone and the Galaxy S. After almost a decade of "dictatorship" from the South Korean side, never has it been more clear than now that the giant from Cupertino has come to make the law in the market, especially in the area of ​​premium devices.
Canalys has published its latest study on the global mobile phone market, and in the chart below, it highlights the smartphone models most loved by users with deep pockets. Basically, these are premium devices, whose shelf price exceeds 500 dollars or approximately 2500 lei. On this occasion, we find that the iPhone 14 Pro Max is the best-selling phone in the first quarter of 2023.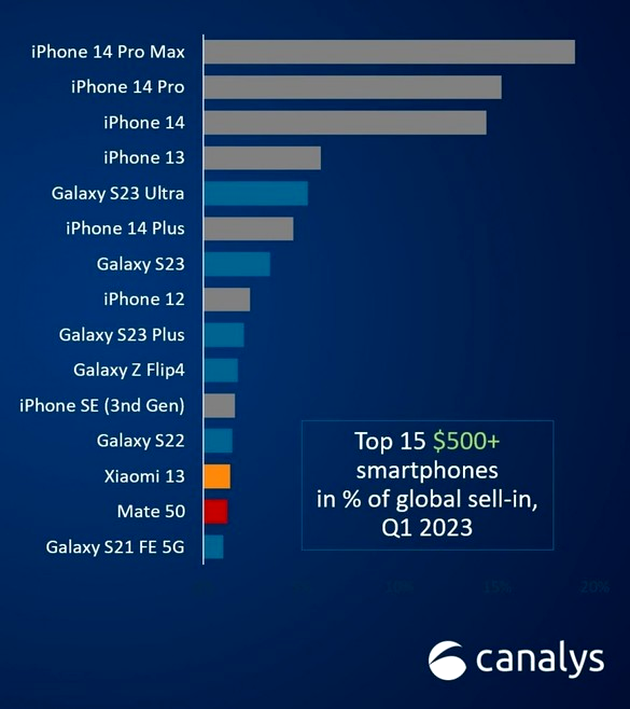 Which phones are selling in 2023: Samsung versus Apple
When it comes to above-average phones, most users opt for an Apple or Samsung gadget, with very few exceptions. For example, in the first three months of this year, the only terminals that did not carry the Galaxy or iPhone logo in the top 15 were Xiaomi 13 and Huawei Mate 50.
In 2023, the best-selling phones in the world by far are the iPhone 14 Pro Max, iPhone 14 Pro, and iPhone 14, in that order. The "old" iPhone 13, which is released in 2021, continues to be among the favorites, occupying the fourth position. The Galaxy S23 Ultra is a very good phone released in February 2023, but it only slipped to the fifth position. The iPhone 14 Plus is sixth in the same top, followed by the S23. Surprisingly, the standard variant of the iPhone 12, which hit the market in October 2020, continues to make waves among buyers' preferences even almost three years later. They're not big waves, but they certainly beat the ones made by the Galaxy S23 Plus.
I'm not sure if this hasn't happened before, but the inclusion of a foldable phone in the ranking, the Galaxy Z Flip4, deserves all the attention. That it entered the top 10 in the first quarter of the year is all the more memorable and a first worth recording.
In the first three months of 2023, 31% of total global phone sales consisted of devices with a purchase price of more than $500, up 4.7% year-on-year. This victory is all the more remarkable as the smartphone market contracted by 13.3% in the same time unit.