Game News Assassin's Creed: Don't miss these free rewards during UbiForward
The UbiForward will be an opportunity for you to collect free rewards in several games!
UbiForward will allow us not only to see the next expected games from Ubisoftbut also to earn gifts for Riders Republic, Assassin's Creed Valhalla, and even Avatar: Frontiers of Pandora and Assassin's Creed Mirage who haven't come out yet!
Follow UbiForward on Twitch to earn rewards in Assassin's Creed Mirage and Avatar: Frontiers of Pandora before the games even release!
Ubisoft will present its UbiForward event on June 12to follow live on Twitch and YouTube from 6:45 p.m. But if you are wondering which of these two platforms to follow the event, there is no doubt: choose Twitch ! Indeed, thanks to Twitch Drops, you will be able to collect rewards for your Ubisoft games during the event. Indeed, Ubisoft announces that you will get: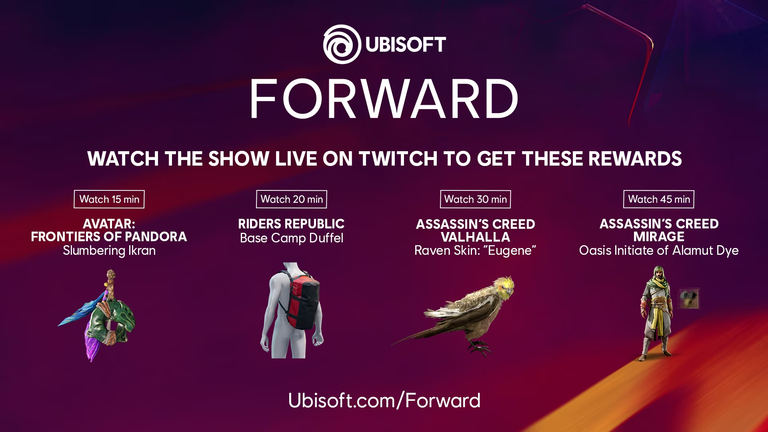 Note that you can earn early rewards for two games not yet released, Avatar: Frontiers of Pandora and Assassin's Creed Mirage. You will get them as soon as the games are released.
Play Ubisoft games to win a year's worth of Ubisoft+
These are not not the only rewards of the moment for Ubisoft games. Indeed, from June 5 to 12, Ubisoft invites you to participate in the Ubisoft Forward Challenge. Play Assassin's Creed Valhalla, Rainbow Six Siege, and Riders Republic this week, and complete the challenges from the community. You will win various gifts: up to 100 Ubisoft Connect units (which are used to purchase in-game items in a large number of Ubisoft games), and you will participate in a contest to win a one month subscription to Ubisoft +or one one year subscription to Ubisoft + !
Mirage, Nexus, Jade… A lot of Assassin's Creed, and a big focus on Avatar: Frontiers of Pandora to expect from UbiForward
We should see a Assassin's Creed game bundle during this UbiForward. Already, of course, we will see Assassin's Creed Mirage headlining. But we also expect to see Assassin's Creed Nexus, the project VR (from which we have probably just learned more clues about the playable characters), and Assassin's Creed Codename Jade, the project of a AC on mobiles taking place in China. We can also wonder if it is too early to know more about the Assassin's Creed Infinity experience "hub", about which very little is known. Ubisoft's recently released fiscal year plan announced to shareholders that this year would see the release of AC Miragebut also Avatar: Frontiers of Pandora – which should get a big focus during UbiForward – as well as Rainbow Six Mobile, The Division Resurgence, Skull and Bones, The Crew Motorfest, XDefiantet an "other major game". We will therefore not be surprised to see these titles during the event, and possibly discover this game not yet announced.
UbiForward will begin with a pre-show at 6:45 p.m. and then officially begin at 7 p.m. on June 12.