News astuce Build Druid Diablo 4 Pulverization for fast leveling from level 50 to 75
Choosing the right class and archetype is extremely important in Diablo IV. Between the skill tree, the passives and the identity, here is our complete Survivability and Pulverization oriented build for the Druid in order to roll on the midgame between levels 50 and 75!
Summary
Gameplay

Skill tree – Talent points to put (up to level 75)

Passives

Druid Power Codex Pulverize

Druid Identity: Animal Spirits

Paragon

Final optimization details of this build
Gameplay
Now that you've arrived in the game's midgame, it's time to optimize your build or go for one of the best Diablo IV builds. Whether you like to fight melee, destroy your opponents from a distance or take cover behind an army of summons, a multitude of builds are available and this is what Druid Pulverization does best. Continuing on from your first leveling phase, your Druid continues to destroy enemy lines by resisting damage as if nothing had happened.
Active skills to use
Thunderbolt
Spray 5
rampart of earth
bloody howl
poison ivy
Trampling
Druid Pulverization Build Gameplay
With level 50, no spell change for our Spray Druid. Most of his changes will be in his aspects, your passives, but also the Paragon, which will complement your new stats acquired with the higher level equipment.
The build Spray is a true force of nature. Where many builds focus on damage or optimizing spell rotation, Pulverize Druid lets you become an unstoppable mass that will cross enemy lines almost never stopping.
This build offers many defensive spells with a simple objective: rush and chain area attacks to destroy enemies. Earth Bulwark and its upgrades allow you to never have to look at your health bar and make full use of your Bear Form Sprays.
Although the damage is not the highest in the class roster, your Druid will benefit from a very substantial survivability which will largely compensate. If ever the shield wasn't enough, your Wolf form will allow you to recover up to 20% of your life points regularly with Bloody Howl and ensuring you're always in the thick of the action to maximize the number of Sprays and Poison you apply to your opponents. A build that therefore focuses on durability and continuous presence in close combat, both on bosses and on groups of enemies.
Skill tree – Talent points to put (up to level 75)
Thunderclap (1 point), Reinforced Thunderclap, Fierce Thunderclap
Spray (5 points), Reinforced Spray, Enraged Spray
Earth rampart (1 point), Reinforced earth rampart, Preserving earth rampart
Bloody Howl (1 point), Empowered Bloody Howl, Innate Bloody Howl
Poison Ivy (1 point), Reinforced Poison Ivy, Feral Poison Ivy
Trample (1 point), Reinforced Trample, Natural Trample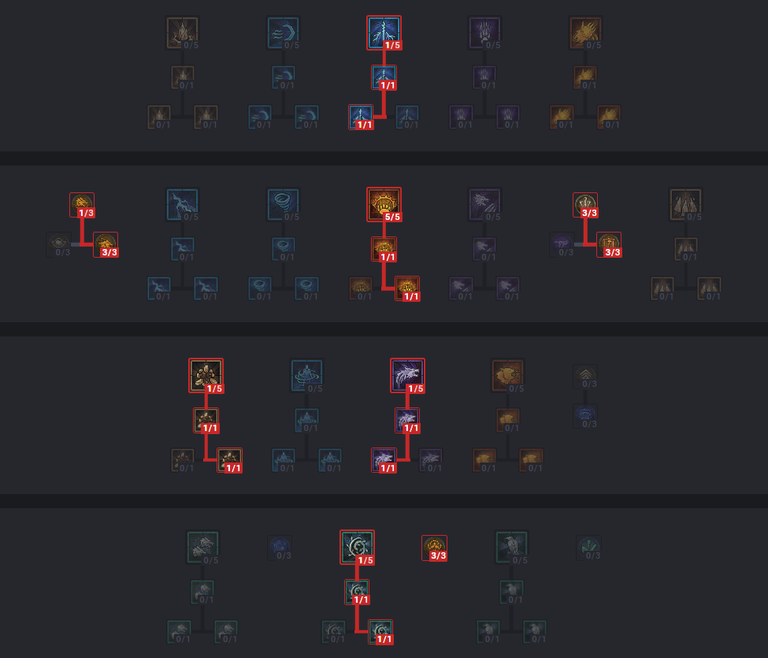 Passives
Wild Heart 1
Wild urges 3
Predator instinct 3
iron bristle 3
Clarity 3
Neurotoxin 1
Envenomation 3
Résistance 2
Natural disaster 3
Resonance 3
Quick Metamorphosis 3
Heightened Senses 3
Force ursine
Druid Power Codex Pulverize
aspect of disobedience : Halls of the Damned (Kehjistan)
Healing Stone Aspect : Sealed Records (Arid Steppes)
Ursine Aspect of Terror : Campaign and Hazewar
aspect of omnipotence : Campaign in Arid Steppes
Ballistic aspect : Whispering Pines (Scosglen)
Aspect of the tightrope walker : Peyrevieille (Scosglen)
Shadow aspect : Champion's Demise (Arid Steppes)
Crushing Rock Aspect : Campaign and Scosglen
Aspect of retaliation : Coastal descent (arid steppes)
Druid Identity: Animal Spirits
Cerf : 2
Eagle (active): 1 and 4
Loup : 3
Serpent : 1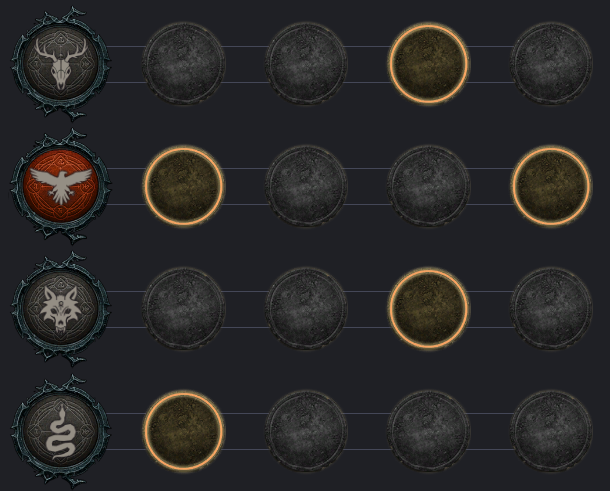 Paragon
If you're starting to get interested in Paragon (and we highly recommend it), here's our suggested point distribution for this build.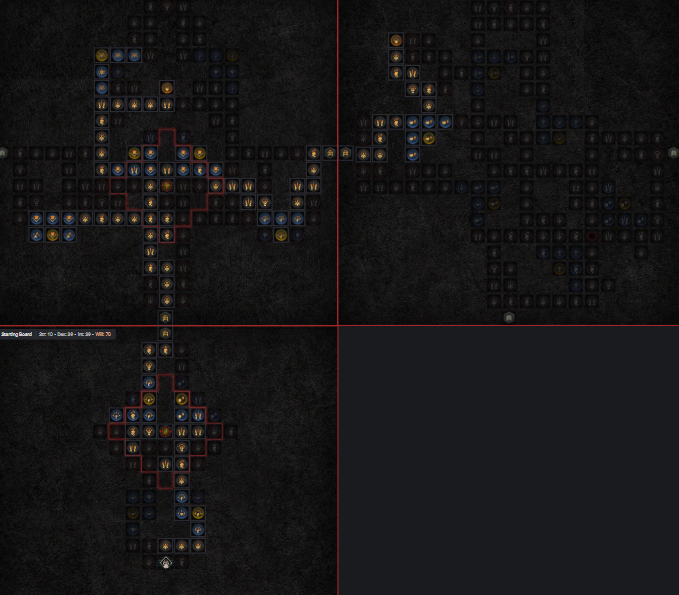 Final optimization details of this build
As usual, let's finish by focusing on the most interesting effects to recover via your stuff parts. We advise you to take damage to nearby enemies since you will be exclusively melee throughout your fights. Of course, who says melee says armor and hit point to the maximum too, just to ensure a more moderate damage taking. With level 50 the enemies are tougher and you might be surprised by the damage if you haven't upgraded your gear since your 1-50 phase, a trip to the blacksmith might be a good idea!
Finally, when it comes to which gems you should equip, here are our tips:
Weapons: Rubies for overpower damage
Armor: Sapphires for damage reduction when fortified
Jewelry: Skull for extra armor
Summary of all our guides and tips for Diablo 4