News astuce Diablo 4 Bone Spear Necromancer build for fast leveling from level 50 to 75
Many players have reached midgame at level 50 and want to quickly level up to level 75 on Diablo IV. The Necromancer is then an interesting option and we give you here a build called Bone Spear which will allow you to get there: skill tree, paragons, know everything he needs to know:
Summary
Gameplay

Skill tree – Talent points to put (up to level 50)

Passives and Paragon

Necromancer Codex of Power

Necromancer's Book of the Dead

Last optimization details of this build to start
Gameplay
As we have just told you, the Necromancer is one of the best classes with which you will be able to embark on this Diablo IV adventure. Unlike the Invocation build, the Bone Spear isn't going to be based so much on raising the dead, but rather to inflict damage and make good use of area damage mechanics.
Active skills to use
Bone Shard
Bone Spear
Scavenger tendrils
Explosion macabre
Bone Storm
blood mist

Gameplay du build Lance d'os Explosion macabre
Bone Shard is clearly not the best spell you're going to get in this kit. Indeed, it makes you send three projectiles each doing a little damage. On the other hand, the positive point, it is that these will be used to recharge your gasoline from the second time they hit an enemy.
Bone Spear is therefore the central spell of this build and it makes sense that the latter takes its name from it. It is, as its name suggests, a bone spear that will do great damage to the enemy ranks. Later, you can make it separate into three pieces instead of breaking, and even 5 in case of a critical hit!
Scavenger Tendrils will use corpses on the ground to allow you to have a control spell over your enemies. Indeed, tendrils will apply stuns and even vulnerability that will allow you to wreak havoc with your other skills. In addition, this ability does not consume corpses!
Macabre Explosion, unlike Necrophage Tendril, consumes many corpses and will ask you to manage them to ensure that you always have some available. As for the effect of this ability, it's a big area blast from dead bodies that can do really big damage. Typically, the Spin sequence which puts the vulnerability then Explosion allows you to have a very powerful AoE.
Blood Mist is the kit's defensive spell that counterbalances the fact that the Bone Spear Necromancer is still quite fragile. Thanks to him, you become immune for 3 seconds and you even have the right to a small heal during this time.
Bonestorm is finally the ultimate of this Necromancer build and it will not only allow you to do damage around you, but on top of that, once evolved, il will increase your damage reduction and increase your chance to land a critical hit!
Skill tree – Talent points to put (up to level 50)
Bone Shard → Reinforced Bone Shard → Adept Bone Shard
Bone Spear → Reinforced Bone Spear → Paranormal Bone Spear
Scavenger Tendrils → Empowered Scavenger Tendrils → Plague Scavenger Tendrils
Macabre Blast → Enhanced Macabre Blast → Plagued Macabre Blast
Bone Storm → Primal Bone Storm → Supreme Bone Storm
blood mist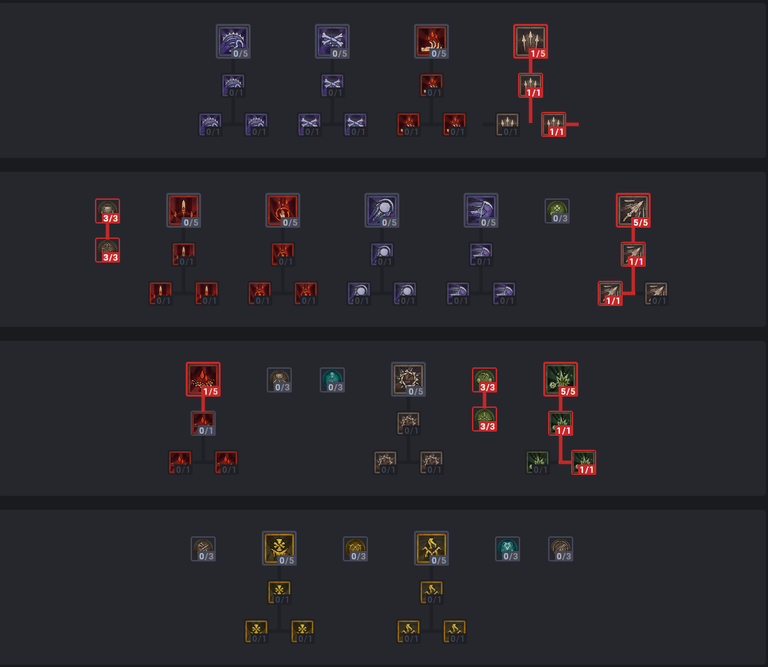 Passives and Paragon
Unliving Energy 3
Imperfect balance 3
Skinned Flesh 3
Grim Harvest 3
Death flight 3
Caress of Death 3
Necrotic Shell 3
Crantage 3
Open fracture 3
Self-sufficiency 3
Ossified Essence
As for the evolution of the Bone Spear Necromancer at the start of Paragon, we have indicated the first three levels below. They contain top picks to ensure you wreak havoc on your adventures with this build.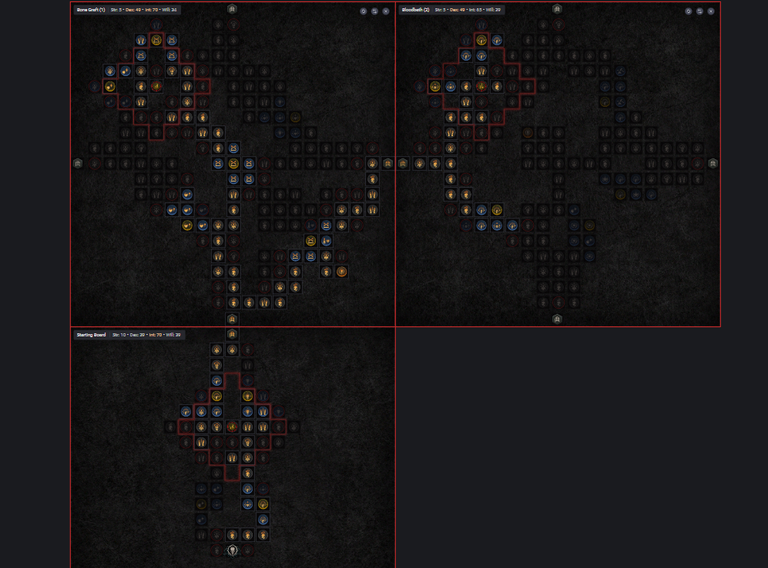 Necromancer Codex of Power
Aspect of Disobedience (Helmet): Halls of the Damned (Kehjistan)
Aspect of the Protector (Torso): Forsaken Archives (Broken Peaks)
Aspect of the tightrope walker (Gloves): Peyrevieille (Scosglen)
Aspect of Omnipotence (Legs): Campaign in Arid Steppes
Windstriking Aspect (Feet): Ruins of Shivta (Kehjistan)
Aspect of Raptor Veins (Neck): Corrupted Cave (Kehjistan)
Aspect of Torment (Ring 1): Black Asylum (Shattered Peaks)
Shadow Aspect (Ring 2): Champion's Demise (Arid Steppes)
Fracture Aspect (Weapon): Campaign (Arid Steppes)
Necromancer's Book of the Dead
Skeleton Warriors: 15% chance to create a corpse
Skeleton Mages: Gain 2 essence with each mage attack
Golem: When the Golem takes 20% of its HP in damage, spawns a corpse

Last optimization details of this build to start
As you are used to, let's finish this guide on the last details to take into account, such as the traits to favor on your armor. For this "Macabre Explosion" Necromancer build, what we are going to advise you is intelligence.
Nevertheless, the +1 whether on Bone Spear or Macabre Explosion are also very interesting traits for which you will be able to opt. Finally, as for the gems that you will be able to enshrine, here is what we advise you to choose.
Weapons: Emerald for damage to vulnerable enemies
Armor: Rubies for hit points
Jewelry: Skull for armor
Summary of all our guides and tips for Diablo 4