Fans of true wireless headphones know that Sony makes some of the best-performing models on the market, and they're also usually among the most expensive. The Japanese brand's next flagship pair of headphones, the WF-1000XM5, is set to launch, and details about the headphones' design and capabilities have already hit the internet. Of course, the German site WinFuture, famous for leaks of this kind, is again the one to bring us this information, along with the Walkman Blog, which follows Sony's activity closely.
Sony is preparing the release of the "premium" pair of headphones WF-1000XM5
The WF-1000XM4 model has already been on the market for two years, and Sony believes that it has managed to improve the technologies for headphones of this kind enough to offer a new generation on the market. It seems that the new headphones now adopt a more compact and rounded design, which should make them more comfortable to use. And the charging case seems to be more compact, something that has been criticized over time on Sony headphones.
According to the specs list from the Walkman Blog, the headphones will weigh 5.9 grams each, a significant drop from the previous generation's 7.3 grams. The construction is made of matte plastic on the outside and glossy plastic in the area of ​​contact with the skin. The box is only 39 grams.
In terms of capabilities, we are talking about 24 hours of autonomy, including the energy from the box, but it is not clear if this is a value that takes into account the ANC function. Given that the XM4 generation offered 24 hours with ANC and 36 hours without, there's little chance we'll see a "downgrade" from one generation to the next. Charging is also very fast, 3 minutes of charging in the box being enough for an hour of listening.
As expected, the headphones will also include wireless charging for the box and will be able to connect to multiple devices at once.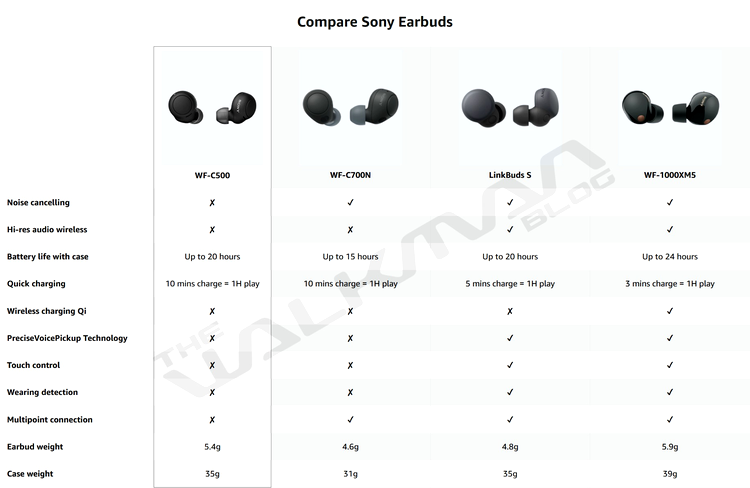 We don't have a release date for these headphones, but it's sure to come in the next few weeks, given that there are already photos and specs lists that appear to be pulled from either Sony's official website or stores that they are already preparing to list the products.
via WinFuture