Game News Sand Land: Discover the game of Dragon Ball's dad!
Sand Land is the new game adapted from an unknown work by the creator of Dragon Ball, Akira Toriyama.
This evening at the Summer Game Fest, we were able to discover the new images of a game called Sand Land. The title focuses on the charismatic character of Belzebub, the prince of demons, and his association with Rao, the human sheriff of a small town. Together, they embark on an epic quest to find Ghost Lake, hidden somewhere in a desert where resources are lacking. It will be a sketch-style action game not unlike Borderlands, where players should be able to pilot a variety of vehicles including a hovercraft and a tank. Also count on third-person combat with a variety of weapons. The title is planned for PC, PS5, PS4 and Xbox Series.
---
Adapted from a cult work
Sand Land is the name of another work by Dragon Ball creator Akira Toriyama. This one-shot from the author published at the turn of the century sets its frame in a futuristic world where the only remaining source of water has been completely dried up. It tells the adventures of Beelzebub, the Prince of Demons, accompanied by a thief named Thief and a former sheriff named Lao. The story therefore relates how demons and humans are forced to team up due to extreme conditions.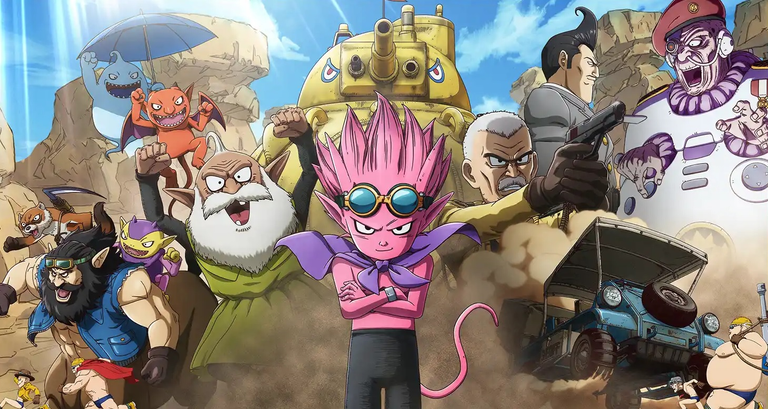 The manga is also linked to an interesting anecdote that tells why Toriyama stopped drawing manga. It is, according to him, because of the loss of his favorite pen holder; Toriyama was particularly fond of this item, which he bought when he was 14, but lost after completing Sand Land:
After completing all episodes of Sand Land, I lost my beloved wooden pen holder that I had been using since my debut. It was a pen holder that had become familiar to my hand for a long time, from being carved and worn down with a knife and sandpaper… I bought a new pen holder and tried to sharpen it this way or that way, but it didn't fit. Since then, I use it as an excuse not to draw manga.
The cult saga that is Dragon Ball Super will then be designed by Toyotarou and written by Toriyama, who still benefits today from the fruits of his favorite license. Yes, this year, Dragon Ball completely atomizes One Piece by bringing in almost twice as much revenue as the latter: 11.5 billion yen (108 million euros) against 5.9 billion yen (40.3 million) . This is a spectacular year for Akira Toriyama's work, which is having its best year since its creation in 1984. Note that Toriyama is also the creator of Dr. Slump (1980) and the Dragon Quest (1986) video game characters.
---
A film is coming!
For Sand Land, the publisher Bandai Namco actually has a multitude of ideas, and has already insisted on the multi-faceted nature of the "Sand Land Project". In addition to a game, you will also be entitled to an animated film, and much more.
SAND LAND, a work by Akira Toriyama, is the subject of a visual adaptation produced by SUNRISE, Kamikaze Douga and ANIMA! The SAND LAND project will introduce you to the world, characters and vehicles of SAND LAND through various collaborations and mediums. The SAND LAND Project will see various partners come together to create a wide variety of content and develop SAND LAND into a full license – Namco Bandai (Sand Land Project)
And it is this summer, on August 18 in Japan, that Toriyama fans will be able to discover Sand Land on the small screen. Nevertheless, the CGI which seems omnipresent in this film, is not unanimous among anime fans, some accusing the style of distorting the work.